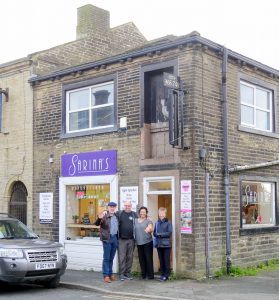 The final Bradford Curry of this period of – Total Exposure – had to be at Sarina's (25 High St., Queensbury, Bradford BD13 2PE), one has to keep – The Best – to the end. Mutton Handi (£7.95) – Large Portions – was arranged in person at this venue as Hector and Marg passed by on Wednesday. Hector was impressed that our fellow travellers have shown such resilience that Curry-Heute was never in doubt.
Arriving @12.30, thirty minutes after opening time, Dawn was just inside the door as we crossed the road. Out she came, a Welcome Photo before we have eaten, a first. Lorraine was having a day off and so Samantha would be taking the Orders today.  What a welcome!

Hector's usual spot was waiting, as we assembled I realised the LG which had been used for navigation was left in the car. The LG was required for noting the Order, Comments etc. I had to leave. I addressed Dawn as I left:
You know what I want, Mutton Handi – Large, with Chapattis.
I returned moments later to be informed that a portion of Rice (£1.80) and six Chapattis (£0.50) had been ordered as well as a portion of Samosas (£2.85). Dawn had mentioned her Paneer Mutter (£6.50) to Marg earlier in the week, she was keen for Marg to try it. Marg was game was still unsure if this was simply – Cheese and Peas – or was it – Keema Paneer Mutter?
Whilst we waited there was a summing up of the past few days. The Carnoustie Couple have been happy to experience the Cafe style premises I have taken them to: the venues where Authentic Punjabi Desi Bradford Curry is available. OK, one venue disappointed.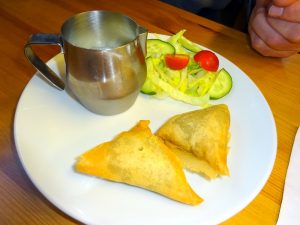 Two small looking, but well stuffed Samosas were brought by Samantha, they were clearly – Piping Hot. There was almost a call for more. The Brown Sauce which accompanies Starters at Sarina's has been described previously by Hector as Tomato-based. Dawn herself refers to it as Mint Sauce. Interesting, I wonder how close this is to Hector's Capsicum-based – Pakora Sauce 2 – which has a Mint element?  I do not make this often.

Dr. Alasdair and Margie shared the Samosas, they were both very positive. Lady first:
Vastly superior to Marg's at Kashmir. (two days previously)
Dr. Alasdair – Packed with with flavour, crumbly, full, freshly made – should have had more.
Sarina's Mutton Handi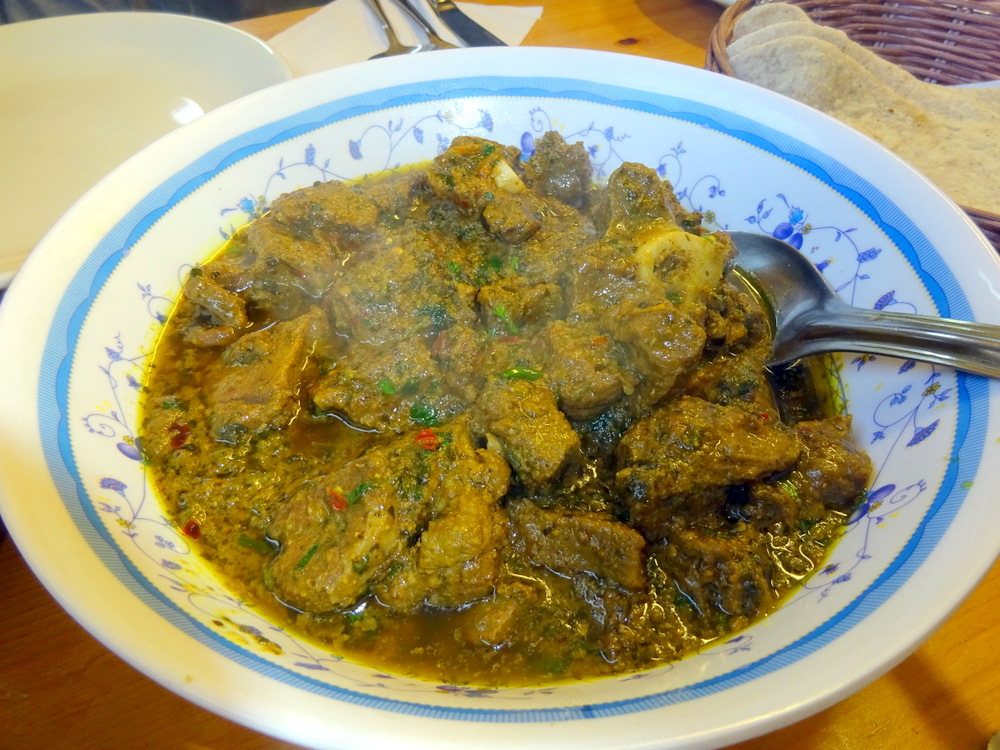 Served on-the-bone, and only available by pre-order, this is it, one of the finest Curry Experiences.
A plateful of Mutton Handi was placed in the middle of the table. This was for three? I knew immediately that in Glasgow two of us regularly polish off this Quantity with no stress. I had not been on the premises when the Quantity of Mutton Handi was finalised.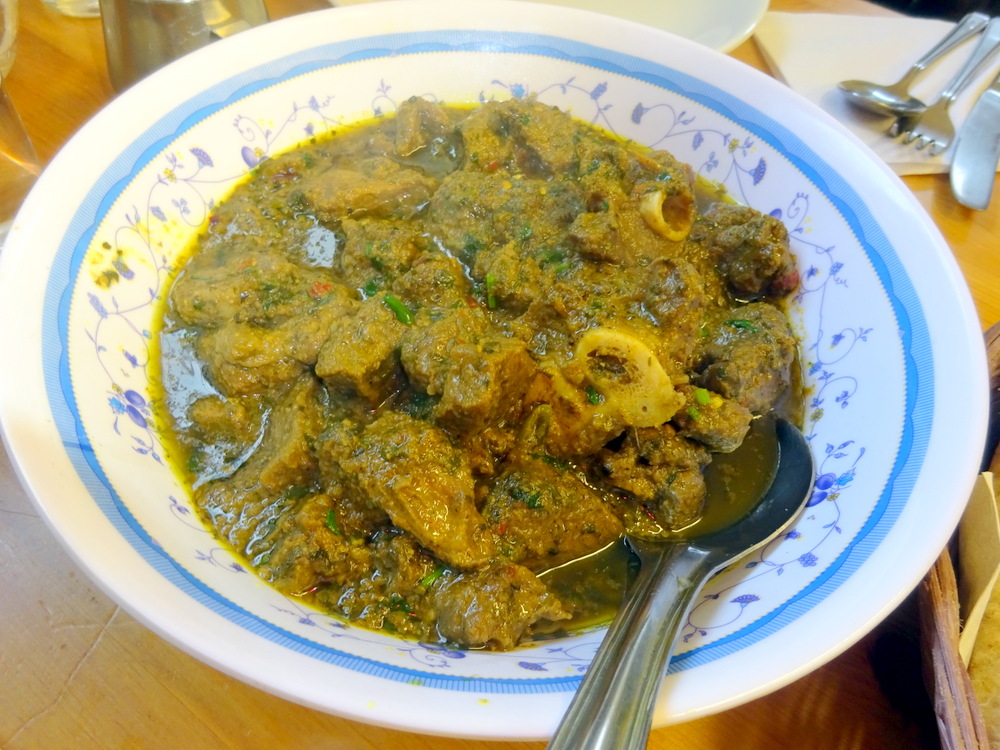 I took a portion with eight pieces of Meat, a Standard Portion. There was still enough left after round one for a second visit. We may have had more than initially realised. From this point onwards a recording of the comments made around the table would enable a more thorough review.
This is gorgeous – was an early comment made by Dr. Alasdair.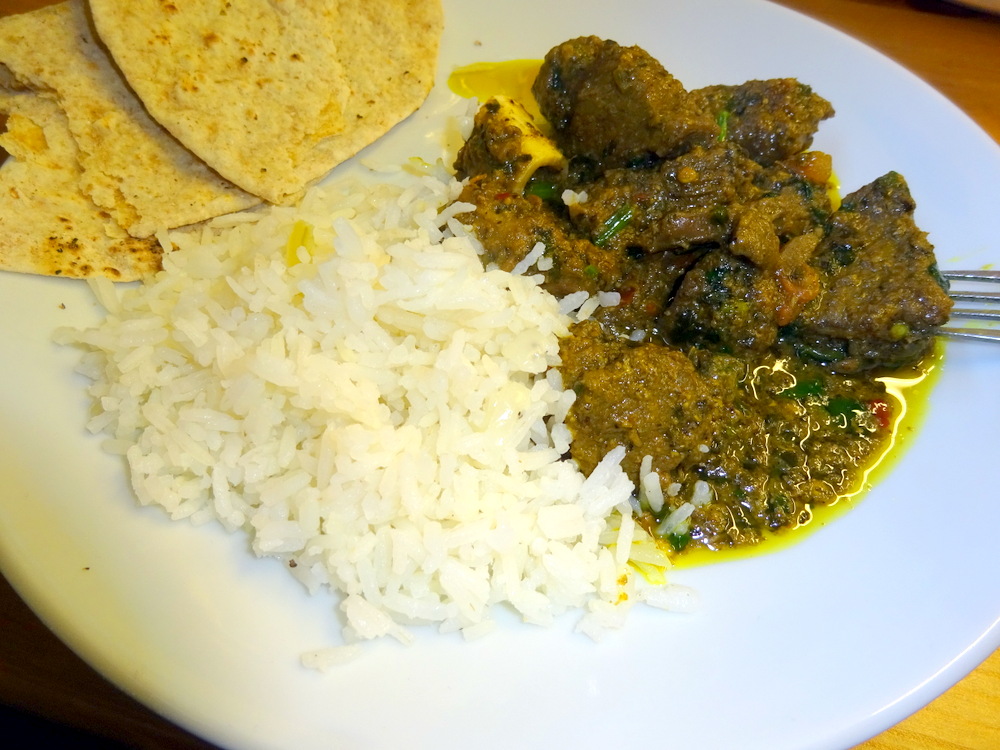 Hector was confident that his fellow diners would be impressed. The Lamb as ever was cooked to perfection, the Bone Marrow adding that something extra. The Masala was Medium Spiced, there is no need to make this Handi any Spicier, it's all about the Flavour. The Seasoning has to be Perfect to attain this level of Full-on Flavour. One could eat this all day.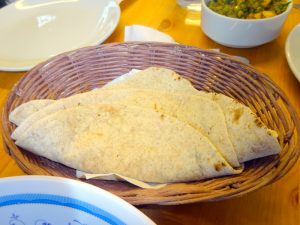 The Chapatti count reached five, two more were summoned. With the single Rice portion shared around the table, the Curry was eked out to ensure Satisfaction. Equidistant from the centre of Bradford and Halifax, if Hector was a resident of either, then this venue would be visited weekly.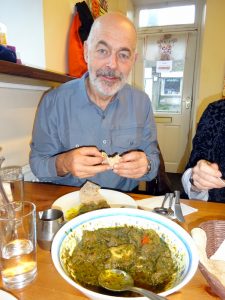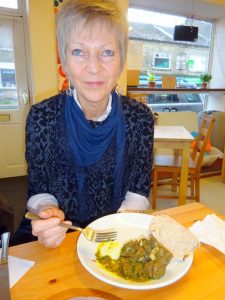 Much was said by Margie and Dr. Alasdair, I noted the latter's comments as accurately as possible:
Nothing about it I didn't like, after initially thinking there was not enough, which was wrong. It makes me want to have that again.
Is suspect both will sneak back to Bradford in the near future.
Paneer Mutter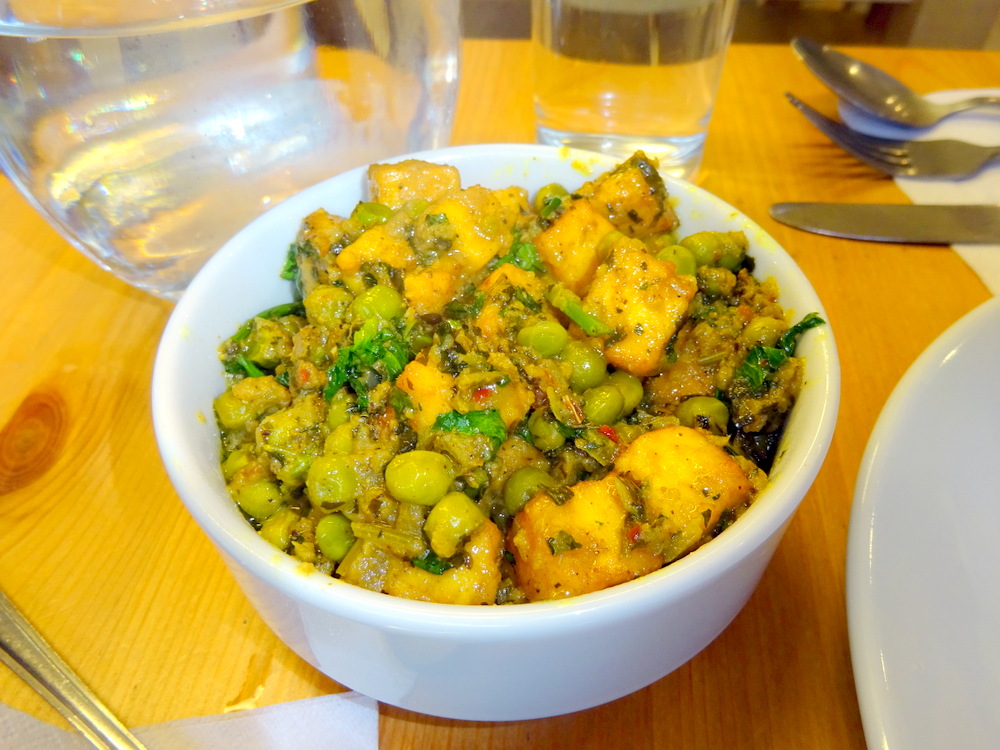 The quantity of Fresh Coriander made this Dish look most appealing. I am not sure that Hector's digestive system would cope with a Cheese-based Curry. Marg confirmed as she started that there was no – Keema – here, this was a Vegetarian Curry. I wondered how she would cope.
I had to sample: Very herby, a great taste.
Marg – I liked the textures, the Peas were good to munch into the Paneer.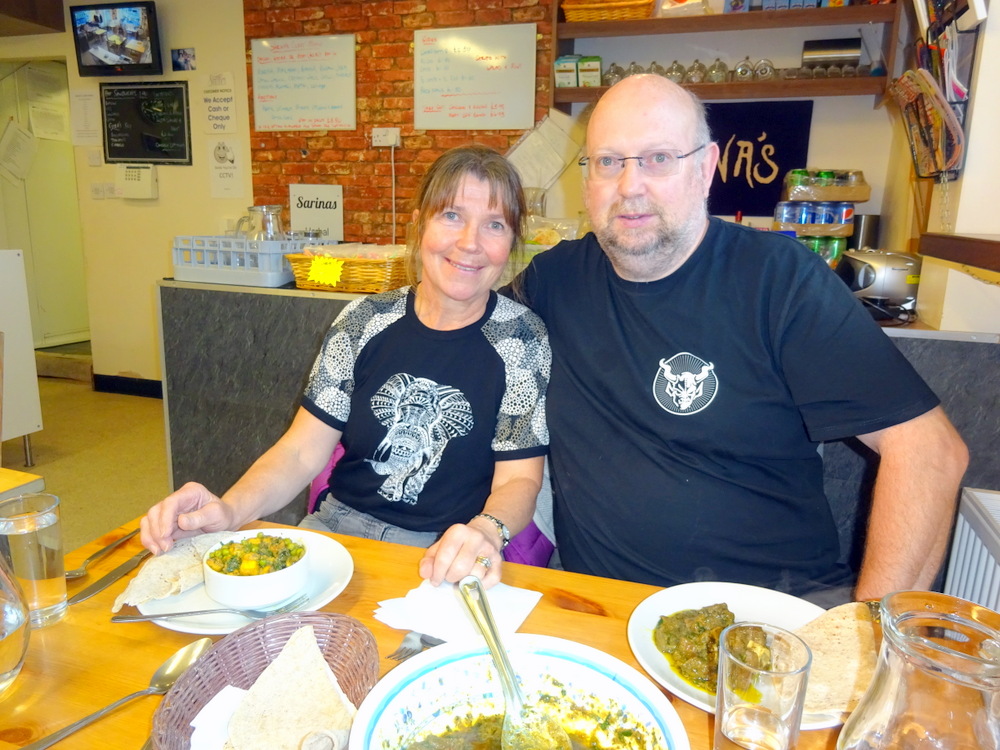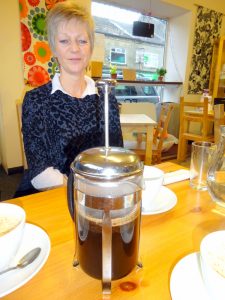 So relaxed were my Fellow Diners after their Lunch, we were in no hurry to commence the drive back to Scotland. Coffee was called for. Both Cappuccino and Filter Coffee were made available.
The Bill
£34.90. This made clear that only two portions of Mutton Handi (£7.95) had been charged for. I had hoped for at least two Large Portions, who had failed to communicate with Samantha? There has to be a Hector.
The Aftermath
The customary hugs for all were now appropriate, new friends had been made. It was decreed that Hector and Dawn should have more photos taken.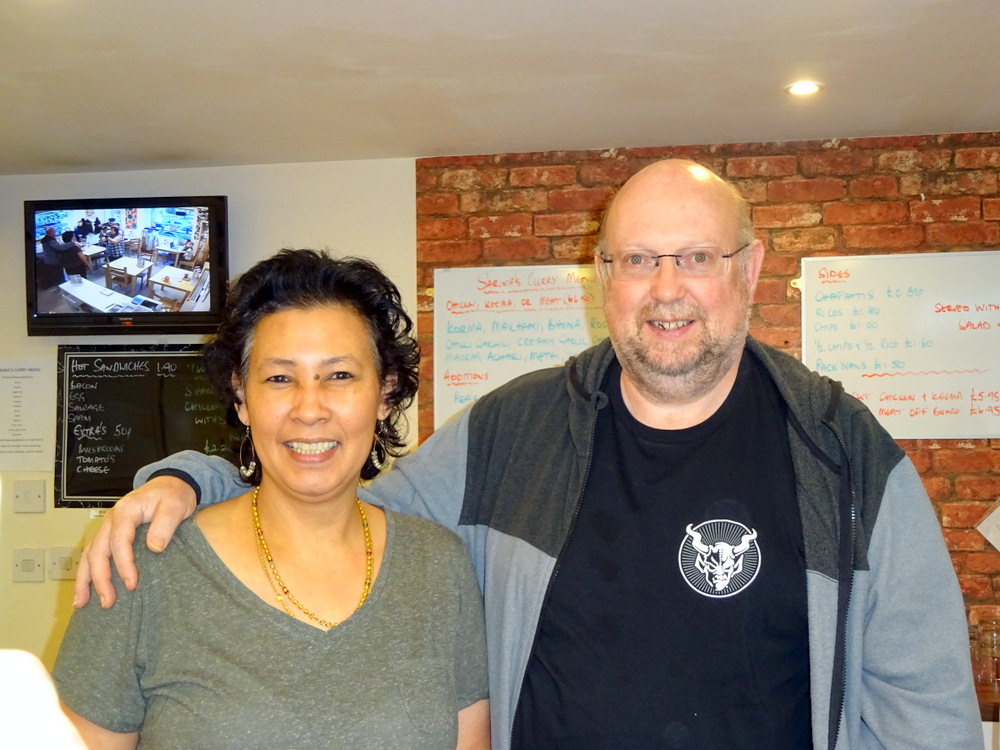 February 24th is the next time I see myself in Queensbury. A Super-Large portion for Hector please.