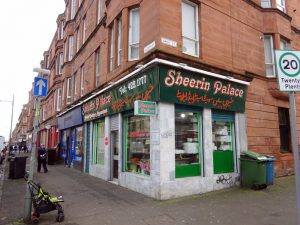 This would be a two Curry Day. Yvonne had Aloo Keema Mutter waiting for us to be served at a mutually agreeable time. Having followed Hector's Recipe, what could possibly go wrong? She did add extra Green Chillies then worried that she may have overdone it. Fear not, we can handle everything, well most of us. There was a Baby version. I shall dwell no more on what was a private memorial for Robin who was taken from us suddenly last week.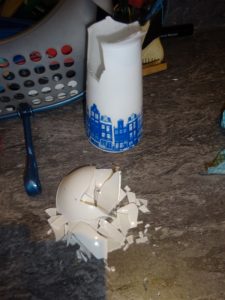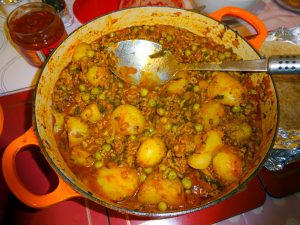 Those who appreciate the significance of – The Vase – may well be spooked by the fact that it met its demise today.
This explains why Lord Clive of Crawley is in residence at Hector's House this weekend. Before embarking on an afternoon liquid refreshment there had to be Bunkers. Few venues are open Sunday Lunchtime in Glasgow. I had to find a venue which was open and en route to Shawlands which would serve something worthy. Sheerin Palace (300 Allison St, Govanhill/Crosshill, Glasgow, G42 8HQ) ticked the boxes. Walking along Alison Street I noted that Desi Cafe – Desi Curry Palace had been open since very early to serve Breakfast. Lasani Grill was open too. Clive may well find himself here in future visits.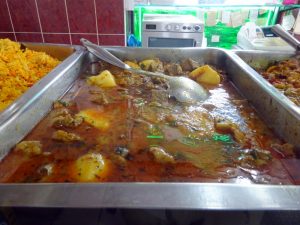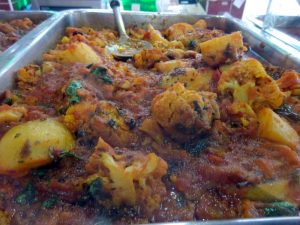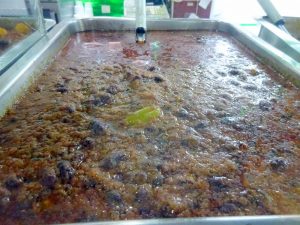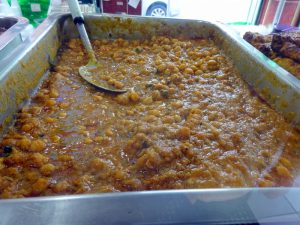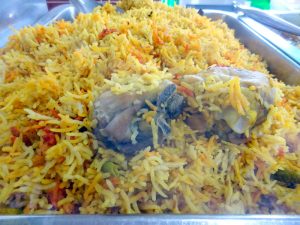 At Sheerin Palace one chooses from what has been prepared. Actually I have never tested them to see if they would prepare a Dish from scratch. Kofta Anda is always hoped for, there was one last remaining portion, I felt it better we have the same Curry. Mein Host talked us through the other Dishes on offer, Kidney Bean Curry? Maybe as a Side another time. Aloo Gosht was the most appealing, Chicken Biryani would provide the Accompaniment, the easiest way to get Rice.
I had forewarned Clive that Sheerin Palace has even fewer frills than the Curry Cafes I visit most often. We took a table in the adjacent dining area, a family soon took up another table. At 13.00 on a Sunday, Sheerin Palace was doing good business.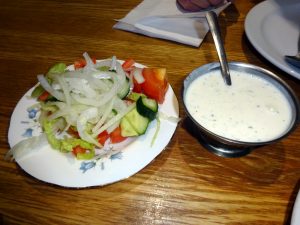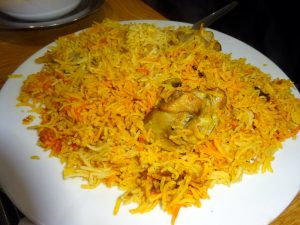 A Jug of Water and a Modest Salad were presented with a decent sized bowl of Raita, these remained untouched initially. Two substantial plates of Aloo Gosht were brought followed by a single plate of Chicken Biryani. There was more than enough Rice to share. A piece of Chicken each was quite sufficient given the impressive portions of Aloo Gosht. I counted ten pieces of Meat with a few pieces on-the-bone. I had one Large Potato, Clive may have had two smaller. The Curry could have been served Warmer, fortunately the Rice was Hot.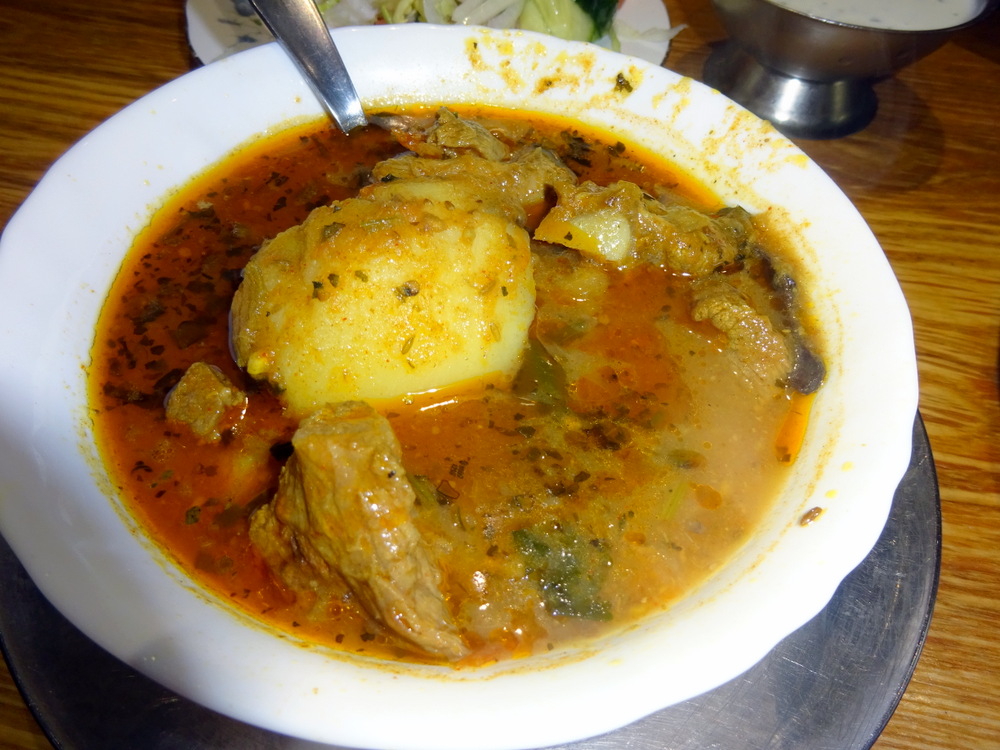 A Curryspondent put Hector in his place after an early visit to Sheerin Palace, I dared to comment negatively on the Shorva. I have come to accept that if a Curry is cooked in this style then this is deliberate, it is – Desi Curry. When I complain about Soup (Shorva), it is when there is an excess of Blended Masala with a few bits of Meat in there somewhere. The Curry at Sheerin Palace is far from this, behold genuine Desi-style Cuisine.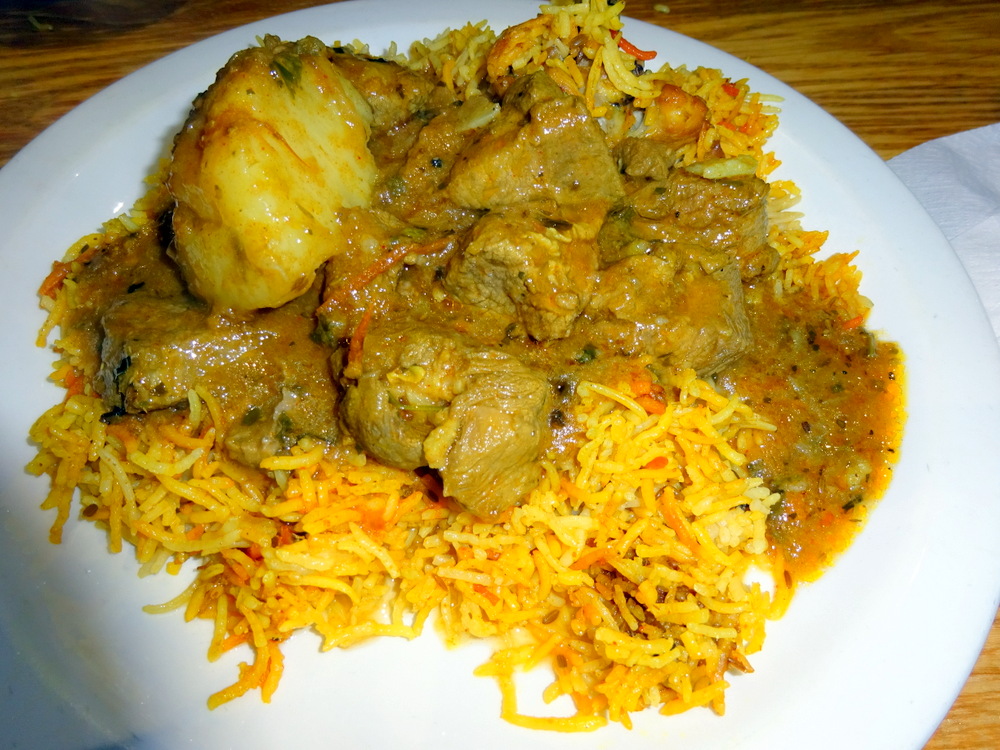 The Shorva soaked into the Rice making the latter even more Flavoursome.  The Spice Level was no more than – Moderate – as ever the Seasoning was Perfection. The odd Clove was picked out of the Melange before I decided to make more of a Dog's Breakfast. The Salad began to look appealing. I took half and passed the remainder to Clive who copied my actions. Now we had Meat, Potato, Rice and Salad on the plate plus the solitary piece of Chicken. The Chicken, also on-the-bone was taken care of. It did nothing for me.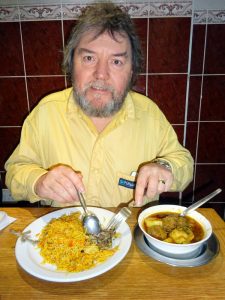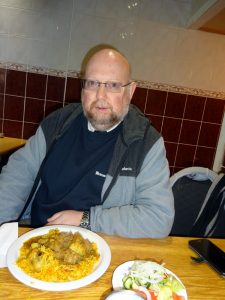 There's a level of spiciness in the Rice – remarked Clive as he started. Thereafter we were too busy enjoying the Fayre. This may be as close to the Curry served in Manchester's Northern Quarter as I have encountered in Glasgow. Simple food, served in a near instant with no ceremony.
No frills but very tasty – was Clive's summation.
The Bill
£13.50. This is for two.
The Aftermath
Mein Host asked if we had enjoyed our food. I may not be here often, but I know Sheerin Palace is always worth consideration.
As always.
And so to the deeper south where Aloo Keema Mutter was served at 17.00. No problem.