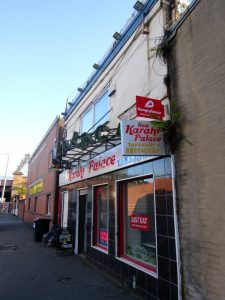 At Noon today, Hector was informed that Jonathan and Jim were heading to Karahi Palace (51 – 53 Nelson Street, Glasgow, G5 8DZ) for Lunch. Why not?
Hector walked in to Karahi Palace punctually for the 14.00 rendezvous, The Chaps were perusing the Menu, not for much longer. Ayaz (Mein Host) informed us:
No Lamb, only Lamb Chops.
Are we having Starters? – I asked.
Apparently we were – Lamb Chops (£6.00), three portions.
Jonathan accepted the offer of Keema, we assumed it had to be Chicken Keema (£5.50), a Naan (£1.50) would accompany. Jim had spotted Lamb Korma Spicy (£6.50). No Lamb, Ayaz reminded him. Jim followed Hector's lead:
Lamb Chops Karahi (£8.50) with extra Methi, Chapattis (£0.70) to accompany.
Can one have too many Lamb Chops? I suspect this may well be the first time I have had Tandoori Lamb Chops followed by Tandoori Lamb Chops Karahi. I feel a Vegetable backlash next time I go out for Curry. Ironically on the radio whilst driving to Tradeston, the preparation of Aloo Gobi was being described. I must try to cook this sometime.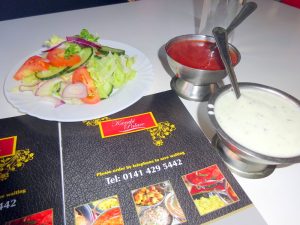 The Modest Salad was brought to the table with a bowl of Raita and the Hot – in temperature – Chilli Sauce.
We'll keep this for the Chops which will hopefully arrive whilst it's still hot.
Two weeks ago the Lamb Chops took an age, then Karahi Palace was busy. Today three portions arrived in good time. Time to get gnawing.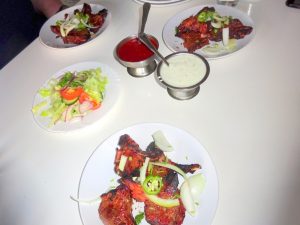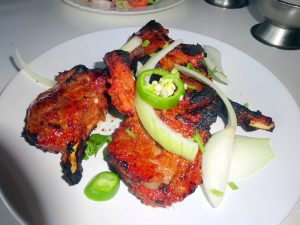 Initially, nothing was said, nothing need be said. The Chops were well fired yet retained their succulence. I took a slice of Green Chilli and immediately coughed. That was a Fierce Chilli. Moments later Jim had the same experience. Jonathan took the Chillis in his stride. Jim was finished first, I congratulate his dentist.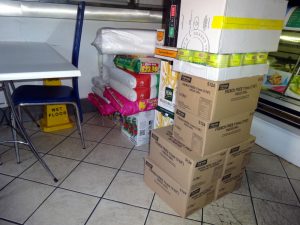 The door kept opening, the Delivery Man. Flour, Rice, Oil, Tinned Spinach and boxes of French Fries were piled up on the floor. I was keen to note the brand of Vegetable Oil, alas this was quickly obscured.
Qaiser had arrived in time to bring the Mains.
Minced Chicken Curry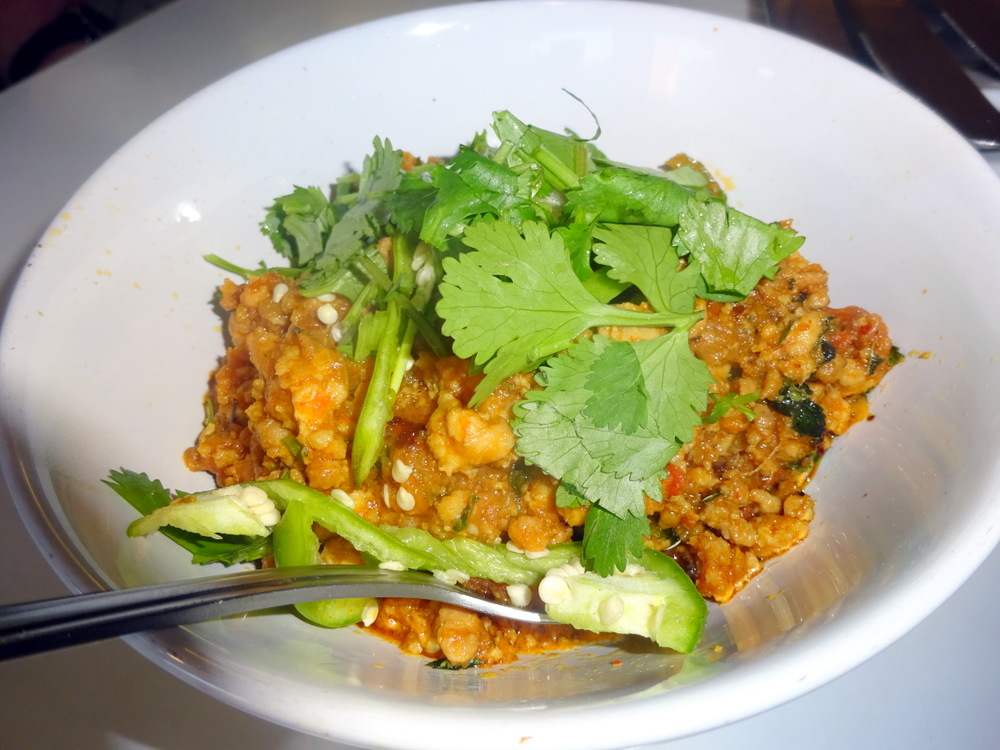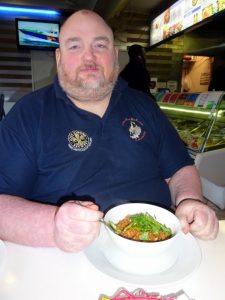 Chicken Keema – Jonathan confirmed. They had no Lamb, though Ayaz did suggest that it would arrive in the next hour. Jim commented upon the Quantity of Foliage covering the Chicken Mince. The Lamb Chops Karahi looked fierce. Four Tandoori Chops in the Hottest of Masalas.
*
*
Lamb Chops Karahi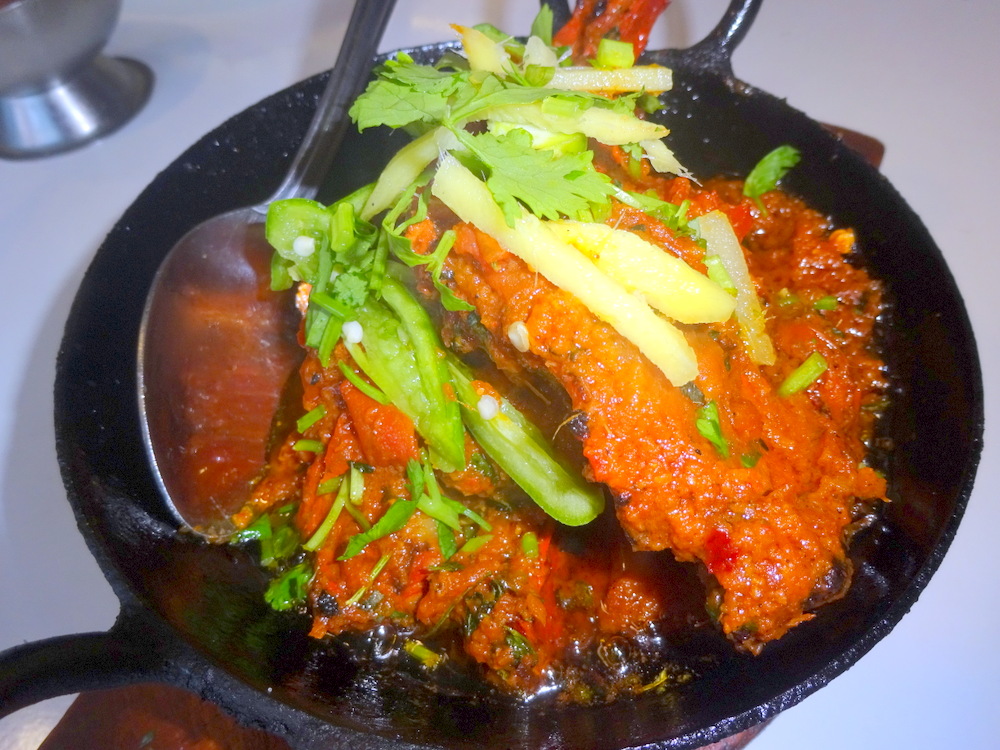 Hot! – exclaimed Jim.
Watch the expert – suggested Jonathan – use the Chapatti as a handle.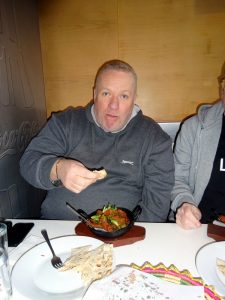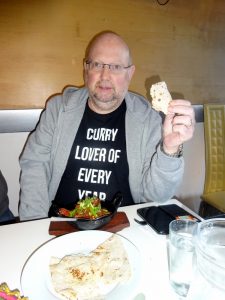 Once again I pointed out the anomaly of our mouths being able to tolerate temperatures our fingers cannot.
Presumably prepared in the same manner, the Chops took on a different Flavour when soaked in the Oily Masala. Pieces of Chapatti were then used to scoop up the Masala, possibly the most Tomato-rich Masala that Chef Rashid has ever presented. Fresh Green Chillies had been added at the time of serving, some had also been cooked in. With the requested Herb content, the Spice, Seasoning and Flavour was everything I have come to expect at Karahi Palace.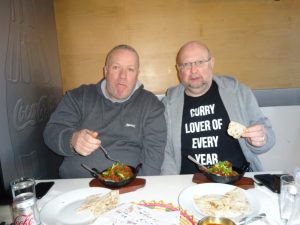 Jim commented upon the Ginger content, the Ginger Strips were doing their job.
That looks like a Mountain – I said to Jonathan who was still eating.
A lot for lunchtime – was his reply.
The Naan was served halved as were the Chapattis, I have seen few Naans at this Restaurant, this looked to be nothing special.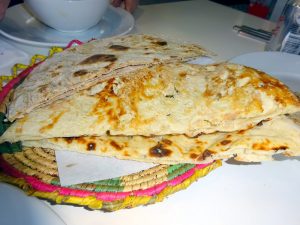 The Naan did not look outstanding – I put to Jonathan.
This he confirmed, however – The Chicken Keema was.
Eventually Jonathan had to admit defeat. That was a first.
An inspirational choice – Jim proffered anticipating my request for a quote.
Fan-Dabby – he added.
This was Jim's first visit to Karahi Palace.
The Bill
£45.00 Two cans of Diet Coke (£0.80) were included.
The Aftermath
Jonathan spotted the brand of Vegetable Oil – White Pearl.
I will have to look for this, as with KTC used at Ambala, the Oil at Karahi Place is a standout.
There was a suggestion we visit Yadgar next week. Hector is long overdue a return.
Meanwhile as I write I hear that Kebabish on Victoria Rd. is in flames.