When Lord Clive of Crawley is in town, Hector likes to take him to favourite venues and try somewhere different. Sheerin Palace was well received last November, today I decided to stay north of the river.
First visited in the early days of this Blog, Banana Leaf (76B, Old Dumbarton Rd, Glasgow, G3 8RE) sort of impressed. Meanwhile their Southside premises have come and gone in the interim.  I note I have had the same Curry in Banana Leaf both sides of the river.  The Lamb Chettinadu (£7.99) was worth another try, even though I knew in advance that their interpretation would feature – Shorva – not my preferred – Dry – as perfectly exemplified at Indian Mango (München).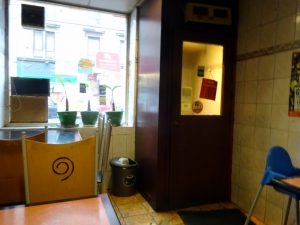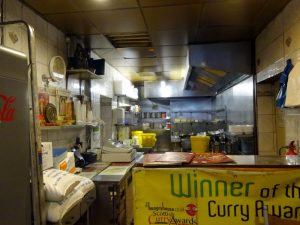 The neon sign said – Open – the place was empty today at 14.30. The overspill room was closed, a fact that did not please four Chaps who came in then left, they refused to squeeze on to one of the three remaining tables. One of these had boxes piled high, not an option. Mein Host was on the phone and remained so for an age. The Menus were provided, our choices made, we waited, and waited.
The Mains come with a choice of Rice or Bread, a policy Curry-Heute thoroughly approves of. Clive liked the sound of Kozhi Takkali Curry (£7.00) which was only available in – Chicken – Tamilnadu special dish medium spicy rich in tomatoes & finished with ground south Indian spices. With other Rice Dishes available at £4.50 – £4.75, the Inclusive Rice was the better option with two Parathas (£1.50) accompanying. One wonders just how – Special – the Rice Dishes must be to justify these prices.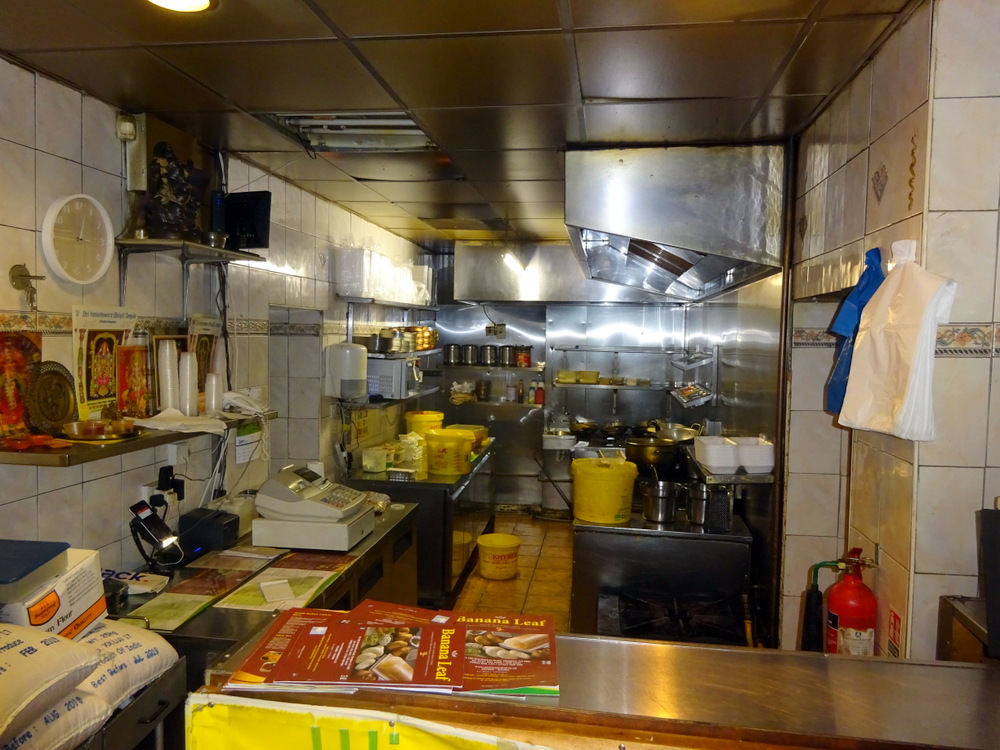 Hector prefers to dine in Curry Cafes not Pukka Restaurants, Banana Leaf makes no attempt at being posh. The open kitchen reveals all, with everthing visible, the ambience is zero. Mein Host even commented on how cold it was inside. The banner from 2011 commemorating Banana Leaf winning Takeaway of The Year is well worn. Hector was in attendance that evening, the only Curry which Hector has eaten and not reviewed since the birth of this Blog. Who wins awards?
Dinner plates were brought to the table, gone are the metal trays of seven years ago. The plates were taken back to the counter:
If we put our food on cold plates it will go cold quickly – I said to our Chap. They were returned suitably warmed.
Two standard pots of Basmati were presented, Decent/Sensible Portions. The Parathas took us aback. Served Whole, Layered and Flaky they were potentially – Perfect. But look at the size. I had to take another photo with the LG to prove how small they were. We would have no problem finishing these. Still, Wonderful Parathas.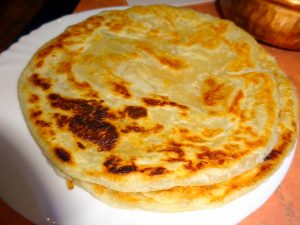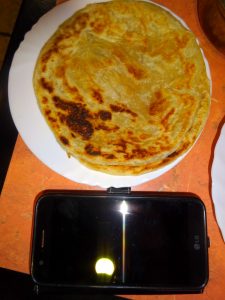 Two pots of Soupy Curry arrived, when this is known in advance, one is prepared.
Lamb Chettinadu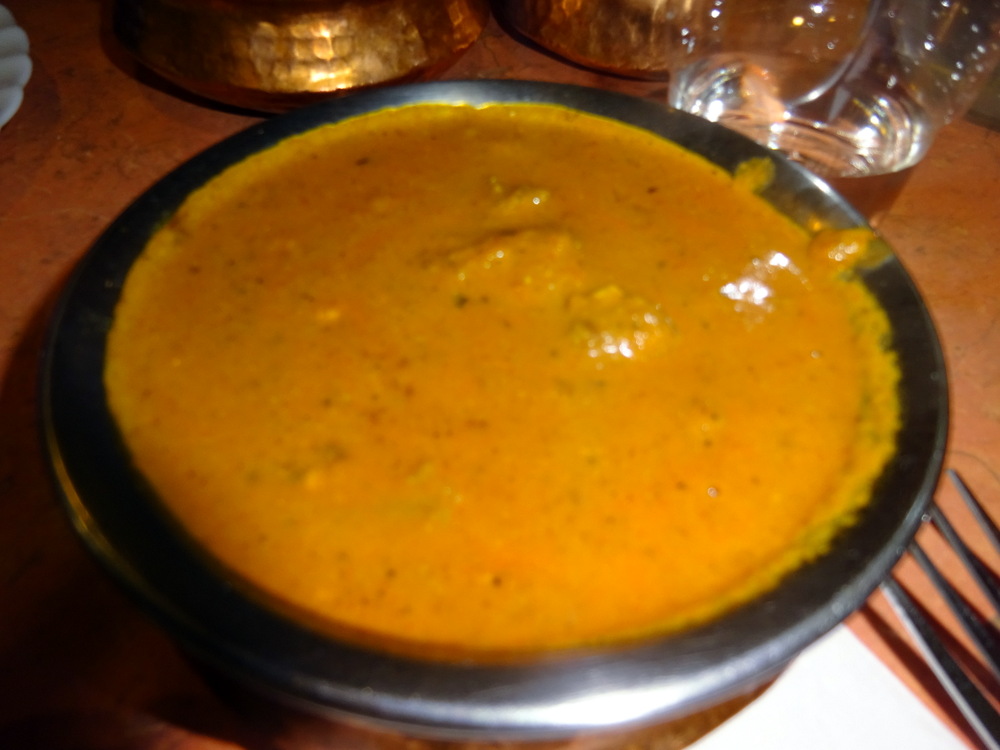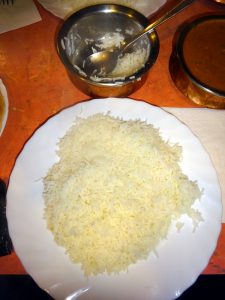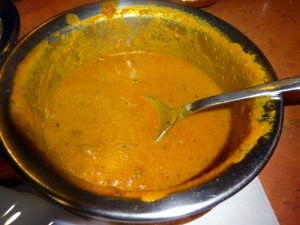 There was a lot of Meat in the Shorva, I was already impressed. One or two pieces were on the – Chewy – side, the majority Tender. The Spice Level and Seasoning both impressed, the specks of Black Pepper in the Masala the source of – The Kick. The anticipated – Smokey Flavour – associated with South Indian Cuisine did not emerge. In Glasgow, the Lamb Kolhapuri served at Tuk-Tuk may well be the finest example of – the style. Nevertheless, enjoyable, a change from Handi/Karahi.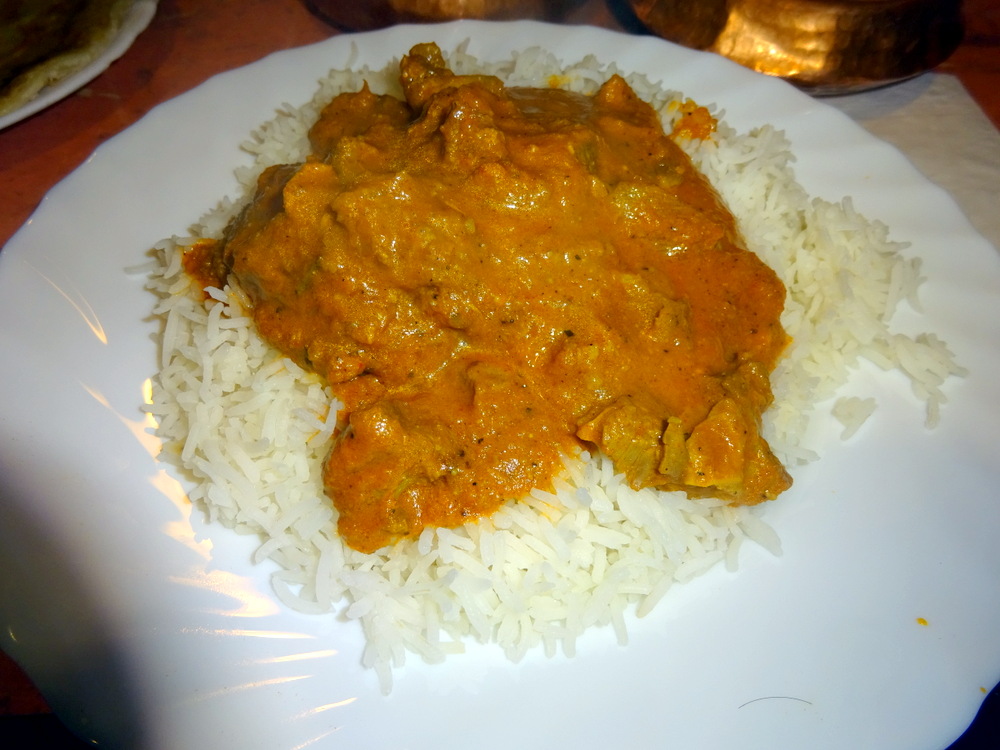 Kohzi Takkali Curry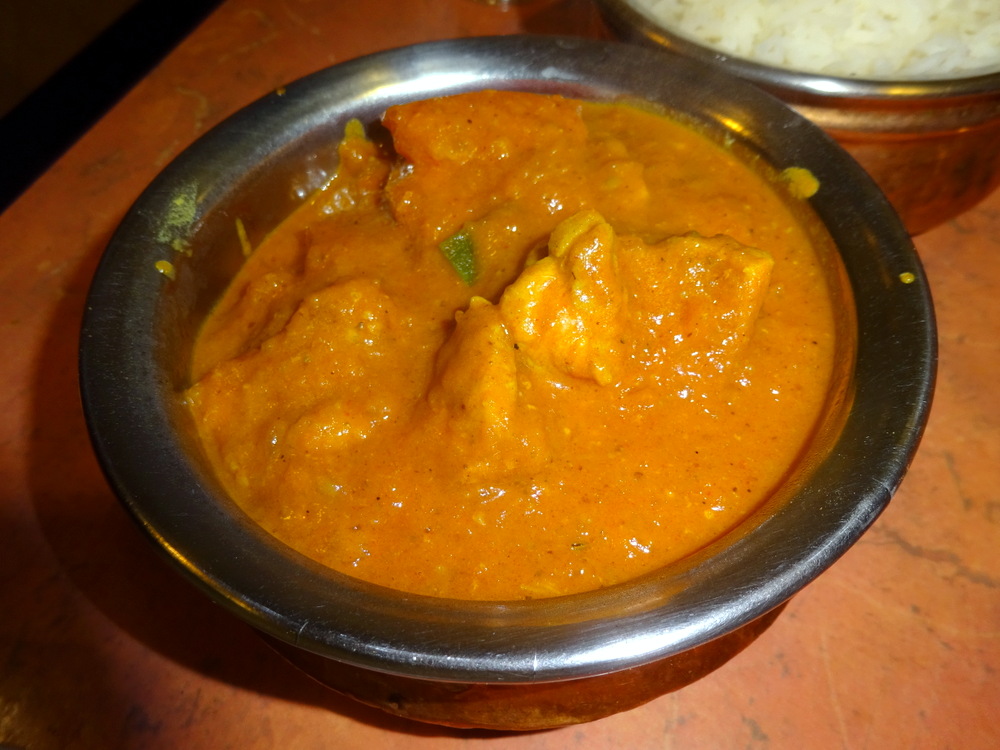 Clive thoroughly enjoyed his Chicken Curry so there is little need for Hector to make further comment. Those who like that sort of thing, like that sort of thing. A Soupy Curry with the Chicken protruding, I conclude there was a decent Meat Portion here also.
Spices are special, very tangy – was Clive's opening remark.
I would come back here, I definitely recommend you have a go at this.
Calm, Clive, it's Chicken.
For the record, I did have Chicken Curry twice last year, if such a thing really exists.
Clive's concluding statement:
Ambience may not be up to much, service could be better, but food was bloody excellent.
The Bill
£18.00. I like the prices, but would pay more for a bigger Paratha.
The Aftermath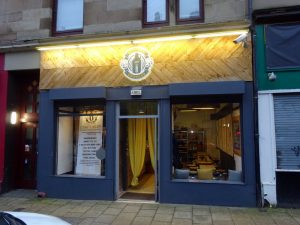 The Grunting Growler is across the street, irresistible. Mein Host there informed us that people regularly buy Draught Bier and take it across to Banana Leaf who have a BYOB policy.