How much Curry will Hector eat this week? With Lord Clive of Crawley resident, a lot. Once more Jim and Alan were up for a return to Glasgow's Finest Curry House – Yadgar Kebab House (148 Calder St, Govanhill, Glasgow, G42 7QP). As is the norm, Hector contacted Shkoor (Mein Host) days in advance to arrange Namkeen Karahi and Lamb Chops Achari, for four at 15.00.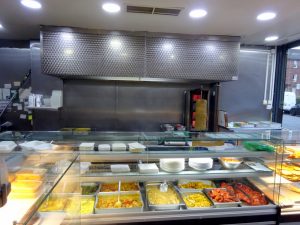 Clive and Hector arrived early, Naveed commented on our punctuality. We decided to wait for our Fellow Diners rather than embark on the Starters early. At 15.00, Shahbaz was bringing out the Poppadoms, Dips, Spiced Onions and Salad. These were accompanied by four Hot Plates. It is January, Yadgar can be chilly, Hector positioned at the window, had a heater under his bench seat.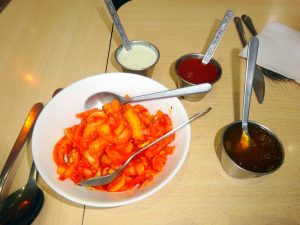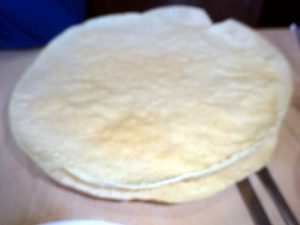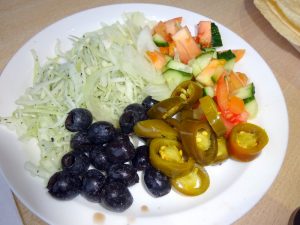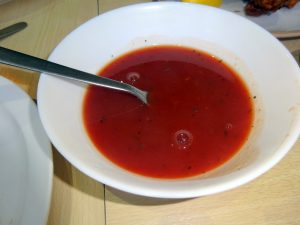 With four present, the Vegetable Pakora and Chicken Pakora were brought to the table. We only had a Soupçon of the Hot Chilli Sauce, Shafiq was asked for more, he brought a bowlful. The temperature of this Chilli Sauce adds a new dimension to Pakora, Poppadoms etc. Having avoided the Fish Starter today, none of us were stuffed before the Main Event.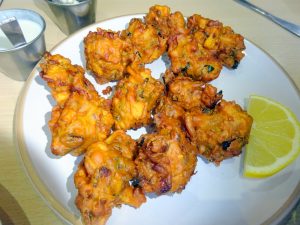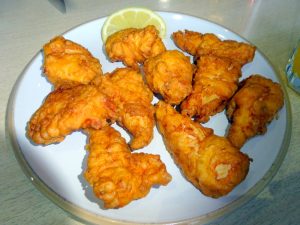 Shahbaz brought out the two Large Karahis: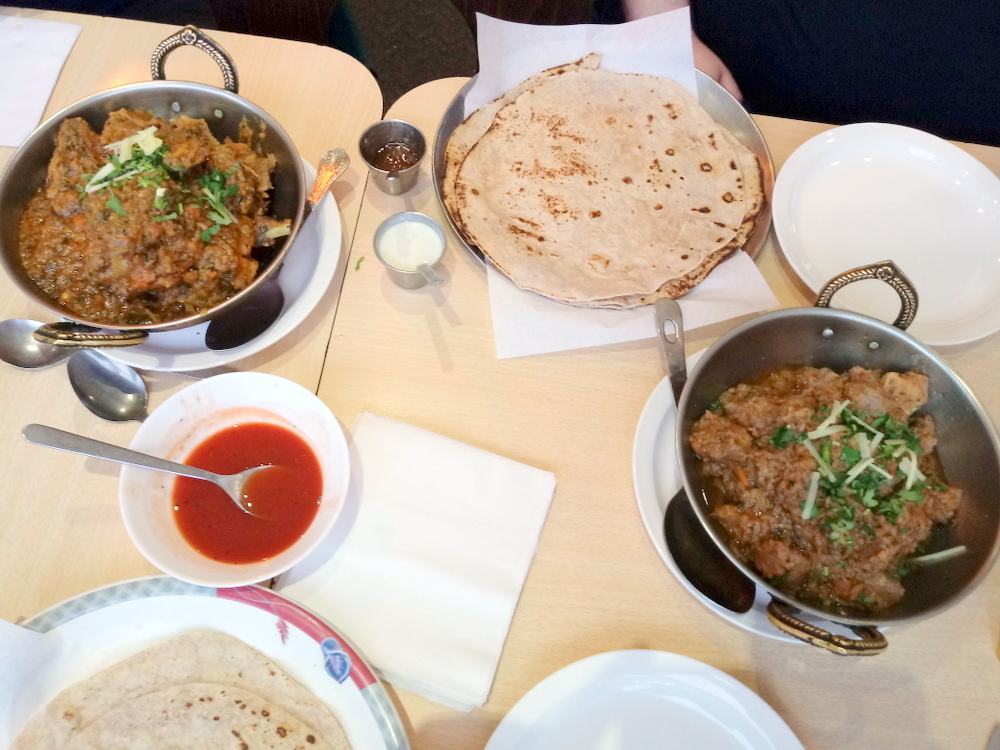 Namkeen Karahi and Lamb Chops Achari with Methi – he announced.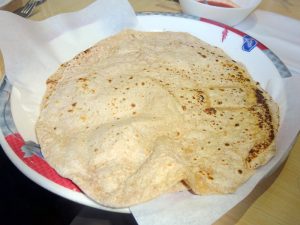 With Methi! – I exclaimed – Wonderful!
Chapattis would accompany, we would eat fewer than the House anticipated. Four more Hot Plates were provided, they are getting the simple things right.
The process of divvying up the Fayre commenced, then…
Something Happened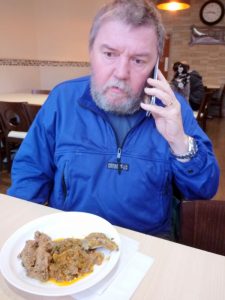 Clive's phone rang, a call he had been waiting for. He will not be returning to work on Monday. As of this afternoon – Lord Clive of Crawley is Retired! This was now his – Retiral Dinner. What better place could there be?  Today would be memorable, and not just for this being the #99 Review of Yadgar on Curry-Heute. What will happen for #100? It cannot be before March, who wishes to attend?
Lamb Chops Achari with Methi
Only Hector in this group had previously experienced the joy that is Lamb Chops Achari. With the Chops piled high in the Karahi then smothered in a Pickle and Methi-rich Masala, this was going to be some treat. Whilst completing the photographic ritual and updating my notes, Jim was ahead in the eating stakes. It took Jim a few moments to adjust to and then recognise – Pickle. The – Wow! – factor was there. The Chops were Tender, not the Tandoori Chops that many venues consider to be appropriate. Having taken three on my first sweep, it became evident that our quota was four each. Managing four Chops was not a problem but then one has to consider the Mass of Masala. The Hector Strategy was to use fingers, others used cutlery. The Chapatti for the Masala, the Chops eaten as they must be. My Dentist might be reading this. Care was taken, ah, the pile of Bones. All this and Methi too.
The Intensity of Flavour from the Thick Masala was impressive. Alan gave a revealing quote:
If I'd seen that on the menu I would have avoided it. It's absolutely awesome!
Namkeen Karahi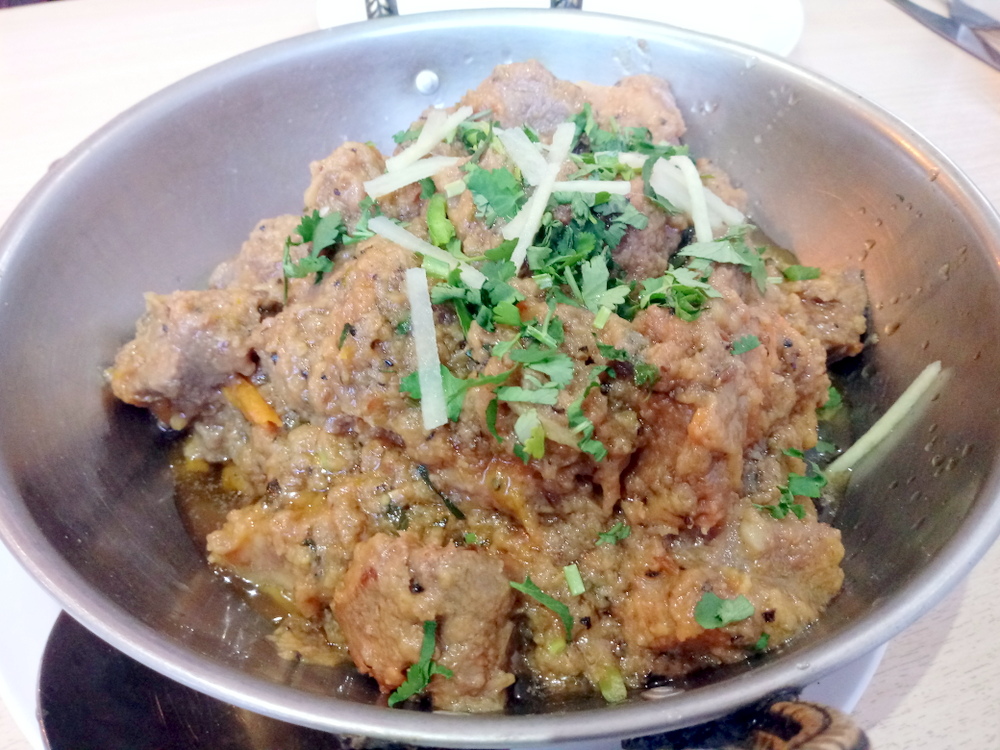 Jim and Alan had this last month for the first time, it was a no brainer that we would be having this again. Served on-the-bone to extract as much Flavour as possible from the most simple of Recipes, the Seasoning was at the top of the scale. Bones, Seasoning, Flavour, – The Curry Triumvirate – the antithesis of – Bland.
After the potency of the Achari, Jim thought that the Namkeen Karahi might not hold its own. No fear, it did. Once again the – White Karahi – was thoroughly enjoyed.  The most Tender of Lamb as one expects at Yadgar, and what a Masala.  Chef Arshad is always to be congratulated.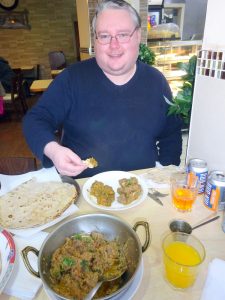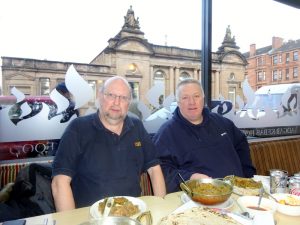 With the Chops long gone, it was a matter of finishing that which remained at the base of each Karahi. Clive had been silent, pondering his future? More Karahi went in his direction, there was no protest. Put it in front of him, Clive eats it.
Mr. Anwar Sr. came into the premises. He was updated re the Order and why this was now a Special Day for our Friend from Crawley.
I hope he likes the Scottish food – was Mein Hosts' remark.
We might even finish it – was Hector's reply.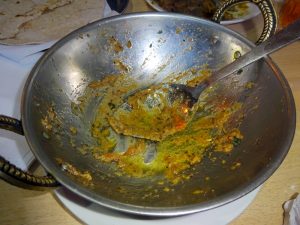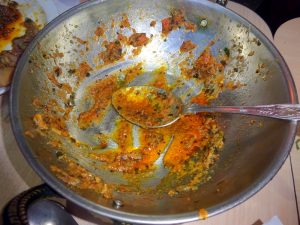 We did, leaving the cleanest Karahis I have seen in a long time. The Volume of Food presented was well judged, only scraps of Chapatti remained.
Naveed passed the table – The usual price? He nodded.
The Bill
£60.00. 4 x £15.00. Nowhere else serves this Quality and Quantity at this price.
The Aftermath
The food was being digested, I asked for further comments.
Jim – The Methi Chops were fantastic. Mmmmm.
Alan – My first meal with Lamb Chop Curry, it won't be my last.
Clive – A retirement dinner I shall remember for a long time.
So what do we have for Yadgar #100?  March 24th is looking likely, aka – Steven Wilson Day.