This makes an excellent lunch as eggs only. Add a selection of vegetables to make a main meal.
Try this with pork chops : this makes it a special meal.
Ingredients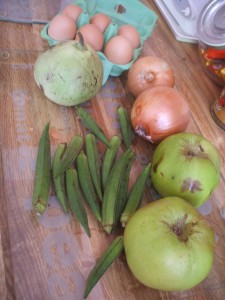 2 hard boiled eggs (per person) / 1 pork chop per person
1 oz butter/margarine
2 large onions
1 tbsp corn flour
2 large cooking apples
2 chicken/vegetable stock cubes
0.75 litre of hot water
2 tsp curry powder
2 tsp salt
25ml lemon juice
1 cup frozen peas
Paprika to sprinkle over completed dish
Boiled rice
Optional vegetables: 1 kadu – 100gr Okra
Method
1)   Melt the butter then add the onions, roughly chopped.  (The onions do not need to be as fine as in the normal preparation for a curry.) Fry for about five minutes.
2)  Stir in the corn flour and coat the onions.
3)  Make the stock and stir in enough to dissolve the flour and to cover the onions.
4)  Chop the apples (peel and core) and add along with the curry powder, salt and lemon juice.
5)  Leave to simmer on low heat for 45 mins.  Add more stock if the sauce is too thick, do not make a soup.
6)  Add the selection of vegetables ten minutes before serving.
7)  Serving: Half the boiled eggs and place on a bed of rice, pour over the curried apple and onion sauce.  Sprinkle with Paprika.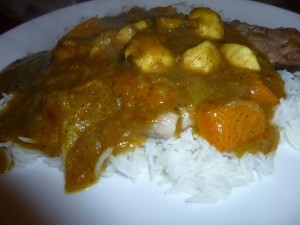 Here is a Photographic Record of Pork Chops Curry being prepared.
Mushrooms and Butternut Squash are the Interesting Vegetables.