April 8, 2010
Curry-Heute is born.
May 8, 2011
The Sunday Post prints the nominees for Scottish Curry Lover of The Year 2011 (and other important awards).  Hector, Trampy and The Tramp and Mr Tam Cowan have been shortlisted.
May 23, 2011
The Scottish Curry Awards 2011 at the Thistle Hotel, Glasgow.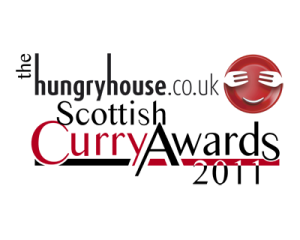 Hector's DVD presentation is not required after much effort at short notice. Mr Cowan  is awarded the honour. Trampy and The Tramp and Hector's names are not even read out.

There was audible booing, but not from the table where Hector, Trampy and The Tramp were sitting.

June 20, 2011
Hector has been invited by Mr Waseem Ahmed to survey the Curry at The Shimla Cottage, Coatbridge.
Damo Suzuki of Can fame is in Glasgow on the same evening – what a day!
July 10, 2011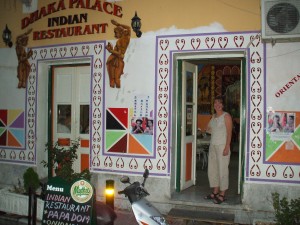 Hector pick-pocketed on way to the return visit to the excellent Dhaka Palace (26 Geraniou Street, 10552, Athens)
July 20 – 30, 2011
Hector's Holländisch Hootenanny, a Brugge to far…
Hector finally samples a Curry in Brugge?
Why is Belgian Curry so poor?
The Moti Mahal in Amsterdam is the stand out Curry of the trip.
August 2, 2011
Curry-Heute.com logs 100,000 clicks.
The Sheesh Mahal (Bradford) is closed!
A massive renovation, nay expansion, is underway…
October 11-16, 2011
München and Bamberg: a return to Mango is mandatory.
November 11-14, 2011
A Crawley visit and no time for Curry!
A return to München
What are the chances Hector will visit the Indian Mango?
The next possible München trip is July, 2012.
November 26, 2011
Hector has three Bradford Curries in one day at the same restaurant, The International.
December 16-19, 2011
Hector visits Köln, there may be the odd Curry consumed between copious quantities of Gluhwein.
December 27, 2011
Our man in Bradford reports that The Sheesh Mahal has re-opened.
December 30, 2011 – January 2, 2012
Ulverston (Cumbria) – 'the best place to be for Silvester' … just the three Curry Houses.  Hector's first ever English New Year.  How long before The Friends of Hector insist we return to München for next New Year?
 January 2, 2012
A night in Bradford,  the Sheesh Mahal has been re-opened exactly one week, wonderful new premises.
January 20-22, 2012
A return to Manchester.
The Curry Mile is visited for the first, and second time.
March 2, 2012
Bradford comes to Glasgow – the opening of Akbar's
March 24, 2012
The third visit to the Manchester Curry Mile
April 2012
The first Curry-Heute report from France!
April 8, 2012
Curry-Heute is two years old!   It was snowing in München in 2010.
April 27. 2012
Glasgow, Scotland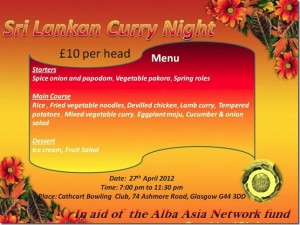 May 11 – 13, 2012
How many Bedford Curry Houses can Hector visit?
Yes it does say Bedford!
May 14, 2012
Hungry-House contact Hector and ask him to declare his interest in this year's Curry Awards.
May 24, 2012
Hector is once again short-listed as Scottish Curry Lover of the Year.  This time the opposition is Alzheimer Scotland, and Glasgow City Council.
June 11, 2012
Another evening at the Scottish Curry Awards.
Glasgow City Council wins Curry Lover of the Year. 
At least this time Hector's name was actually read out as being on the short-list.
August, 2012
Hector – The Curryspondant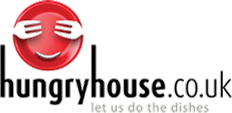 Below is a link to an interview conducted with Hungry House – a greatly expanded version of Hector's Curry Lust.
 http://mypassionforfood.co.uk/the-life-of-a-curryspondant/
September 14, 2012
The Village is due to open the new build this weekend, sometime.
Hector has not been for almost ten months…
November 10, 2012
I feel a München Curry coming on, could it be a return to the Indien Mango?
December 2012
The Akash in Helensburgh will re-open on January 20th, 2013, if other rumours of a December 23 opening prove untrue.
This is unlikely to be under the auspices of the Ali Family who have run it for more than thirty years.  Every Curry  incarnation in these premises,  of what was the Sangam  as far back as 1981, has come to a sticky end.
Meanwhile, along the road, the former Teak and Ash would make a splendid location for a Curry House.
March 25,  2013
Curry-Heute passed the Million Clicks in the small hours of this morning –  two weeks short of the three years since the inception.
My thanks to all those who take the time to read the posts, and especially those who make comments and suggestions.
I feel a Curry-Heute may be consumed to celebrate…
July 9, 2013
There is Curry in Tunisia!
Calcutta Restaurant Indien, Calcutta, Carthage
 July 19, 2013
On the day Hector celebrates the 50th Blog entry at Glasgow's Yadgar, news reaches him that the future of another Glasgow favourite – Cafe Salma – may be in jeopardy.
December 7, 2013
The Khyber Restaurant, Scotland's first Afghan Restaurant has closed.
April 8, 2014
Curry-Heute enters its Fifth Year of Curry Blogging.
A Curry in Inverness marks the occasion.
April 24, 2014
Hector is invited to the Grand Opening of Danny Singh's Gandhi in Victoria Rd, Glasgow.
Follow the travels of Hector on the Curry-Heute Blog
May 30, 2014
Curry-Heute records Two Million Hits.
June 17, 2014
Maureen's annual Charity Curry Night.
Venue: Curry on the Hill.
August 23, 2014
Mr. Snax, Curry Lover of The Year – 2008, contacts Hector at the instant he is about to devour Curry.
 April 8, 2015
Curry-Heute is five years old.
A BIG THANK YOU to all who read and especially those who communicate on a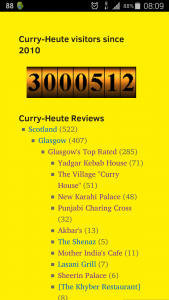 ll things Curry.
May 5th, 2015
Curry-Heute passes the 3 Million Hits mark.
Hector has written a lot about Curry both domestic and in foreign lands.
The travels shall continue.
June 19th, 2015
At 22.15 the superb Ramadan Village Buffet will be served.  Late night dining may not suit all, however, nowhere serves so many Desi Dishes simultaneously in this corner of the planet.  From tonight until…
February 17th, 2016
The Four Million mark is reached.
March 27th – April 4th, 2016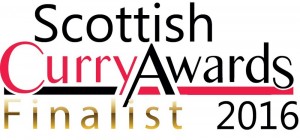 Hector makes his first trip to India.
April 4th, 2016
Curryspondent Eleanor attends the Curry Awards where Hector features as a Finalist as Curry Lover of The Year, for the third time.
What does Hector have to do to win this award?
October 23rd, 2016
The Five Millionth hit on Curry-Heute is registered.
November 11th, 2016
Hector is invited by Oceanic-Media to help promote the first – Glasgow Curry Week.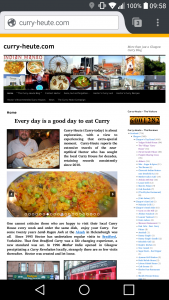 June 20th, 2017
Three years to reach 3 million hits, two more years to double this.  I must be doing something right.
My thanks to all those who take the time to read this tome, and especially to those who comment.
December 7th, 2017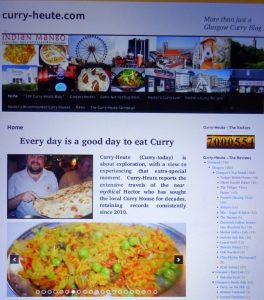 The 7 million hit mark is reached.
The numbers clicking past at an ever increasing rate.  as always, my thanks to those who read my ramblings and the Curryspondents in particular.