Charcoals Indian Restaurant – 26A Renfield St, Glasgow, G2 1LU
*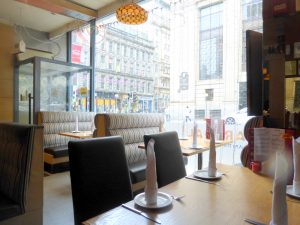 For many years the frontage of Charcoals suggested little more than a Takeaway. Hector's first sit down meal was in 2011, competent Curry, not a lot different from what I can make at home. By 2012 the management had changed, the interior was redesigned and the Awards started to accumulate. I have been critical of the Fayre over the years, a tendency towards – Mainstream – persists, one always hopes for the – Wow!  However, Charcoals remains Hector's favourite City Centre Restaurant. 
The entry area remains a bottleneck, creating an open kitchen would be a solution.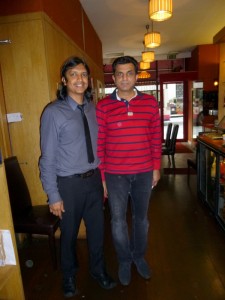 Mein Host, Muhammad Sultan aka Mr. Ali has featured in the Scottish press in recent years firstly for ploughing his own cash into feeding the poorest of Lahore (Pakistan) and more recently for feeding the homeless of Glasgow.
Open at Noon daily and staying open all day is rare in Glasgow, one can be certain that Curry can be secured at Charcoals. Bookings should be considered early evening, the Pre-theatre Menu has proved very popular. A Lunchtime Menu is also available, or a la carte at all times. The venue is licensed. Somewhat amusingly, the beer tap is located in the main passageway to the larger seating area at the rear.
By 2014, a second outlet – Charcoals Cafe – was opened on Trongate.
The 2017 Menu (Extract)