Curry House – Helmstrasse 11, 91054, Erlangen, Bayern
Open 11.00 until Midnight
Having visited six of the seven Indian Restaurants in Erlangen, the Curry House is the venue that has amassed the most visits.  The Siemens-Gerätewerk, and a University Hospital go some way to explain so many outlets in a town of this size.

The proximity to the Bahnhof (just outside the train station to the left) makes it an ideal stopoff point when travelling between Nürnburg and Bamberg.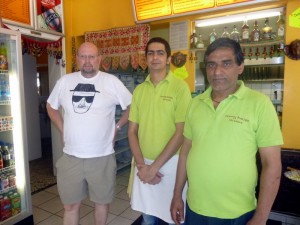 Achtung! Hector writes often about the need for the presence of a decent dose of Salt in Curry, at the Curry House there is no holding back.
A full Menu is posted above the counter, however, in all visits I have stuck to the prepared Dishes on display. The prices are very attractive in this Cafe-style venue.
A range of Drinks from Lassi through Bier to Spirits is available.