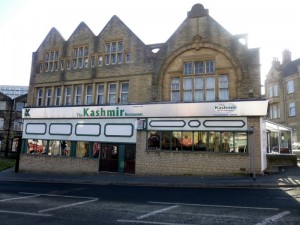 For a stranger arriving in Bradford for the first time one needs a simple place to park.  In the city centre close by the Museum of Film and Television, the attraction which first brought Hector to this city, lies a car park.  The car park is on Wilton Street.  One has to pass Kashmir (27 Morley St, Bradford BD7 1AG, England) to access this car park.  There is a much posher Curry House adjacent to the car park and another outlet directly across from it; however there is something very seductive about the location of Kashmir.  Hector admits that this was possibly the fourth Curry house I had tried, what became my first favourite was opposite Kashmir and became a Vodka Bar some twelve years ago.
The Kashmir is Bradford's second longest surviving Curry House.
Hector kept finding himself in Bradford during Ramadan, and in the daytime.  Many outlets are closed at this time.  Kashmir is most certainly found open.  The downstairs Cafe always has customers.  Upstairs, open in the evenings, is a cavernous place on split levels.  I have never seen it full.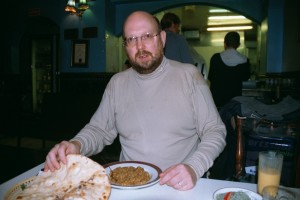 The classic Bradford Dry Lamb Curry was the attraction once upon a time.  The Keema range is impressive, and being open early, Fish Karahi has become a ritual. Satisfaction is guaranteed.  The prices are low.  And never, as I did on one visit, order Nan Bread  and Rice along with the Curry: up to four Chapattis may come along with the meal.  As I have come to learn, forget the Rice.
I have been here earlier, but of late they have declared an 11.00 opening time.