Better by far than Sharm El Sheikh
In the summer of 2008, Hector and Marg received an offer from Lord Clive : two weeks in Luxor with the 'friends and family' discount that Kuoni offered their staff.  As Hector was about to be 'Best Man' at the wedding of Lord Clive and Maggie a few weeks later, we qualified.
After a few evenings of trying to find good eating venues at Egyptian prices our 'Rep' at the superb Sofitel Karnak informed us that there was indeed a place for Indian Curry.  Located on the southern extremity of the main city area on the second floor of a building it shared with a Chinese outlet was the Bombay.
Cold, very cold draught Bier was a necessity, the sun had set.  This is another of Hector's Rules for a hot climate – no Bier before sunset.
The menu was typical of any mainstream UK Curry house.  The staff were attentive.  Humour was evident, but most importantly the food was excellent.
The Second Coming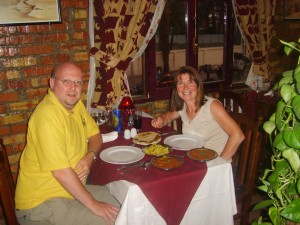 The food was so good we went back in our second week.  Of course this time we were recognised and managed to chat with the proprietor.  He and his wife were from Yorkshire.  They knew what Curry really is and had managed to find staff who could cook a proper Curry.
It's been a long time
It has taken Hector a while to post this recommendation page as I have been trying to verify the name and location of this outlet for quite some time.  I am now convinced I have unearthed enough evidence to prove that the present 'A Taste of India' is the same business but now relocated.