Mumtaz (386-410 Great Horton Road, Bradford, West Yorkshire, BD7 3HS) needs no accolade from Hector.  This long established restaurant is a cut above the rest of the Bradford outlets in scale and decor.
Hector first ate here back in 1996, one if his First Ever Bradford Curry Experiences.
The venue is always full, well it has been on every one of my visits.  Booking is well advised and then even then one has to queue.
Be careful when ordering, especially Starters, the portions can be huge.  I once ended up with nearly half a Chicken when ordering what I thought would be a modest portion of Chicken Chat.  The main courses can be ordered by choice of weight.  This is the first Curry House in which  I ever witnessed this superb idea.  I wish more places would take heed of this.
Classic extended Asian families can be found here on most occasions.  This place can be a great venue for a big night out as it was back in 2006 for Hector's Fiftieth, en route to the Fat Cat (Sheffield).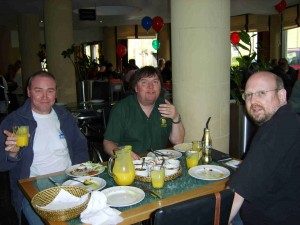 In addition to the Curry served for consumption n the premises, there is the Mumtaz Branded Food Range.  Their Mango Lassi is available even in Glasgow (KRK) as well as an array of Condiments, Masala, Oils and Frozen Food.
The Baby Food Range proves that one is never Too Young to start eating Curry!