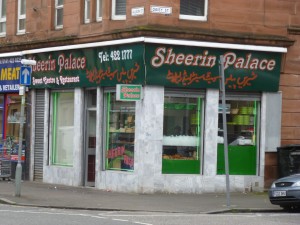 300 Allison St, Govanhill/Crosshill, Glasgow, G42 8HQ
To borrow a phrase from Curryspondent, Ahmed – One does not come to the Sheerin Palace to dine, but to eat. There is a line of Curry Cafés stretching across Glasgow's Southside from Cathcart Road to Paisley Road Toll. That Sheerin Palace is the first Curry Café since the nearby Yadgar to make the Hector List of Recommended Curry Houses should be testimony enough. Had Yadgar not been a couple of blocks before Sheerin Palace, who knows how many visits Hector may have achieved?
In many ways Sheerin Palace is more a Takeaway than Restaurant. Sweet Centre is its other designation, and so the turnover appears to be constant.
Seating twenty four at six tables, it does not take long for the place to feel full. The Dining Area is Spartan, no Menu is on offer and no Price-list is posted. Fear not, nobody will ever pay excessively or leave under-sated.
The Glass Counter is where the Dishes on offer are displayed. Kofta-Anda, Fish Curry, Chickpea Curry, a Daal and Chicken Biryani have been ever-present in my visits. Chicken Palak seems to feature regularly and only on my first visit have  I had Quail.     Ah, Quail.
Clearly the Dishes are reheated as requested, the Breads are made fresh.
The Curry served here is in the Old-Fashioned style. Shorva is a term that I was introduced to after my third visit here by Reybans. Thick Masala is on offer if one has the Chicken Palak. The Thin, Red Oily Masala is their Favoured style. The latter packs an Historic Taste, but not excessive Kick.
The Staff have always been Polite and Friendly on every visit and indulged Hector's desire for Photographs.  They are no Waiters but they always ensure all is well without being in your face.
I have brought Mother here, one day I shall take Marg.