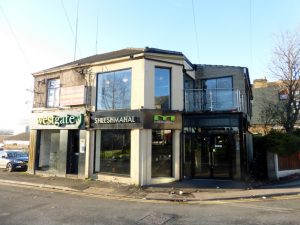 There is a Menu at the Sheesh Mahal, I have read it only once or twice and My Dish is not there.  Whatever one desires – ask!  This is how I came to experience one of the truly great Curry dishes ever served.  Omar listened to my description of the Perfect Curry – Dry, Thick Masala, Lamb on-the-bone, Methi and Medium with a Kick.  This was presented, I have eaten it ever since  – The Omar Special.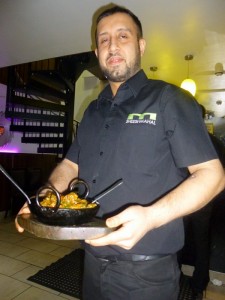 Given that I cannot be in Bradford as often as I might wish, the welcome from Omar and Taj is always a warm one – Mr Hector – to give me the recognised moniker.
It is fitting that I should post the Sheesh Mahal (6 St. Thomas' Rd, Bradford, BD1 2RW) dedicated Page on Curry-Heute in September 2012, exactly one year since one of the greatest disappointments in my life.  Having managed three visits in the first half of 2011, I had promised Marg a Curry Extravaganza, instead we found a shell of a building.  The Opening Soon sign had me worried given how long it has taken The Village in Glasgow to open their New-Build – two and a half years and counting…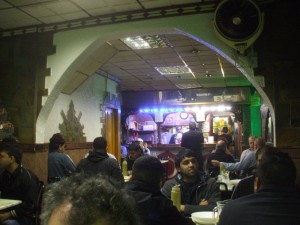 At the start of this year the first visit was made to the new premises, what an improvement!  Taj has come a long way since opening this venue as The Metro back in 1979.
The Sheesh Mahal is all about the quality of the food.  The décor in the original building left a lot to be desired.  What we now have is a classic contemporary Curry Café that Taj the owner is certainly proud of.  Keeping their Chefs and maintaining the outstanding quality of Curry was achieved.  The staff now resplendent in their own uniforms give the air of a venue where one might expect to pay perhaps three times as much as one pays at the Sheesh Mahal.  The quality of the food is outstanding, the prices remain competitive – these are Bradford prices.
Traditionally a Late Night eating venue, the Sheesh Mahal now opens daily at Noon  For a time, Sadaqat was given the challenge of running the Sheesh Mahal in the daytime. He has become famous for his Challenges – (Complimentary) Dishes out of the ordinary, brought to the table to taste.  Sunday lunchtimes can be a difficult time to find choice in Bradford, – no more – come to the Sheesh Mahal.
 Desserts