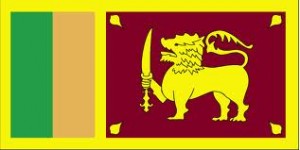 Marg and Hector went to Sri Lanka for a very special occasion.  The long flight from Heathrow to Colombo is not exactly Hector's idea of a perfect start to a vacation; however this island has been of great interest since it was studied in association with Malaria at University.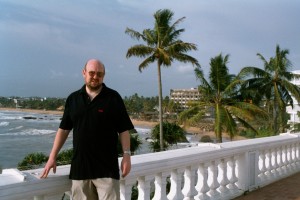 We were to conduct a ten day tour with a stop of five days at Galle on the south of the Island at the end.    The first night was spent at the Mount Lavinia Hotel on the edge of Columbo.  This is an old colonial hotel and features in the movie Bridge on the River Kwai.
Hector has never been to India, after all there are no Indian Restaurants in India.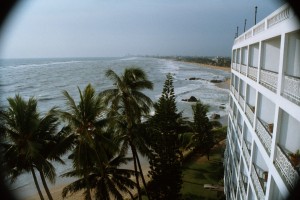 Perhaps there was more chance of finding one in Sri Lanka?  In the end we were taken to a variety of outstanding hotels throughout the trip and Curry was eaten every day, usually twice and on one occasion three times.  This proved to be Hector's limit, not because he couldn't cope, but because too many were coconut based.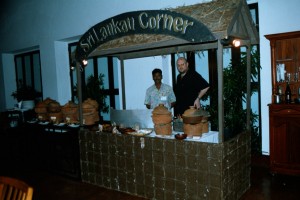 On entering the Mt Lavinia dining room it was like a restaurant anywhere, however, Hector knew exactly where he was heading.  The 'Curry Corner' had been sussed in advance.  The clay bowls had an array of splendid looking dishes.  The Lamb was located, here we go.
The taste was remarkable.  Black Pepper appeared to be the dominant taste, but Hector was to discover in Galle what was behind this.
This was Hector's first Curry on the Indian subcontinent.  It certainly was not the last.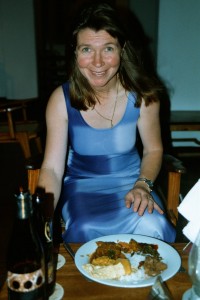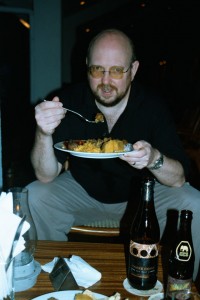 Marg presumably wondered what she had let herself in for…