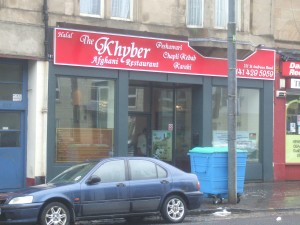 It was an article by The Chaps at The Herald in early 2011 that made Hector aware of this wonderful establishment. The style is very much more Cafe than formal Eatery.  Many will see it wedged between two Spanish Restaurants and wonder… At The Khyber (221 St. Andrews Road, Glasgow, G41 1PD)    the Menu is not large but the portions certainly are! Sharing Starters and Main Courses is advised if one is not in a ravenous mood.  One has to question if what they serve is really Curry, or an elaborate Spicy Stew.  The Meat is cooked in its own Juices meaning less Oil.  They also concentrate on Black Pepper rather than utilising the full range of Indian Spices.  Suffice to say the food is outstanding.
The Boti Kebab is Tikka Lamb at its very best.  Chapli Kebabs and Mixed Kebabs are also available.  For the Main Course, the Lamb Karahi ticks all of Hector's boxes.  With a Thick and Minimal Masala which reveals more and more Flavour as one makes one's way down the Karahi, the Dish just gets better and better as one consumes the mandatory half-kilo. An alternative to this is the not dissimilar Dum Pukt.
The original host was Hamza, but he has given way to Amjad who will do hist best to give you exactly what you wish. The Glasgow List – Eating Out Guide features this venue and Hector and The Chaps were there the day the photographs were taken.
I should have paid more visits by now, but the location is not one I pass often.
Postscript
Passing in November 2013 the lights were out, The Khyber Restaurant was closed.
In the summer of 2016, this venue re-opened as – The Khyber Pass Restaurant, still  selling Afghan Cuisine.