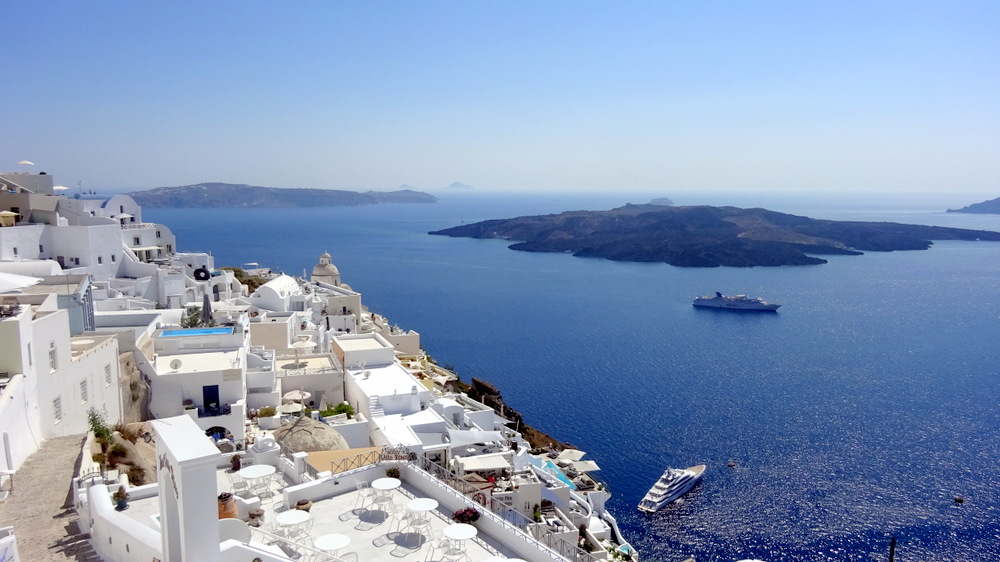 I spotted a Curry House in Santorini last time I was here, somehow I never got round to visiting, too many Sunset Dinners overlooking the Caldera? With Marg finally free of International Hockey Duties, she flies in tomorrow. A mid-afternoon Curry-Heute at Jaipur Palace (Epar.Od. Firon-Ormou Perissis, Karterados 847 00 Santorini) should leave me time to do – the normal things in Santorini. It was therefore pleasing to note that Jaipur Palace is open all day.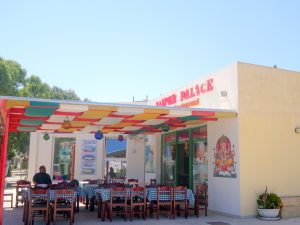 Although located further out of town than I remembered, Jaipur Palace was still remarkably close to the chosen accommodation. How does this keep happening? Entering at 14.45, I passed a group of four who were sitting under the canopy outside. As ever, I chose to sit in. Mein Host and his assistant greeted me on entry. I took a small table mid-room and was soon down to business.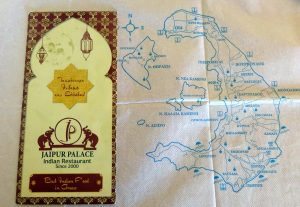 Tawa Gosht (€15.80) was among the most expensive Dishes on the Menu, but it did sound to be the closest to my preferred – Punjabi Cuisine. Tomatoes, Onion, Ginger and Garlic were mentioned, and most importantly, Capsicum was not. I would employ my usual tactics.
The Waiter approached, as soon as I showed him the Curry-Heute Homepage he went to fetch Mein Host. On seeing the  Slide Show he announced:
We don't have that, different style.
Fearing the worst, I made the plea:
I don't want Soup.
This tends to be understood.
The Spice Level was discussed. As ever I sought a Kick without going overboard.  Mein Host suggested the Tawa Gosht and went on to recommend Bread rather than Rice. The description of the Butter Naan (€2.10) had already been spotted: a flaky layered buttered bread made from refined flour. This sounded more like a Paratha to me, however, Bread in Greece tends to be good. A 1l Bottle of Still Water (€2.90) completed the Order.
It was only after Mein Host went in to the kitchen that I remembered I needed to exclude the Ballast. As he emerged, I said:
Please, no Capsicum – Peppers.
Not inside, we use for the garnish.
No Garnish!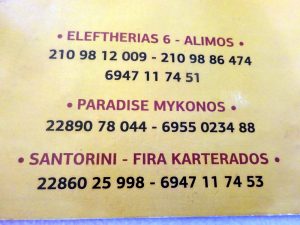 The Menu claimed that Jaipur Palace serves the – Best Indian Food in Greece. Better than Pak Taka Tak (Athena)? Does this also include the other two branches mentioned?
*
*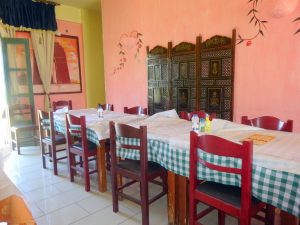 I was sat in a long, relatively narrow room, seating twenty; there was probably a larger seating area out front. The Decor was simple, enough to set the atmosphere, not the glamour of the Tavernas overlooking the Caldera.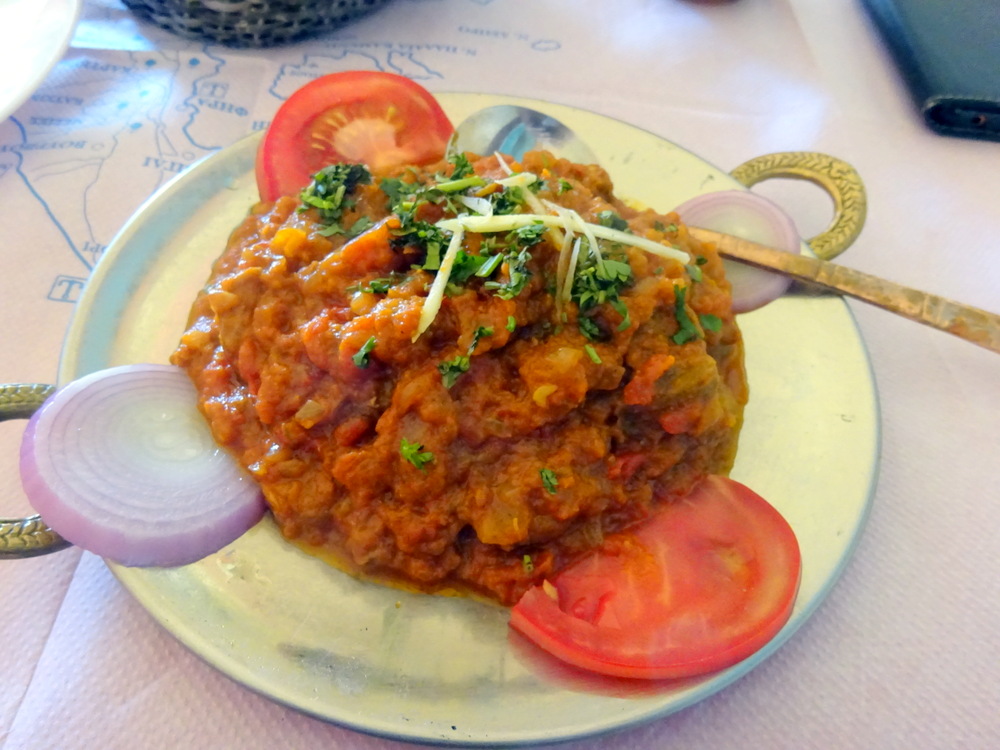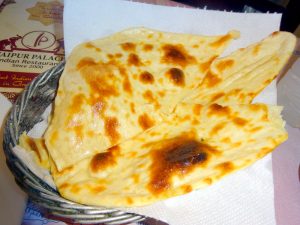 The Tawa Gosht arrived as promised on a metal plate. The Mass of Meat and Masala was garnished with Tomato and Onion. Would this have been Capsicum otherwise? Once again the Naan was cut in three. Thin, Flat, with no sign of – Flaky – or Layering – I doubt if this Naan had seen a Tandoor. If it had, what was Chef playing at? Inevitably, a Bread like this started to Crisp, not what a Naan should be doing.
The Tawa Gosht looked similar to – Rara Gosht – finely chopped Onions giving the Masala a gritty appearance. Red dominated, I put this down to an abundance of Tomatoes, then I spotted the Red Mush. If this was not finely chopped Red Peppers, then what was it? Time to dip.
The Spice Level was Sufficient, the Seasoning was decidedly – Under. The Toppings of Ginger Strips and Fresh Coriander were lost in the Mix. This was a – Mono Flavoured Curry, sadly, that Flavour was the Capsicum Mush which was masking all else. I rest my case.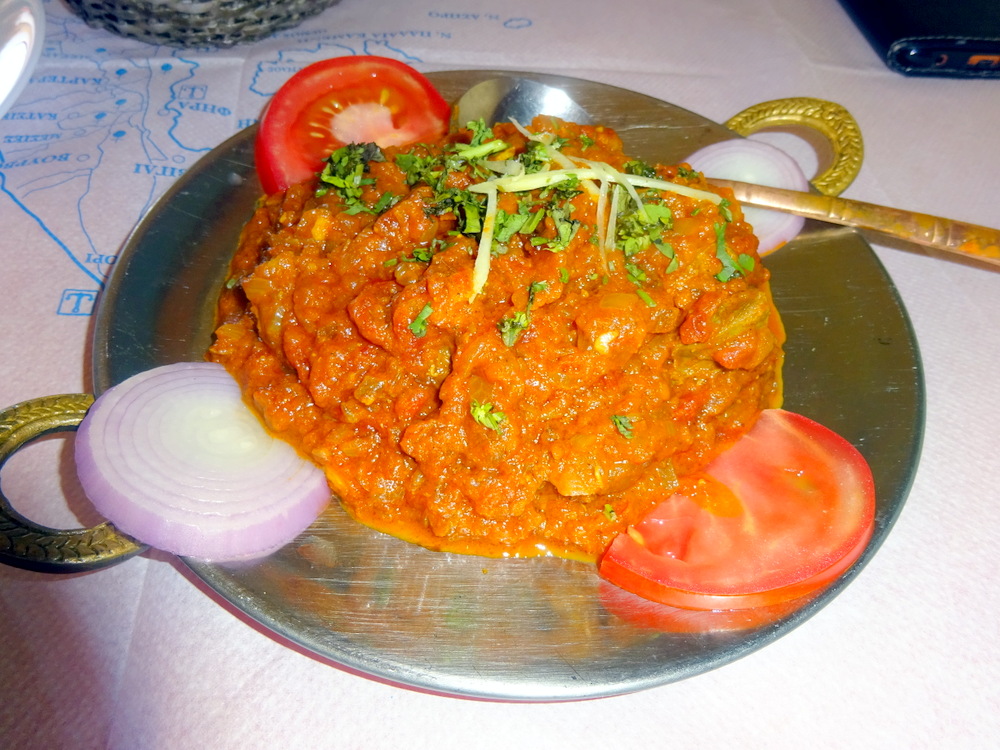 The Lamb was in double figures and very Tender, this was at least a cue to a favourable comment, – Excellent Meat – I recorded. Mein Host was keen to know if my Curry was Spicy enough. He would have brought more Chillies if required, not needed.
The Curry had a Texture I liked, was decidedly not – Soup, and had a most acceptable Spice Level. Not the greatest Curry, and most certainly not – The Best in Greece.
Jaipur Palace is worth a visit if one needs a break from Greek Cuisine. Ironically, The Hector is about to have a break from Curry.
The Bill
€17.20. (£15.09) As I would rediscover during the rest of the day, nothing in Santorini is cheap. The price of fuel is shocking.
The Aftermath
I looked for a Calling Card, none. I had given away quite a few  at Crop – Roastery Brewery (Heraklion, Crete). Quite a night, which will hopefully appear soon on Bier-Traveller.com. As a result, I did not make myself known.
There is a possibility of Curry in Naxos at an Asian Fusion outlet, Keema Palak reported, else, that's it for at least a week.