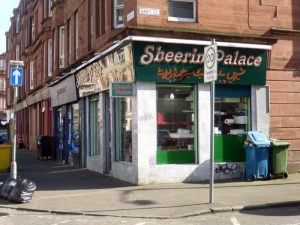 Hector finds himself out on a Sunday once again. The Sun is shining, 16°C, and Hector has too many clothes, the temperature will plummet later. The BBC is calling at the Allison Arms, Scotland are playing at Hampden Park later this evening, a good time to visit Sheerin Palace (300 Allison St, Govanhill/Crosshill, Glasgow, G42 8HQ)? The train via Queens Park was half full of Football Fans, some resplendent in Kilts. It was a bit early to be hanging around Mt. Florida, unless they were off for Curry-Heute also. There are still some Southside Venues which Hector has not visited.

Entering Sheerin Palace at 15.00, Mein Host behind the counter was serving a Takeaway Customer, he nodded as I went straight through to the dining area. There was a Lone Diner halfway through what was Curry on top of Coloured Rice. I had to ask. Approaching the counter I could see no Kofta Anda which was my primary reason for coming to Sheerin Palace, however, had there been Quail, well…
The same please, (Chicken) Biryani with Lamb and Potato. I have had variations of this over the years, the Chicken content in the Biryani is relatively Minimal. The Lamb and Potato was sat in an Oily Dark Shorva, I hesitate to use the – Aloo Gosht – nomenclature, keeping that for a Curry with Masala. No prices were on display, no Menu, no money taken. I returned to my seat.
My fellow diner was – Owen – clearly a man out to enjoy his Curry, and prepared to try a Curry Cafe to find the Best available. The sort of Chap I would no doubt have sat beside in The Village some years back when they were mostly just a Cafe too.
Owen used the term – Mainstream – to dismiss the venues serving – The Old Favourites – I wondered if he had read Curry-Heute, apparently not. A Calling Card was handed across the room, Yadgar and Ambala had to be recommended. Kofta Anda at the Desi Curry Palace – Desi Cafe along the street also mentioned. Owen can find Karahi Palace for himself when ready. He mentioned Akbar's which gave further credence to his search for the – Authentic. The Curry of Bradford, in Glasgow, but only if one asks for it – Asian Style.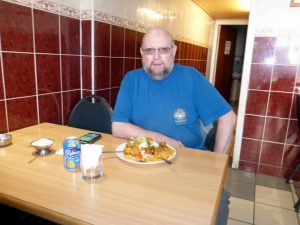 Mein Host came through to ask if I needed a Drink. Steady. With no Sparkling Water available, Mango Rubicon was ordered, the glass later. The Massive plate of Food arrived moments later, a quick reheat. Owen did the honours, photos of Hector at Sheerin Palace are few.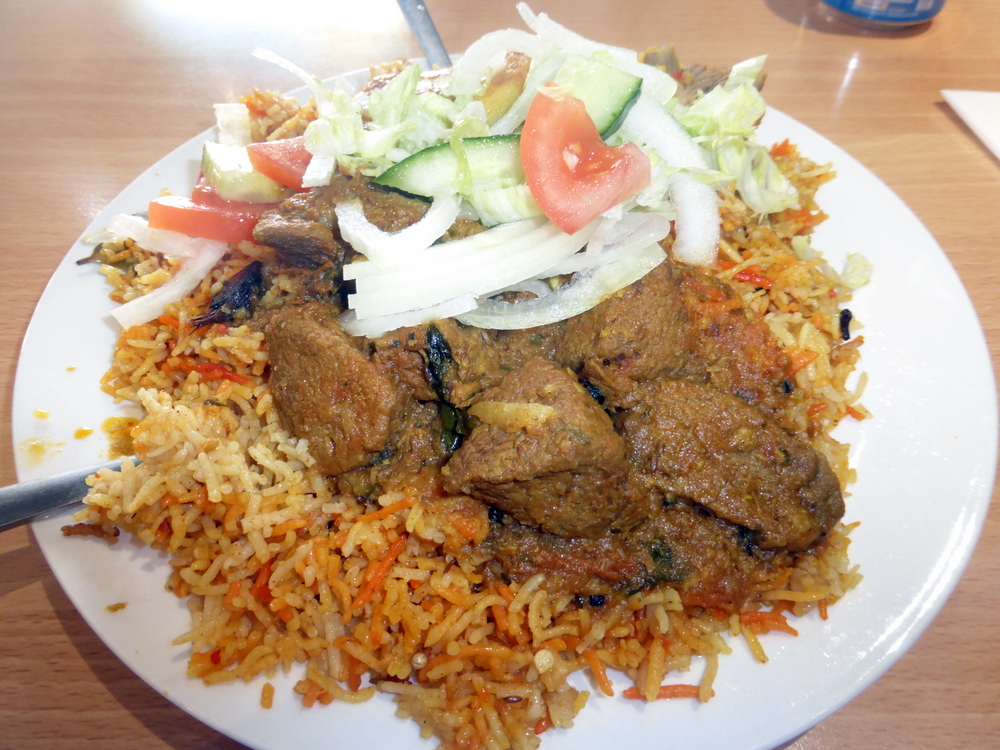 The Lamb sat on top of a Huge Portion of Biryani. Salad Components smothered this Melange. This was most certainly not 5* Service, simply Honest Fayre, Desi. The Shorva had disappeared into the Rice adding to the moistness of the Biryani. The Exquisitely Seasoned Flavours from the Shorva had permeated too. Rice? This was way more than Rice.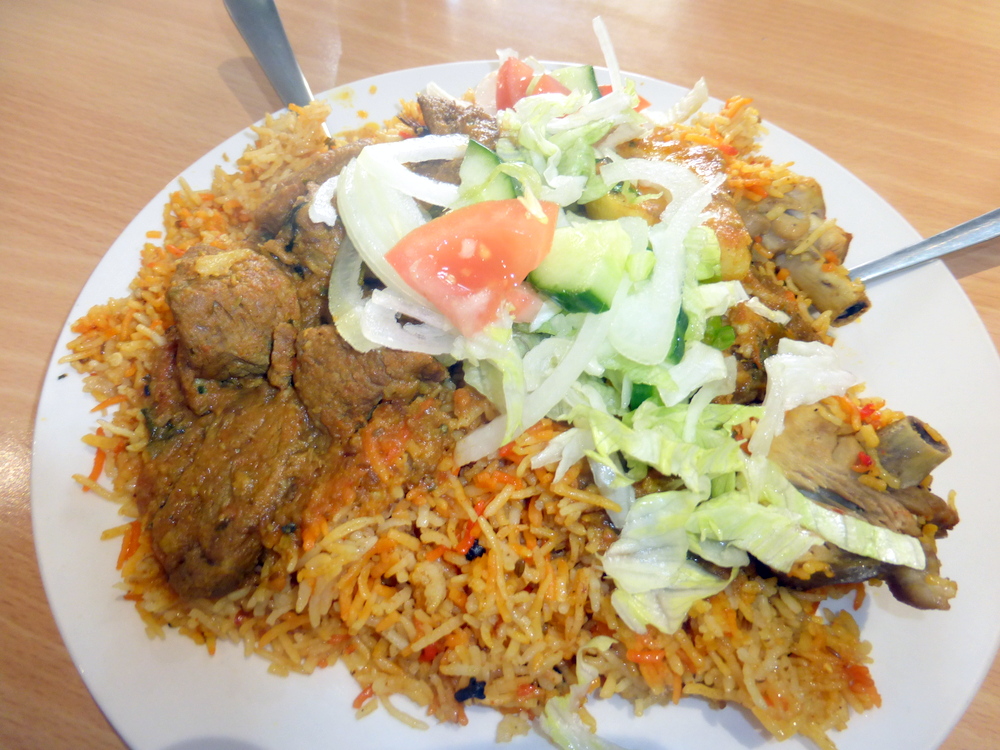 Two pieces of White Meat on-the-bone sat towards the edge of the plate. The Butcher had made Cuts different from the norm, I had to taste to be convinced it was – Chicken. That dispensed with, it was time to concentrate on the Boneless Lamb. Six Large pieces, Lamb that had taken in the Flavours from the Shorva also. The Spice was coming from who knows where. It was hard to say where the Curry ended and the Biryani started. A half of a Large Potato was in the Mix, enough. Add to this the Diversity of texture provided by the raw Onion Slices, the Tomatoes, this was the – Veritable Feast.
The Debris accumulated, Bay Leaf, Black Cardamoms; Large Green Chillies and Black Peppercorns were unearthed. The Hector was able to eat all but a Soupçon of Rice, hardly a waste, a slight surplus.
Curry-Heute was established in 2010, only in 2011 did I make two visits to Sheerin Palace in one year. It is not a glamorous venue, it simply serves very tasty food. I should be here more often, but there are so many nearby venues. I shall be back in 2017.
The Bill
£6.00. You couldn't make this up.
The Aftermath
Having seen off another Takeaway Customer, Mein Host asked:
Spicy?
Yes, and the Seasoning was Perfect.
I saw an eyebrow was raised,  explanation required:
The Shorva had soaked into the Rice, the Salt brought out all of the Flavour.
Strange, in early visits to Sheerin Palace I was not familiar with Shorva and was quite dismissive. Every day is still a learning day. I still tend to dismiss – Soupy Curry – but can appreciate that if the Flavours are there, they can be worth it. The translation of – Shorva – is – Soup.  I refer the Reader to my recent visit to Tuk-Tuk.  
I have just received an email from Curryspondent Gordon noting that Giffnock's – Mount Cafe – does not feature in Curry-Heute. This is a reincarnation of – Maya – which has been visited. Mount Cafe is also primarily a source of Nepalese Cuisine, which I tend to avoid. But, did I not rave about the Ryba (Fish) Balti served at Chmielarnia, Warszawa, a couple of weeks ago? Chmielarnia is essentially a Nepalese Restaurant. Curry ohne Grenzen, Curry Sans Frontieres. Maybes.  Scotland 1 v 0 Slovenia.