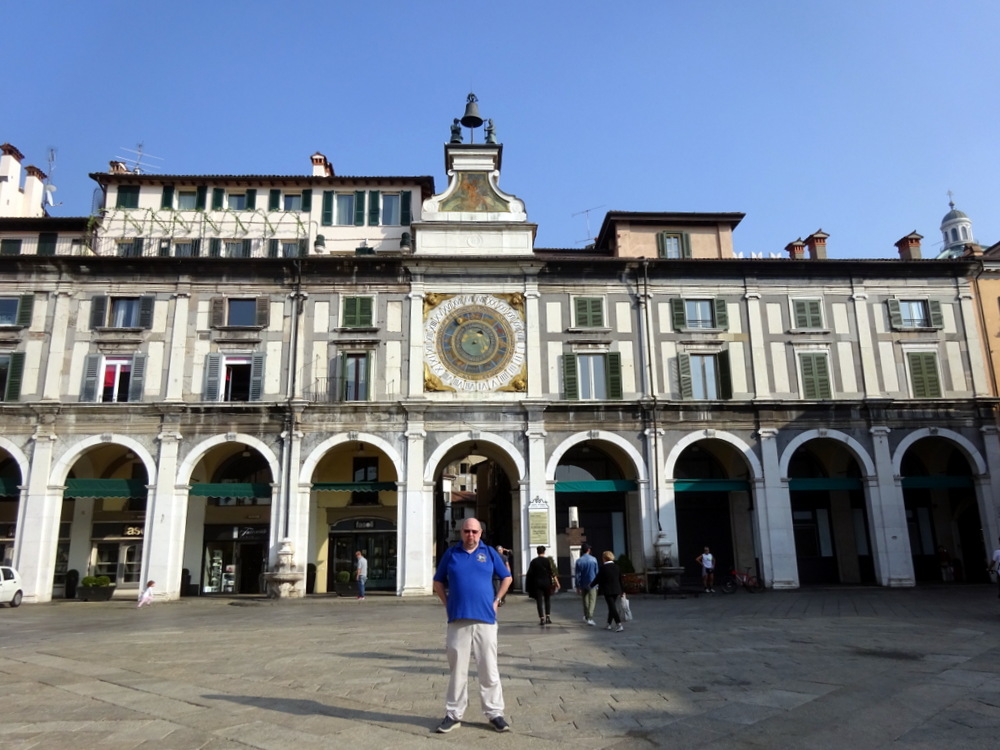 Brescia, who has been to Brescia? I have heard of the Football Team, research in the past couple of days has suggested that people stay here as it is cheaper than staying Lakeside as we are doing. There are around five Curry Houses and as many Interesting Bier Outlets. After one day here, I can state with confidence – I like Brescia.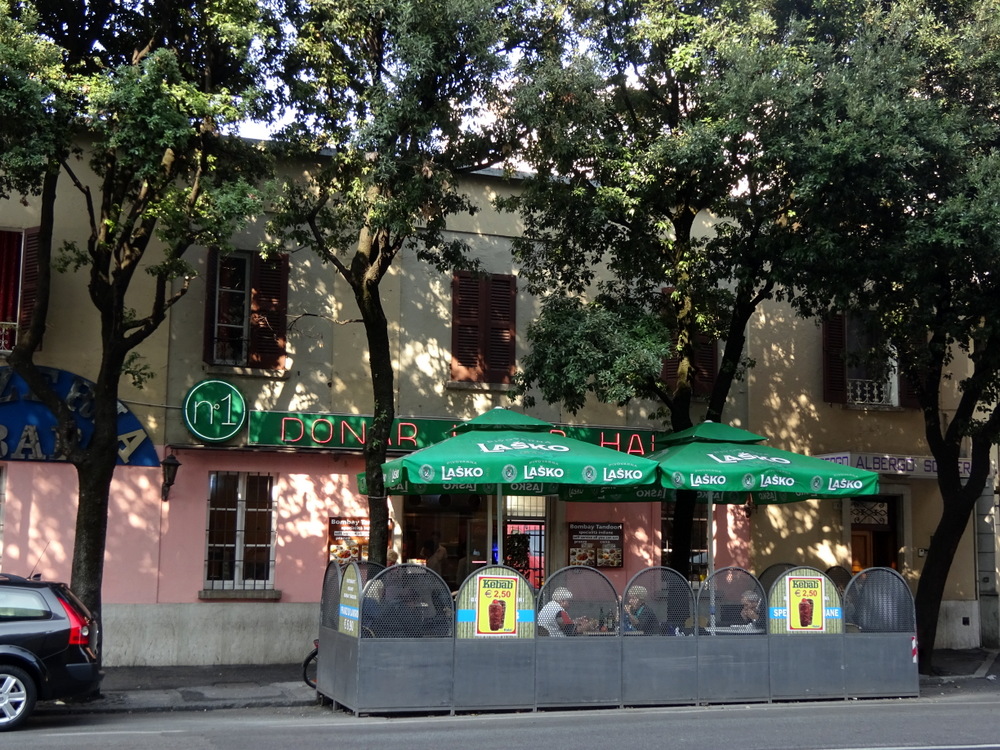 Bombay Tandoory Ristorante Indiano (Via Solferino, 1, 25122 Brescia BS Lombardia, Italia) was chosen for Curry-Heute due to its proximity to the Train Station. Not much has been written about this venue on other Social Media, until now. From the outside it was confusing, signage on the enclosed tables spilling on to the road were the only clues to this being the Bomaby Tandoori. Above, – Donar – and – Hallal – were clear.  Tandoori? All other references state – Bomaby Tandoory.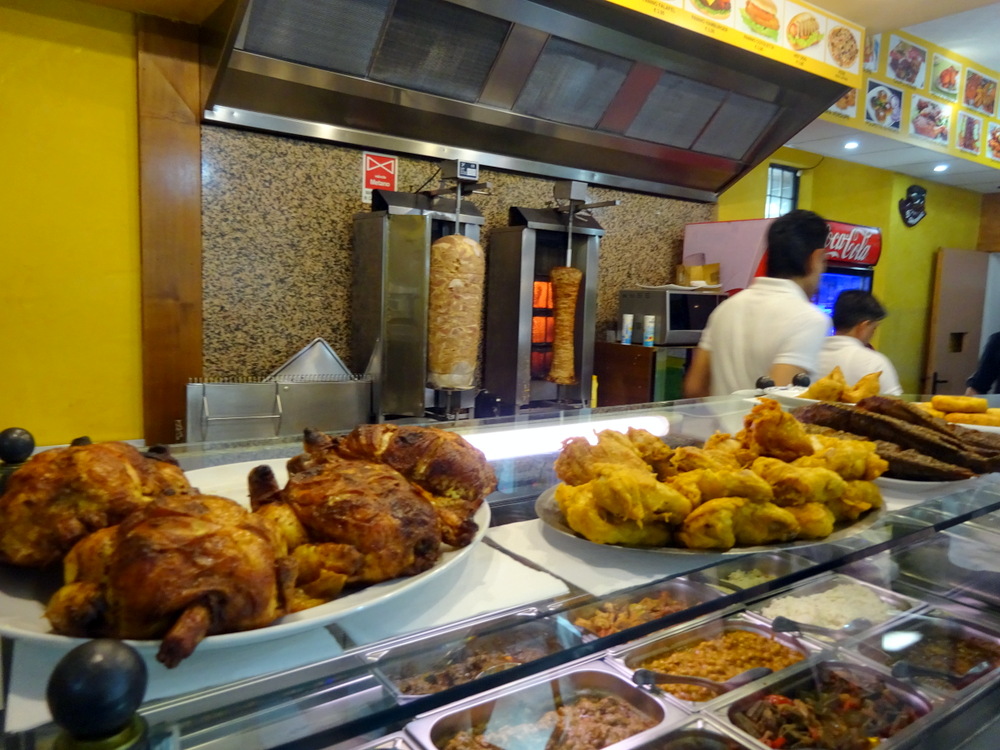 A Restaurant? Hardly, this was a Kebap Shop but much more, but then do the Best Curry Cafes in the UK not have Donner Kebap as the most obvious feature?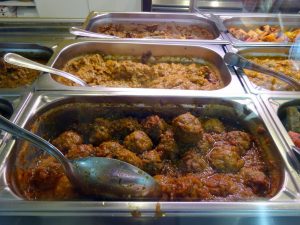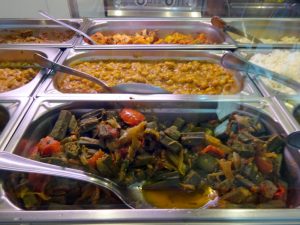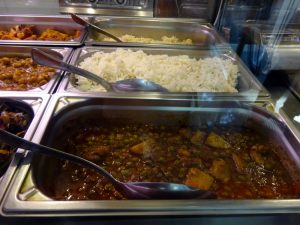 The pre-cooked Curry Dishes were on display under glass: Kofta, Daal Aloo(?), Vegetable Curry. Above were whole cooked Chickens, Chicken pieces in Batter, Cooked Fish, Samosas and Patties of some nature, something for everyone.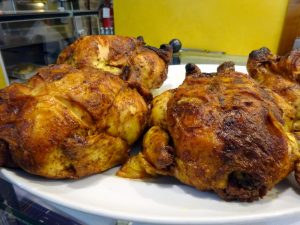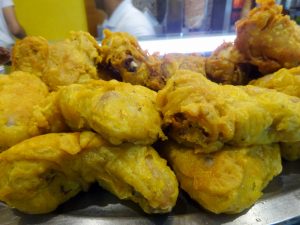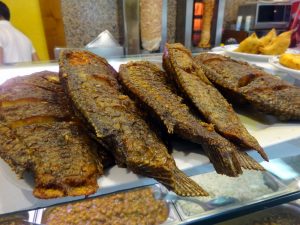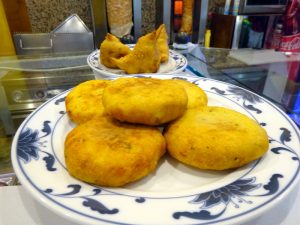 Hector manoeuvred himself past some customers at the counter to see more detail, a Dark Mass looked most inviting. What is this? – I asked, pointing.
Chicken.
Do you have Lamb?
The tray behind the Chicken had Lamb Curry in an identical Dark, Rick-looking Masala. Oh yes!
Two Chaps had equal responsibility. I watched Chap #1 put a Modest Portion of Lamb Curry on to the plate then look at me. With hindsight I know what he was tacitly asking. He then filled the remainder of the plate with Rice. This was taken to what looked like a microwave. So it goes.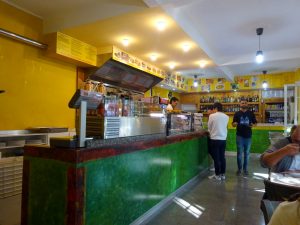 Marg is also on this Trip. She had spotted Samosas, her usual when Hector is indulging. I ordered two Samosas and two Bottles of Sparkling Water. I remained standing at the counter as others before me had done but was invited to join Marg at the far table. The Order would be brought.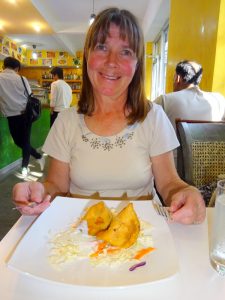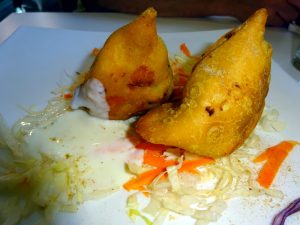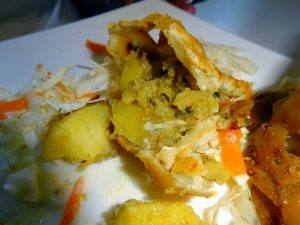 *
The Samosas arrived first, a Modest Salad with Raita made the plate appear less bare. The Samosas were Hot. Marg dissected the first of the pair, Potato was visible, Finer Material too. I asked Marg if it was a Vegetable Samosa, she was unsure. By the time she had finished the second this maintained. Most importantly there was enjoyment.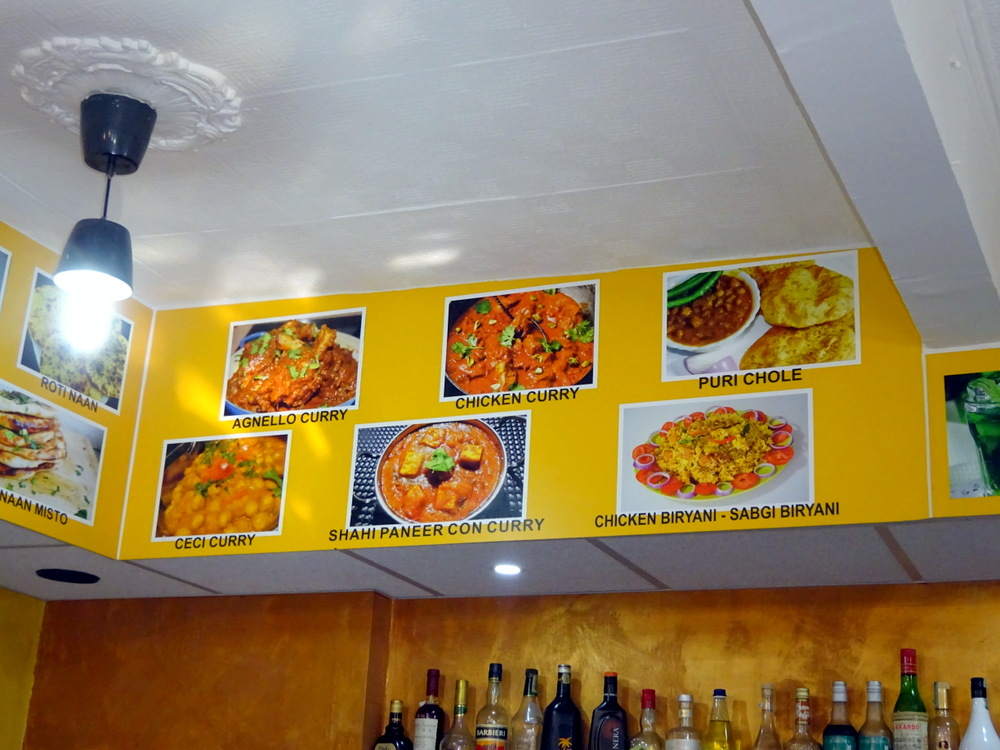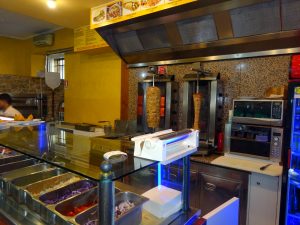 Hector had plenty of time to take in the surroundings and take one or two surreptitious photos. I felt I better be more subtle after my bold entry. In seven years of Blogging, I have only used the term – Surreptitious – twice previously, I'll try not to use it again. Other Curry offerings were advertised, photos of Opperchancities adorned the wall, a Freeze of Curry. I was already planning a return to Brescia, Mr. O'Leary – make me an offer.
The Diners at the nearest table were ensconced in their Order. A plate with two Perfect Naans was brought. The right size, the right Thickness, a pity I cannot review the Texture.

Where was Hector's Curry?
I began to theorise that the oven in which my Lamb Curry had been placed was not a Microwave. Time passed, quickly followed by more time. All heating devices appeared to be employed, my Order was invisible. I stood up and made a gesture that only an Italian would appreciate. I refrained from uttering the – heh. There was an acknowledgement, one – Ding – later, the Curry was brought by Chap #2 with an apology.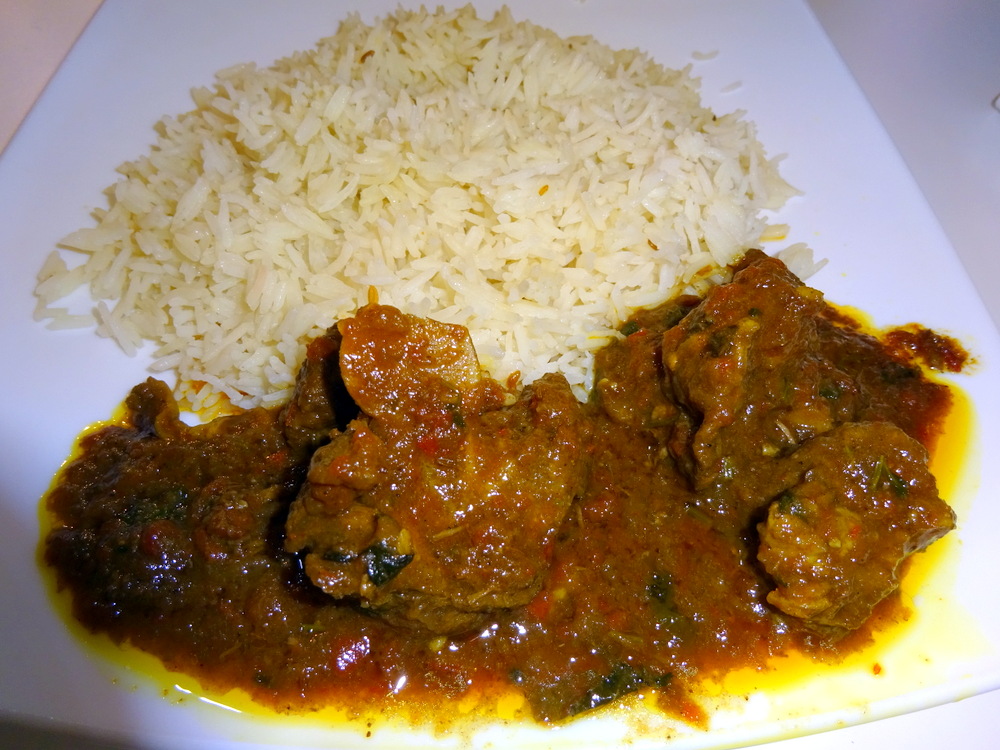 I counted four pieces of Meat, just. Two were seriously Large, hold it – on-the-bone! There was rejoice then the realisation that Bone means Less Meat. Had I been alone I would have gone up to the counter and ordered another portion.
The Masala was Glorious, the first intake of Rice and Masala was breathtaking. WOW!
The Rice had a strange odour. Off ? Seeds, not Cumin, what were they? Note to all: order Naan. The ratio of Rice to Curry was such that three portions of what lay before me would have been accommodated. End of the negative.
The Masala was a Supreme Example of the genre, this was the equal of the Handi Gosht served at Ambala Deli Bar (Glasgow) and Sarina's (Queensbury-Bradford). Yes, that good. The Seasoning was such that it brought out the full Flavour of the Dark Masala instantly. There was Spice, Herbs too. The Lamb was Tender/Magnificent, just not enough. Had I been alone I would have gone up to the counter and ordered two more portions.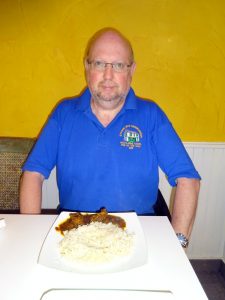 Eking out – would be an understatement. The Rice remained Dubious, the Curry was in the Top League. I put my neck on the block and said to Marg – This is Punjabi Curry at its very best.
Marg thought she saw a morsel of Meat on a bone that I had missed. The gnashers were working overtime, extract every piece of Lamb. Ecstatic Frustration – I wanted more. Had I been alone I would have gone up to the counter and ordered three more portions.  Marg had indulged me, don't push it.  Someday I'll be back.
Next time: Treble Portion with Naan and the Aloo whatever on the side.
Brescia has Curry.
The Bill
€9.50. (£8.50) I finally established the costs of the individual items. Curry with Rice – €5.50, Bottled Water – €1.00, Samosas – €1.00 each, or €0.50 each and a €1.00 Cover Charge.
The Aftermath
After paying I gave the Calling Card to the Chap who had first attended to me, interrupting his Lunch in the process. There had to be a photo, both Chaps were more than happy to oblige.
You have a Punjabi Chef? – I put to them.
Yes, yes, Punjabi.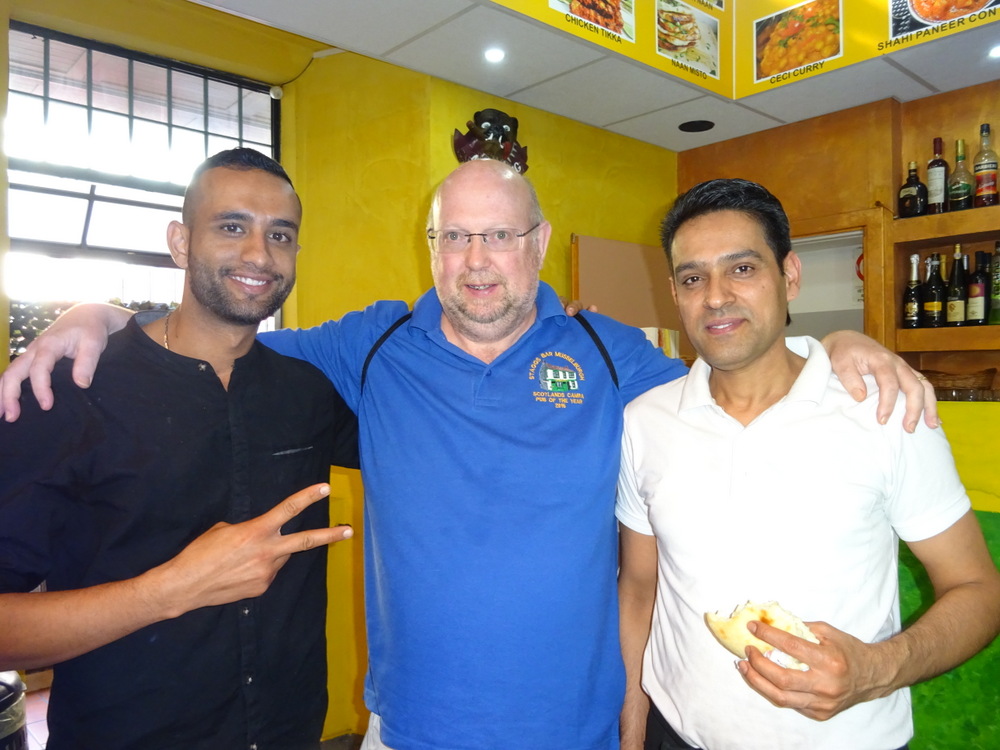 This raised big smiles on both their faces. I congratulated them on the Quality of their Curry.
Bombay Tandoory was quite a discovery.
And so to discover Brescia, a city which pre-dates Roma. There was enough to amuse for a day, the Microbreweries do not open before 18.00. I guess next time I will have to spend the entire afternoon here eating Curry.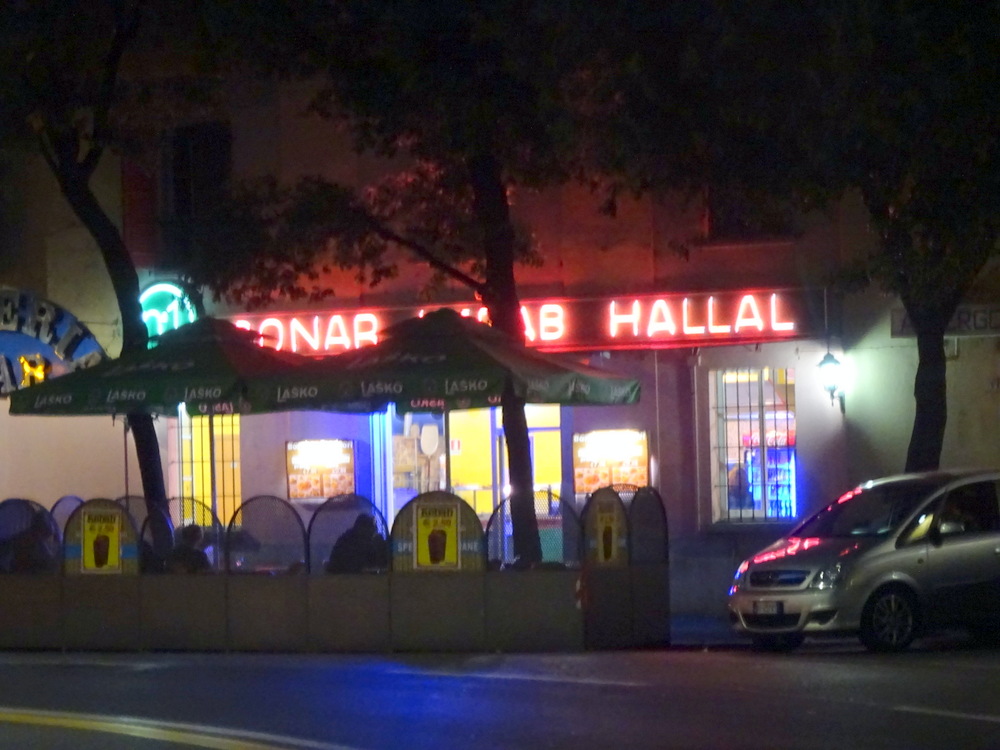 We passed by later this evening, Marg had other hopes for Dinner. Xander Beer fed us.