This is a night Hector will not be repeating
At present Stelios and Mr O'Leary are unable to provide a Friday evening flight to Deutschland.  Hector had to spend the night at Bishop's Stortford so as to get an early morning flight to Hahn for the Wolfer Stassenfest.  The accommodation was fine but somehow I managed to book a location half way between Stansted Airport and the town centre.  The proprietor collected me from the airport so I had no real idea as to just how far it would be to find a Curry House.  In the end it was a twenty five minute walk at a Hector pace to the Masala Café (10 London Rd, CM23 5ND).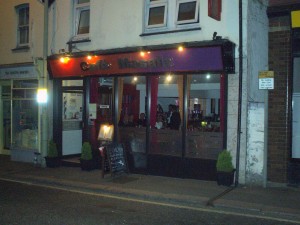 It was 22.30 when I took my seat and began studying the menu.  Two meals stood out: the Hari Ali (Chefs special sauce) and the Sylhet E Bolti.  The menu rated it as two chillies and the instruction was to ask a member of staff. Hector did and the latter meal was described as having a thick sauce and sizzling.
Sylhet E Bolti, a visual feast
The Sylhet E Bolti it was then with a Vegetable Rice.  The meal was brought and placed on a metal stand.  It was indeed sizzling, very impressive. The Sauce did look thick.  The Sylhet E Bolti looked wonderful and so did the Vegetable Rice which had potato, excellent.  The 'Curry' had strips of Lamb and large slices of assorted Vegetables: Onion, Tomato and the inevitable Capsicum.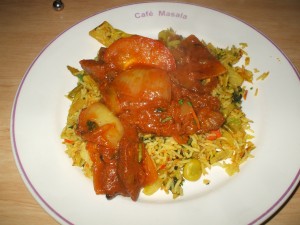 To say the meal was hot would be an understatement.  The first piece of Tomato nearly burned the palate.  Hector was hungry.  The meal was eaten with my usual fervour.  Sadly there was simply no taste, none at all.  It was in effect a stir fry, the type you could make at home when you stir in a jar of supermarket sauce.  Hector would never cook lamb in this way: I still think it was beef!
A Blandness Scale?
As I ended the meal the thought of a scale of blandness came to mind, or would this be a non sequitur?
It was too late for a Bier today; having located the station there was a taxi back to Woodlands Lodge on the edge of the airport complex and an early night.