You cannot take Hector to Yorkshire and not stop off in Bradford for a Curry!  This is the place I have raved about for fourteen years.  Ironically my first outlet, opposite Kashmir, is now a Russian Vodka bar.  Since then I have explored many of the Curry Houses around Morley St.
Mr Holden
There was an arrangement to meet Mr Holden, a native of the city Hector calls Curry Paradise.  Having taken him to Yadgar (Glasgow) recently he knew he had to come up with something special.  'The Karachi Social Club (15/17 Neal St, Bradford, BD5 0BX) is not the finest Curry House in Bradford, but it is the oldest.'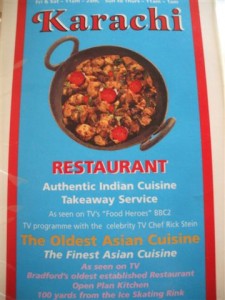 Given the location, this is not one Hector had found in previous visits.  They also serve Kofta Palak which Mr Holden describes as his favourite dish of the moment.  Now how common is this in Glasgow these days?
The venue has expanded since its inception in the 1970s.  There were only a couple of customers so we were able to take our table of choice.
Hector was hungry
Having starved myself since a light breakfast in York and the time now at 16.30, a starter was in order.  Marg and Mr Holden had Onion Bhaji, there was some confusion about the term 'Pakora'.  Hector went for the Mix Starter: Onion Bhaji, Mushroom Pakora, a Sami Kebab and a Vegetable Samosa.
Yes, Hector ate all this.
To be the perfect guest I went along with the order for Kofta Palak, my first experience of this dish.  Marg followed her perfectly honed instinct and went for the Meat Karahi: the dish Hector would have ordered.
No Rice, no sides, we had to ask for cutlery
I have learned my lesson in the past; Chapattis come as part of the order.  Rice and Nan are unnecessary.
The Kofta Palak, or Meat Ball  Spinach as it is written, had a thick Masala with the Spinach evident.  Four meatballs comprised the portion but each of these had to be halved for the convenience of eating.  There was not the usual Bradford herb taste, the Spinach took care of that but here I am, in Bradford, eating Curry-Heute!
Marg stated that she was glad she came to Bradford.  In the past she has watched me eat as the time of passing through Bradford is not always a normal eating time.  Marg was in effect eating 'Hector's Curry': she thoroughly enjoyed it, so much so she left me some!  I enjoyed it too.  The Meat was so well cooked it disintegrated in the mouth, superb. I was certainly a happy old Hector!
Hector was stuffed by this time, but he was not finished.
Bradford comes to Glasgow
I popped back to Morley St and picked up a Desi Lamb from The International AND a Lamb Bhuna from The Kashmir.