Or is this Marg's attempt at avoiding the ironing?
'I did the ironing on Friday!'  (Marg)
Marg loves the Butter Chicken at the Mother India Café (1355 Argyle St, Glasgow), I have my favourite dishes too:  The Machi Massala and the Lamb Massala Okra or Bhindi Gosht as could well be written.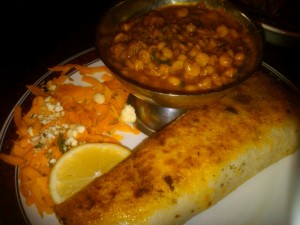 The only variable when we visit is Marg's 'starter'.   Tonight it was the Spicy Keema Dosa, a pancake filled with Lamb Mince and accompanied by a portion of  Daal/Chana.  This turned out to be certainly spicy and was an interesting variation.  This could well be eaten again.  There will be another visit until I can find somewhere that does a better Butter Chicken.
A new Chef? Or a new deal?

The Machi Massala was much tangier than normal and Citrus was very much to the fore.  The portion was decidedly larger as was the Lamb dish.  This place has always felt a bit on the pricy side so this is a positive development.
Yadgar have raised the bar!
The Lamb was quite tough and pink – lamb shank?  The sudden blast of 'this could only be a Mother India Curry' was lacking. For years this was my favourite Lamb Curry in Glasgow; however Café Salma is appreciably better, and just along the road.  Yadgar is much, much better!
As I discovered recently in Deutschland, when Okra is cut small and cooked briefly it makes for more enjoyable eating.  This was the classic overcooked and slimy Okra that tends to put people off.
A new venue?
Hector passed a small Curry-Kebab Café (with a couple of tables) under the railway bridge on Gorbals St: 'Curry Connoisseurs'.
Does anyone have any knowledge of this?