The machine tells me that this is the 100th Curry-Heute Blog entry.  What finer way is there to commemorate this than to enjoy a Lamb Bhuna from one of my very favourite Curry houses.
Life can be tough…
The Kashmir Restaurant (27 Morely St, Bradford, BD7 1AG) is certainly the Curry venue I have visited most in Bradford – it is always open.  The Curry-Heute was driven back to Scotland a couple of weeks ago and has been 'maturing' in the freezer along with the accompanying four Chapattis.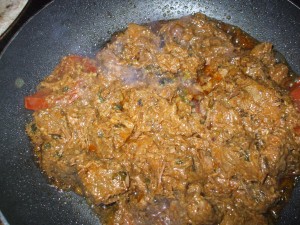 The opperchancity to eat this fine dish finally presented itself this evening.  Even before one starts the delicate process of re-heating this feast – just look at how dark and rich it is .  The Chapattis were certainly past their best by the time they had been resuscitated.
The Curry, oh gosh, this feels like a Palak Gosht without the Spinach.  The Masala is that thick and rich.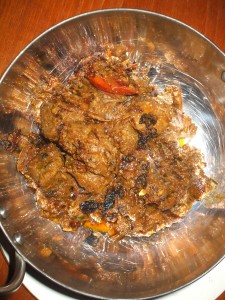 Once upon a time there was a company in Bradford who shipped Curry around the country packed in dry ice.  If only it had worked…
Mr Holden is threatening to move to Glasgow.  Maybe we shall swop houses?  I shall ask 'my sister'.