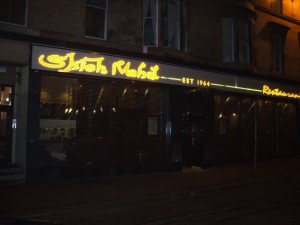 Just as Parisians do not ascend the Eiffel Tower every year, Glaswegians probably do not often visit the Curry House that traces its origins back to the days when Gibson Street became affectionately known as the Khyber Pass.  Ironically there are no longer any Curry houses down the hill outside the former Glasgow University 'Men's Union'.  The Shish Mahal (60-68 Park Rd, Glasgow G4 9JF) relocated across the River Kelvin some 200m to Park Road.
Nostalgia
Hector  embarrassingly was last at the Shish Mahal in 1970s or even 1980s when they celebrated a significant birthday.  The prices were put back to those of their opening year: Neil and Hector queued outside  on Gibson St for a couple of hours to gain access.
The wait was worth it.  Not only did we receive excellent food at prices guaranteed to attract even the curious, we made the decision to order just about every Starter on the menu.  In this way the obscure was discovered.
Tonight at the Shish Mahal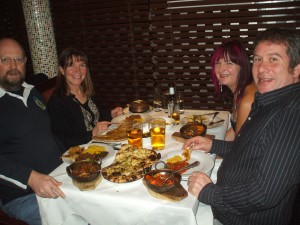 This is the too irregular Marg and Hector night out with Alan and Tracy. Cider is usually a feature of the night.
There are big choices to be made.  The online menu looked impressive. The Khadey Masala Ka Salan being the most irresistible dish.  This dish has everything a Good Curry should have.  It happens to be the first in the House Specials.
Fish or Lamb? Choices, choices.  A side dish with Potato and Methi looks interesting.
The Shish was mobbed – we were shoehorned in…

Having assembled in The Doublet next door in time for an aperitif we presented to the Shish Mahal exactly at 8.30.  Our table was ready and we were seated in seconds.  Hector could not believe how busy the place was.  Clearly the reputation of this venue has maintained the interest of the local populous.  I had to squeeze myself into the chair so as ensure I did not encroach on the people behind.  Fortunately for me the table could be pulled a few centimetres towards Alan and Tracy else I would have struggled.  Now I am not the fattest… on the planet…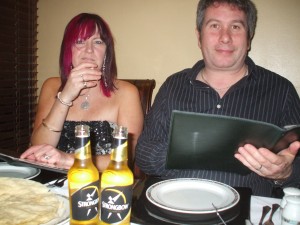 We were offered Popadoms and chutneys and these were graciously accepted.  However there is a charge for these and extra onions had to be ordered.  These can be gratis in many establishments.
Drinks
It is only on a Couples Night that Hector tends to order Bier with a Curry.  Cobra on draught was fine, but now begins a critical point of the evening.  Alan drinks Cider.  They only sold it in half pint bottles.  This means that a pint of Cider costs a whopping £6.70!  Now this cannot be a fair price, perhaps they should consider larger bottles.
Starters
Hector was having no Starter – his meal was planned.  Marg, Tracy and Alan decided to share two between them.  The Hara Bara Malai Murgh Tikka was so appreciated that my fellow diners insisted I taste a sliver of the Chicken.  Yes, tasty but how would you eat a Curry after this? The Rashmei Kebab looked effectively like a Chicken Sikh Kebab.  At least I had my camera to amuse myself whilst the others were gorging.  More Bier + Cider!
The Mains
Tracey agreed with the selection of Hector but ordered hers as Chicken.
The Lamb Dhahi Deghie: Marg chooses a dish with extra onions again, when will she learn?
Alan went for the Chicken Garlic Nashilee.  Three of the dishes were ordered as 'hot'.
Two Garlic Nans, a Garlic and Onion Rice and a Garlic Paratha were the sides.
The Lamb Khadey Masala Ka Salan arrived with Marg's Dhahi Deghie, however the waiter presented it as Lamb Karahi – not a dish I can find on the menu – so I verified that was indeed what I ordered.
Hector was instantly impressed by the sight of the Khadey Masala Ka Salan.  The Masala was thick and minimal.  The dish had total Hector appeal.  I was certainly not disappointed by this dish it just lacked that extra special flavour to put it into the 'superb' bracket, but this was not very far off.  This is praise.
Oh, there was the Aloo Methi side dish: I was convinced this was Aloo Palak but they could have been using leaves instead of the anticipated seeds.  Sharing this proved to be a blessing as those opposite found this appealing also.
Marg enjoyed her Dhahie Deghie but failed to finish it – too much Starter.
The other side of the table
Tracy's Chicken Khadey Masala Ka Salan was unrecognisable.  It looked nothing like the Lamb equivalent across the table.  Alan did asked the waiter for verification of this dish but we received no satisfactory response.  'Dipping' my Masala with some Naan verified this was not the same dish.   Nor was the dish 'hot'.  In the end, much of the Chicken was left.
A disappointment, followed by another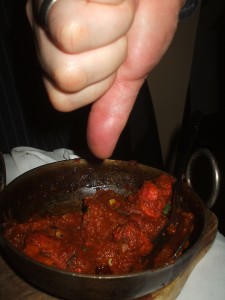 Alan's Garlic Nashilee turned out to be a Sweet and Sour dish, not what was described in the menu and not what he wanted.  Having scoured various menus for Nashilee prior to Blogging this, it is quite a rare dish and is usually described as being served with wine and sometimes cream.  No other outlet known to Hector has a Nashilee presented as a Sweet and Sour. Alan evidently does not like Sweet and Sour.  Most of his meal was left too.  It was not 'hot' either.  Major disappointment.
 The Bill
£113.00  How much?
£113.00!  Alan did the honourable deed and coughed up for his share of the very over-priced Cider.  An expensive night out.  Maybe we should go to Yadgar next time and spend less than half as much.  Does a table cloth really merit these prices?
The Aftermath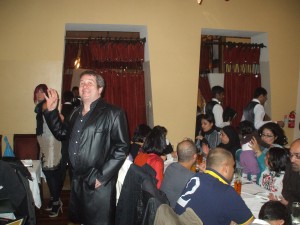 We retired to The Doublet to discuss the meal and drink with 'The Stars' of Scottish Screen and Theatre.  This was the place to be.
Alan stated that if he were to return to the Shish Mahal he will order the dish enjoyed by Hector.  Hector had done his homework in advance; but who orders Chicken?