The Minus 7, on a very cold day in Glasgow

This is the penultimate Saturday afternoon Curry-Heute rendezvous of 2010.  Today Robin joins the 'The Cleek' (sic), the man who possibly eats more Curry than Hector.  He has heard us rave about Yadgar so the time has finally come to join the merry band on a Saturday afternoon.  This is Steve's second visit : he last came during Ramadan and the place was stowed.
'The Bradford Style'
The Curry, Goshat Karahi – what else – has been pre-ordered with Mr Shkoor Anwar, 1kg Karahi (hot)on-the-bone and one off, plus one normal portion 'on' for Mags.  Not only will our wonderful Chef will have the Curry waiting for us it will  also be  prepared with minimal Masala.  This is service!
Punctuality has been an issue on our last two visits, so Hector has ensured that he is on time today.  Mags with her new technology will be there to verify the automatic posting of this Blog at 15.00.  Jonathan contacts Hector at 14.15 to say he is somewhere around Dunblane and will be late.  Surely not?
It was cold, very cold – indoors and out
We sat shivering as we assembled, except for Steve who had the seat beside the radiator.
The orders for Sides were given, lots of Mushroom Rice, Pilau Rice, Chapattis and a Garlic Nan.
The Mushroom Rice deserves a special mention today.  It is always good; today it was decidedly spicy and had micro pieces of other Vegetables mixed in.  This was indeed truly excellent.
Kashmiri Tea was advertised so Howard and Tracey ordered this to accompany their meal.  It took an age to arrive, when it did – it was pink!
The two Curry Karahi were presented and Mags' individual not hot on-the bone.
Still no Jonathan.
Here we go
In full Hector mode taking the required photographs, I was last to start eating.  Superb, sublime,perfection: this is Curry Heaven.  Steve acknowledged that this was way better than he had experienced on his previous visit.  Robin was the silent one.  Did Robin really have his lunch before he came out?  He enjoyed the meal but did not eat to excess unlike the rest of us who demolished the 2+kg of Lamb.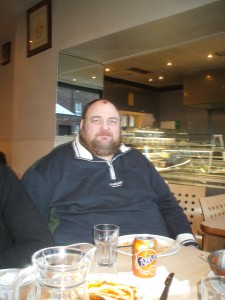 Jonathan arrived – he went away again – he came back – he ate.  We had left him sufficient for a feast.  He was finished at the same time as the rest of us, he must have been hungry.
Mr Sha came out to ensure that all was well.  Our congratulations were once again expressed with sincerity.  The pattern of our visits to Yadgar strangely coincides with Mr Sha being the Chef of the day.
Hector studied the other dishes on display at the counter.  Liver Curry – not for me!