Alan likes Curry.  Hector likes Curry.  Our diaries stated that today we would enjoy the best Curry Glasgow has to offer, just us, the ladies are elsewhere.
It was Pensioners' Day at the Allison Arms, Robin, Dr Stan and Mr Boyd were not present, so they had no Edelstoff or Greif Weihnachts.
At 18.00 we took our seats at The Yadgar Kebab House (148 Calder St, Govanhill, Glasgow, G42 7QP).  The Goshat Karahi of course had been pre-ordered: 1kg on-the-bone.  Hector had asked Shkoor to have it presented as the Chef intended.  Alan asked for a Garlic Nan and Egg Rice, Hector went for the usual Mushroom Rice and a Chapatti.
Today the Mushroom Rice had fresh Mushrooms for the first time in my experience.  The Rice is a meal in itself, Spicy too.
The complementary Salad was delivered while we waited for the fine tuning, well preparation of the Sides.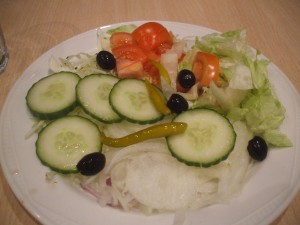 No pressure then
Having raved about the quality of this dish for several months this was indeed to be a special meal.  Mr Sha was Chef of the day so there was no doubt that this Curry would impress.
Alan had a slight apprehension as to exactly what 1kg of Curry  might look like.  When it arrived and he realised we were sharing the 'bucket' there was relief.  On-the-bone it is possible for two to share, off-the-bone, forget it.
I had not asked for the meal to be prepared 'hot' it usually is, and again this was perfection.  Having had no food all day the appetite was there to be satisfied.  This quantity is an absolute treat: one has the normal plateful and one can see more waiting.  No spoiling the appetite with Starters – this is about maximising the pleasure that this sensational Curry brings.
And so the Goshat Karahi arrived: it was presented with minimal Masala: just how Hector prefers it.  Alan found himself using words to describe the dish that have already appeared in this Blog.  There is a 'thick' satisfying warmth to the dish.  The flavour is intense; the Spiciness creeps up after each mouthful and adds further to the experience.  The blend of Herbs and Spices is of course unique.  This is the place to be, this is The Curry to eat.
We were the only diners, however the takeaway trade is booming.  Two different Lentil Curries were on display.  There must be something here for everyone.  However, if you do not like Lamb then you will never find out what you are missing.
Postscript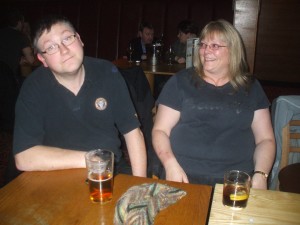 We retired to 'The Other Place' to meet the Chaps.  Richard is in town and introduced his Fiancée Julia.  She assures me that she does have a washing machine and that she can iron.  I informed her that this is all Richard really needs in life.  Julia does not appear to enthusiastic about trains.  Just wait until she is standing on a station platform, the train pulls in and she is not permitted to get on.  'Had this one.'
On  a Curry-Heute note, they left us to go to the New Anand (76 Nithsdale Rd, Glasgow, G41 2AN) which does a very fine Buffet.  They are also licensed and have table cloths.