To Buffet or not to Buffet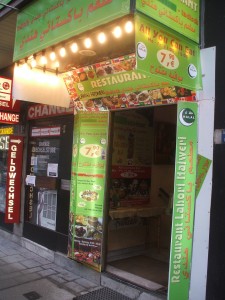 The assembled Chaps and Chapattis have two objectives today: to ensure we are fit for the Silvester associated festivities later on at the Augustiner Haus, and to enjoy the day pro tem.
What better way to achieve this than enjoy lunch at the Lahori Hajweri (3a Schillerstrasse, München).  There are various lunchtime offers on display at the street level entrance.  This gives everyone the choice to eat a la carte or go to town.
Marg and Hector met Clive and Maggie at the hotel door. The short walk along Schillerstrasse was completed and we organised a table in the former Weissbierkeller. Hector surveyed the Buffet and established there was no Lamb available. However the display did look interesting: Chicken Biryani,  Chicken Curry, Chicken Tikka, Daal, A Vegetable Curry featuring Aloo, and Pakora.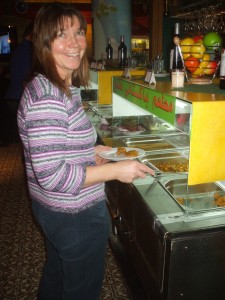 At €7.90 for the Buffet this was an attractive proposition for lunch, or breakfast as it was to be for some. The four of us opted for the Buffet and Jonathan joined us.
Jonathan and I finished the Pakora with the logic that fresher pieces would be brought. They were but after an age. The Pakora was more like Fritters than our norm. The Chicken Chat/Tikka was tasty but what won it for Hector as the accompanying Daal. And when the freshly made Nan Bread was brought to the table, then wow! This is a good Starter or Side dish, but I cannot see me ever having this as a main meal as I conclude many do.
Craig and Yvonne appeared and tore into the Buffet too.
The Vegetable Curry was pleasant and not remarkable. The Chicken Biryani was on a par with any decent Spicy Rice. The signature dish of the Buffet was the Chicken Curry.
Chicken Curry?
The meat was on-the-bone. The Chicken had been cut into portions a la KFC. The Masala was thick and dark, Black Pepper is my interpretation. This was a good old-fashioned Curry taste which has lingered for hours thereafter. This made the entire experience a memorable one.
Eat all you can
We did. Satisfaction was achieved by some. Some were not impressed by the limited range on offer, the actual dishes themselves, or the time it took to replenish the Pakora in particular.
May Hector confirm that this place does sell very good Curry. so best stick to a la carte.
The bill was modest save for Craig and Yvonne who ordered Fresh Orange, two carafes later…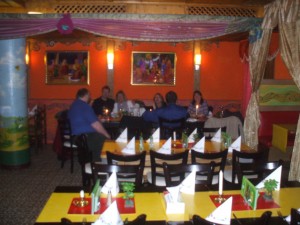 The end of 2010
Marg and Hector strode off for a walk and a coffee at Marg's favourite cafe, Glockesnspiel. The city was winding down in preparation for the wild night that is Silvester. Meanwhile back at The Royal Hotel, the Chaps were having coffee and Raspberry Tea.
Raspberry Tea!