Hector has not created a domestic wonder since the start of November.  There was the mid-December Korma for Marg's soiree, but tonight is my first serious bout of Curry cooking for some time.
The fridge gave up a jar of Mango Pickle.  A recent visit to a Chinese supermarket provided me with  pressed Tamarind.  The taste of this is superb, a bitter tangy taste that should complement the Pickle.  To balance this, some Oyster Sauce.
The main departure in the preparation of the Aloo Gosht from my own recipe pages is that I shall blend the dry Spice mix in some oil then seal the Lamb in the Karahi  and simultaneously add the the Pickle, Tamarind, Oyster Sauce and a large piece of Cinnamon.  This will cook in more oil to release the juices from the Lamb.
The Masala shall be prepared as per published recipes.  When it is ready the contents of the pot will join the Karahi.
It is time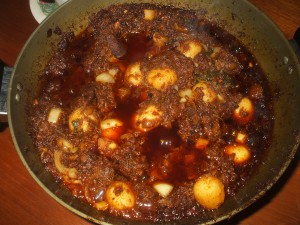 Marg's comments:
'It tastes earthy'.
'You must be pleased with this.'
'The Chaps will love this.'
'It's a bit hot for me.'
Marg thinks she deserves Ice-Cream now?
Despite the oiliness in the above photo, it did mix in to create a very dry and thick Masala, perfect.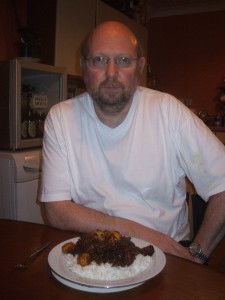 The taste was tangy, of course.  It was meant to be in the Achari style, it is.  The heat was immense, I do not recall putting that much Chilli in.
This dish will be repeated, beware.