Curry-Heute v Fast Food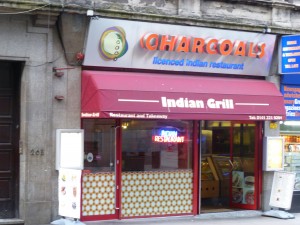 It was chucking it down as Hector emerged from Glasgow Centrali. The Express Bus to Aberdeen was scheduled to leave at 17.40, thirty five minutes to get up to Buchanan St Bus Station and get something to eat.
Charcoals (23a Renfield St, G2 1LU, Glasgow)
The Pakora at Charcoals had been experienced previously, this was as good a Pakora as I have encountered. Could they do me a Curry in no time at all?
The waiter took me to the rear of the restaurant which certainly was Tardis like: much bigger on the inside than it looked on the outside. I told him 'time was the issue' and asked how quickly they could do me a Curry. He was confident that I could have anything I wished. Glancing at the menu I saw Lamb Karahi – this was agreed along with a Mushroom Rice.
The waiter was quite chatty. He was quite an interrogator. Evidently he was intrigued as to my great rush, so by the time the meal came he knew exactly where I had come from and where I was going. The meal was presented within ten minutes, it looked fine.
The Rice had no Mushrooms but was not simply plain Basmati, it was tasty and there was lots of it.
The Karahi looked the part but there was red Capsicum, well this was my fault.
Not a Judgement, just a Commentary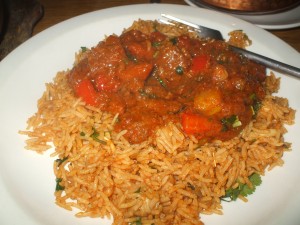 I didn't taste anything that made me go 'wow'. The meal was pleasant. I hope they could have done better.
If I am stuck for time again I would visit again. However, given the nearby competition I could only consider this as a purveyor of Fast Food.
Pallas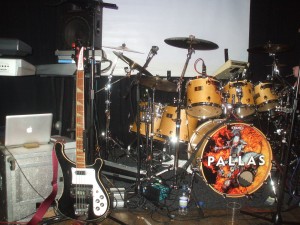 Scotland's longest surviving Prog Rock band are playing in Aberdeen this very evening: time to go…