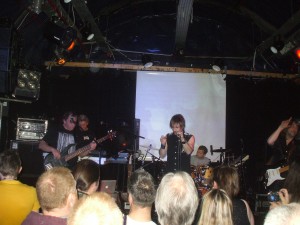 After the Pallas gig last night at the Tunnels (Aberdeen) Hector was expecting a late night Curry-Heute with Jonathan. The Prince of Wales did not shut until 01.00 and so Bier won out over Curry.
Real Indian Food
As Blogged at the end of 2010, Rishi's  Indian Aroma (222 George St, AB25, 1HN, Aberdeen) is possibly still the newest addition to the ever expanding number of Curry Houses in Aberdeen. After the experience of the Fish Chettinad, Rishi's had to be the place to go this evening.
Interesting Vegetarian Starters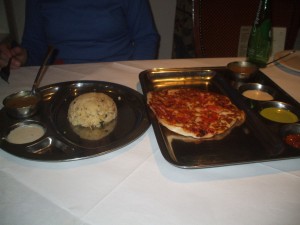 The list of Starters and Tiffin items is lengthy and more importantly, authentic. Hector has seen packet mix versions of some, however, here was a chance to try something new. I had already decided which Starters we would have as I had downloaded the menu to my HTC in the afternoon. Marg as I suspected was happy to let me choose.
Upma no more
The Upma, a Semolina based dish was not available. The back up was Ven Pongal: "Traditional Tamil Nadu speciality dish made with Rice, moong dal, peppers and cumin seasoned in ghee sprinkled with cashew nuts served with chutney and Sambar". Well, of course!
With this a Tomato Oothappam:"Thick rice crepe with diced tomatoes topping, served with chutneys and Sambar". One cannot have too much Sambar!
Dopiaza means 'Double Onions'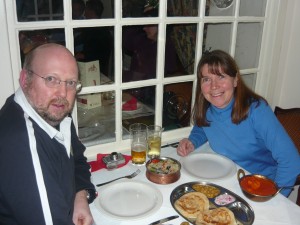 How often has Marg ordered a dish that ends up with large chunks of Onion that always puts her off? The same as Hector's repugnance to Capsicum in a Curry. We both like Onion and Capsicum, but not an overdose. The Butter Chicken Dopiaza was Marg's choice. "Succulent pieces of Chicken in gravy cooked with tomatoes, special herbs & spices with extra onions, tomato and cream gravy." For Hector the Lamb Kadai:" Boneless Lamb pieces cooked in a traditional kadai on a very high heat with fresh tomatoes, onions, capsicum, ginger, garlic, fresh herbs and spices."
Even the till receipt had 'no capsicum' printed on it, very efficient.
The Madras Paratha and a Mushroom Rice were ordered as accompaniments.
The Starters were a hoot. The Ven Pongal was an upturned bowl of Rice with the bits served on a Thali-style steel platter. The Oothappam looked like an anaemic Pizza, again on a steel tray. Neither dish was such that there is anything dramatic to report. Marg was already missing Pakora.
We discussed whether or not it would be worth a visit to India to eat dishes such as this. Perhaps a couple of weeks in Bradford, Leicester and London would be nearer what we have now been programmed to consider 'authentic'. Marg has been to India, she still talks of the 'Scrawny Chicken' served on her trip.
The mains arrived
"Chicken Tikka Masala?" asked the waiter. "No, Dopiaza" , was the reply from Hector. "It looks the same," we were advised. Really,  so where were the 'extra' Onions? Maybe Marg enjoyed the dish without the dreaded Onion chunks. It did have a slight kick but the Masala did look like a tin of Tomato soup.
The Lamb Kadai was presented as ordered. The first dip of the superb Paratha into the Masala was promising. The Curry became less spectacular with each mouthful. What a pity, the experience was rising high on the scale of blandness.
The Madras Paratha is outstanding. Again, served on a steel tray and accompanied by a small portion of Chickpea Korma and Raita, the bread itself is thicker than the normal Paratha. The pastry layering is visible and it tends to disintegrate on tearing. I rate this very highly indeed, Marg thought it was too doughy.
Then there was the Rice
The single portion was enough for two sharing, sadly the Mushroom content was minimal. Instead, the Capsicum content was high: red and green Capsicum, and raw. We had to carefully select our spoons of Rice.
Lost in translation
We were well stuffed by the time we had finished. The service was excellent, very polite and mannerable guys. They could not do enough for us. Well so it appeared until it was coffee time.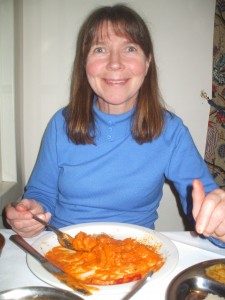 Marg likes milky coffee so I asked for one milky coffee and one normal. We were told (wrongly) that all they had was Indian Filter Coffee. Here we go.
Two petite stainless steel goblets in their individual steel saucers were presented. The coffee was very sweet indeed. Too sweet for Marg. I felt as if I had just consumed my entire sugar quota for the month.
The Bill
£36.00, and did include a pint of Cobra, well it was a Saturday and it was 21.00. The restaurant is well laid out with some glass partitions between the tables and some alcoves. There is privacy for small parties whilst larger groups can be accommodated at the rear. The service is good though I am still wondering if Marg had someone else's meal. The Parathas I love. The Curry was bland, but if I had ordered a Chettinad I would not be writing that word at all.