Saturday, 1500.   Just Dr Stan and Hector.
It is 168 hours since Hector ordered a Curry-Heute.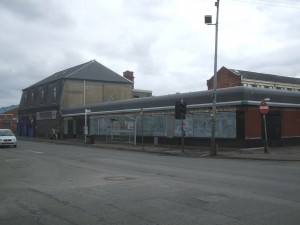 It is 48 days since I had a Curry-Heute here at The Village  (29 Nelson St, Tradeston, Glasgow, G5 8DZ).   January 30th?  This is ridiculous!  In that time someone turned up (at hostelry) and said the place had closed. Someone else said they are only weeks away from the new premises being opened.  There has been no communication from Mr Baig et al, so today could be interesting.
Another number
Hector had not eaten for 26 hours.  This self enforced fast would soon come to an end.
Starters
For Hector this is a rarity, however even given the appetite on the day, I have found the portion size at the Village to be have become smaller in recent visits.
I had already decided to have the Fish.  Massala Fish (marinated Salmon strips) would have to wait.  The Lahori Fish (Authentic Crispy Pangasius in Lahore Spice) at £6.95 a pop had caught my eye.  Pangasius? (White Catfish)  There are websites stating that one should never eat this fish given the industrial pollutants along the Mekong River and stories of the farmed versions being fed other fish… One wonders where this was sourced from.  I thought it was Haddock.  It was served sealed in a batter to keep in the Spices that had been expertly prepared and incorporated into this aquatic vertebrate.  The accompanying Dips provided a necessary source of moisture just to give the experience the edge.  Spicy, tasty, I would have this again.  One could imagine this being served in a local Chippy, not.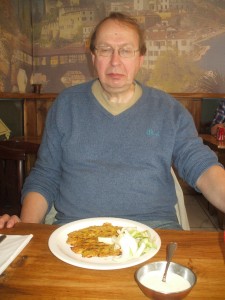 Meanwhile Dr Stan was straight into the Chapli Kebab (Spicy Chicken mince marinated with Tomatoes, Red pepper).  Strangely, I have never had one.
The Mains
Given our sporadic attendance in recent times, it could only be the Village Lamb Desi Korma (mine served Hot).  We were offered on-the-bone or off.  We chose the latter; the meat content is significantly higher.  Two portions of Vegetable Rice ordered as accompaniments, of course.
The Village was three quarters full when we arrived.  A large group left and couples of a range ages steadily took their place.  It was great to see grannies out for their Saturday afternoon 'fix'.  We watched all these people receive their food.  Indeed, we were brought the adjacent table's order. It did take an extraordinary amount of time for our dishes to appear, but as always the wait was worth it.
Given my propensity for dry Curry this is the absolute opposite.  This is all about the Masala: (A Yogurt base with Black Pepper, Green Chillies and copious amounts of special Herbs and Spices).  The Lamb was present but not in as great a quantity as was served here a year ago.  The prices have not gone up in some time.  Perhaps the management could introduce the 0.5kg portion when they re-launch?  How long the Lamb and the Masala had been in each other's company one may speculate, however despite all this negativity, the meal is superb.  The taste lingers longer afterwards, the full Citrus blast to the fore.
There was hardly a word exchanged between Dr Stan and Hector during this ritual.  Sky News showed the Canadian Airforce at Prestwick and French jets were mentioned too.  'How much combat experience will they have?' I asked.
The 'New' Village
Mr Baig, the owner, was on duty at the till.  He told me that work resumes next Monday on the new premises.  The severity of the winter has put them well behind.  I had looked in prior to crossing the road to the temporary premises – there is a long way to go.
A final number
This was the 100th Scottish Curry-Heute reviewed on this site since it began last April.  In a couple of weeks the full calendar year will have elapsed.  Hector suspects the 'hit counter' is somewhat over generous, but my thanks to all those who do bother to read the comments.  Some of you have identified yourselves, through further comments and recommendations more venues can be explored.