Hector is out for Curry-Heute, again…
Yes, it is Curry-Heute four days in a row, all will be revealed tomorrow as to why Hector's apparent diet of nothing but Curry has come to pass. This evening  is a welcome back to Marg from her Aberdeen sojourn; the choice of venue was simple: Cafe Salma (523 Sauchiehall St, Charing Cross, Glasgow, G3 7PQ).
Hassan and his troop gave their usual warm welcome, it has been over a month since Hector's last visit, Marg has not been for some considerable time.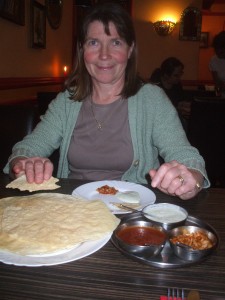 The Complementary Popadoms and Chutneys arrived in an instant and the order was given: two Lamb Lahori, Karahi one on-the bone (hot) and one off-the-bone (normal). A Vegetable Rice and the magnificent Garlic and Coriander Nan to share were our  sides. Tonight there would be no 'Dessert'.
The Lamb is always cooked to perfection.  The Masala is a dream come true.  If  I knew how they did it I would never have to  leave the house again.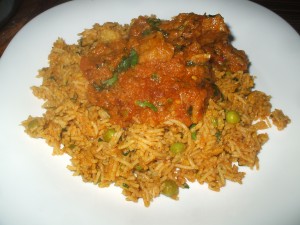 What I can only describe as 'The Taste' was very much to the fore; this feature that makes the truly great Curries outstanding. Those Glasgow Curry Houses which are featured most in this Blog have it, the rest are quite some way behind. Every Curry served at Cafe Salma is excellent and if one cared to, one could observe the preparation of these sublime creations in the open kitchen on the ground floor part of the restaurant.
Marg commented on the quality of the Vegetable Rice which contained sufficient 'Interesting Vegetables'. The Nan bread at Cafe Salma is something they are proud of and rightly so. Hector tends not to have this as one becomes very full. However, tonight there would be no Kofta Palak to finish the meal. Where is Dr Stan? He has not featured for some time.
£25 was the modest fee for this superb meal with two soft drinks. The value is outstanding.