Lord and Lady Clive of Crawley  joined Hector and Marg (Später), at the strategically sited Cafe Salma (523 Sauchiehall St, Charing Cross, Glasgow, G3 7PQ).  This was courtesy of the direct no. 9 bus from Paisley Town Hall where Scotland's most significant Beerfest takes place; annually, as in once a year, but over four days, daily.  The dearth of good Bier-Traveller type Blogs restricts reporting.  Boon Kriek on draught was a highlight.
Welcome
The welcome from Hassan and his staff at Cafe Salma is always warm and genuine.
With or without Capsicum
Hector ordered the favoured Lahori Karahi (hot) on-the-bone, Clive the Punjabi equivalent off-the-bone.  Maggie boldly went straight for the Lamb Palak.  Mushroom Rice and two Vegetable Rice were the accompaniments plus the highly recommended Garlic and Coriander Nan.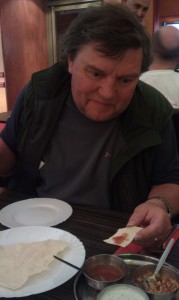 The complementary Poppadoms, Dips and Onion Chutney were presented.
Effo Marg?
Marg was joining us, eventually and so we got stuck in.  Maggie was thoroughly appreciative of her Spinach Curry from the start.  This was not out of order.  Hector had a little dip with the Nan: this is as good as it gets.  Mr Holden and Dr Stan had overdosed on Kofta Palak the previous evening and for the man from Bradford to be this impressed, says lots.
Clive just ate. Having dined here before he knew exactly what he was getting and disappointment was not on the menu.
Hector loves the warmth and smoothness of the Masala as well as the rich 'Karra' taste that emanates from the meat. This was on-the-bone with minimal bone.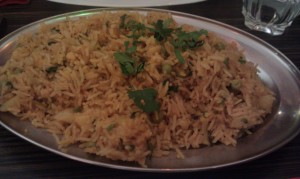 The Rice portion were immense.  No way could we finish these.  Now given what has been written in previous Blogs about another favourite venue, this is significant.
Ecce Marg!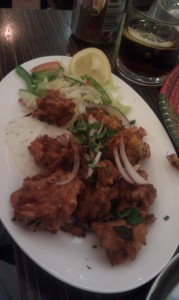 Marg joined us slightly out of breath halfway through our feast She ordered Vegetable Pakora and was in her element.
The Nan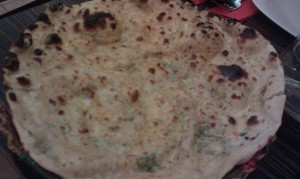 Hassan pointed out that the Coriander was now being cooked inside the Nan and not spread on top as before.
The Bill
£40 which worked out at £12 each for those of us who had the main courses.  How do places roundabout get away with charging so  much more : ah, the tablecloth phenomenon…
The aftermath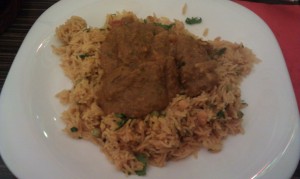 Hassan discussed the price and quality of Lamb on offer of late.  The price has rocketed but we are  in agreement that it is better to be honest and raise prices than cut the quality of the dish, or worse still, the portion size.
Cafe Salma remains one of the finest Curry Houses in Glasgow.  It is a pleasure to re-affirm this statement.