Hector is not a creature of habit. Oh yes he is….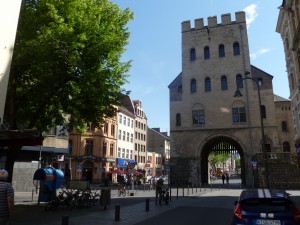 One suspects that if the Curry word had been mentioned again yesterday late afternoon there would have been overindulgence on this weekend trip to Köln. Thanks to Mr Stelios laying on a late evening return flight we had another full day in Deutschland. Gone are the days of the overnight trips and the dawn rise to return to Blighty, it appears.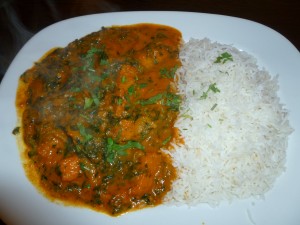 The Fisch Saag at the Indian Curry Basmati House (Severin Strasse 40, 50678, Köln) had preoccupied my thoughts since I spotted it yesterday. Steve went for the same. 'Scharf?' asked Doris, 'Genau!' was the quick response.
Once again the place was serving other customers before us. Trade must be very good here indeed; other places are not open mid-afternoon, their loss.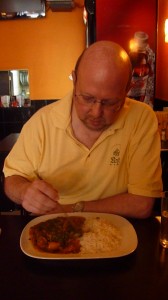 As I sampled at the Kamasutra (Barbarossa Platz) last November, the Saag is fresh Spinach not the beautiful melange that the better Glasgow and Bradford houses concoct. The result was a far less pungent experience. The Fish was not in any way as Spicy as yesterday's Lamb dishes. The experience was still a very pleasant one. Steve was particularly impressed, and as the discoverer of München's Indian Mango he has tried a few German Curries in his time.
Hector's calling card was on the till where I had left it the previous day. I trust Mein Host will appreciate the very positive comments. I am looking forward to my next visit late September, when I really …
Spargel Wochen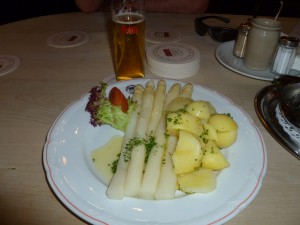 Late Spring in Deutschland means Asparagus. The white Asparagus served over here is way better than the green variety that graces our supermarket shelves – why? Just to prove that Curry is not eaten 100% of the time…
easyJet flight delay – not their fault!
Now who else was on the flight back to Edinburgh and was held up by the most obnoxious chap who refused to get off the inbound? Hector has the video.