The dust has settled after the awards evening and the word 'fix' has been read on many pieces of internet traffic that have been circulating.  Time to move on.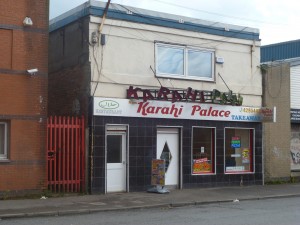 A weekend in Cambridgeshire may be on the horizon, however it is three days since Hector had his last Curry-Heute experience, too long.  The (New) Karahi Palace (51-53 Nelson St, Tradeston, Glasgow, G5 8DZ – just along from The Village) was once again the chosen venue – another chance to experiment.
A small group deep in discussion was blocking the doorway as I entered.  Were they about to eat, had they eaten?  They left, leaving Hector once again the sole diner in a Curry House.
The waiter recognised me and approached without the menu.  Hector had two objectives:  to sample the Handi and avoid the dreaded Capsicum.  I asked for the menu.
There were various options on the Handi list.  The Chicken was dismissed but these still left Lamb permutations. Chops – half kilo – Kerala (sic).  I took advice, well I tried to.  Nothing was being recorded and the young waiter was not giving much away.  The word Vegetable was uttered when the Karela was enquired about.  This was it – but I was then informed it was not ready and there would be a fifteen minute wait – perfect – cooked just for Hector!
 Karela v Kerala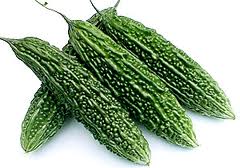 Hector thought he was ordering a regional dish.  It now appears that this was no menu misprint; 'Bitter Melon' or 'Bitter Gourd' (how much?) is how Karela is described on other sources.  The advantage of the internet and hindsight.  It is 'yon jaggy green vegetable' I keep seeing in KRK and had no idea what it was or what to do with – though the shape does tacitly put images in the mind that are better never disclosed.
Fifteen minutes later
I had declined the 'Salad and Sauce', I had no intention of eating it.  'Chapatti or Nan?'  I was asked in the interim.   The Mushroom Pilau arrived – gosh – is this all for me?  Then a marvellous stone pot filled near enough to the brim with Lamb was set before me.  Not since the Alishan served their famed Pholan Devi in such a manner has a Curry looked so impressive.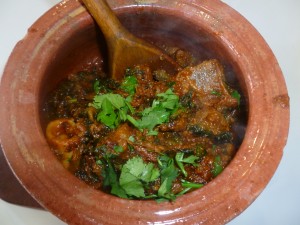 The tender Lamb (on-the-bone) was dry and cooked to perfection.; the Masala such as it was, thick.  There was a thin layer of Ghee on the bottom of the pot.  The thickest Chapatti ever set before Hector was dipped into this melange – there are times dining alone can be frustrating and so dear reader you may imagine me punching the air. What a find!
Handi Karela Gosht
The super-taste that would put this curry top of my list never revealed itself; however, there was something decidedly unique about the flavour.  I now know what.  There was a stringy green-black Vegetable strewn through the Lamb – was this the Karela?  If so, I look forward to this experience again.
More bitter than Methi, cooked by a Chef who clearly knows what he is doing, cooked to order: this experience ticks many boxes.  At £10.90 (lemonade included) this is great value too.  I could not finish the Rice and left a third of the Chapatti.
How many more hidden Curry Cafe gems does Glasgow have?
Take another look, is this not simply perfect?