It is always a delightful day when Mother comes to call.  This is the lady who cooked the vast majority of Hector's first 500 Curries.  The Final of The French Open (tennis) would keep her entertained as would the presentation of Hector's current Curry-Heute.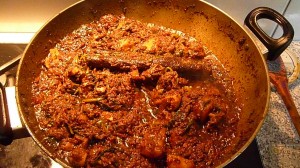 Of late Hector has been experimenting with Tamarind.  The pressed variety looks like Dates but has a very bitter taste.  This is similar I conclude to the newly discovered Karela that has impressed of late.  The meat was a kilo of Lamb on-the-bone obtained from the re-opened KRK who have supplied Hector with his Halal meat requirements for years.  Mushroom and Potato were added towards the end.
On a variation from the recipes printed in the menus above, I made the Masala in the Karahi and cooked the Lamb in mixed spice, which I had ground myself, in a separate pot for an hour before bringing the two together for a final fusion.
Hector admits that this was the most inferior of the three Curries consumed this weekend.  Marg and the dear Mother ate all that was set before them and made all the correct positive comments.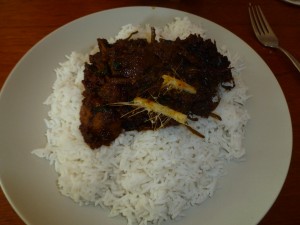 The Doorstep Challenge
Hector awaits a comment from Robin…