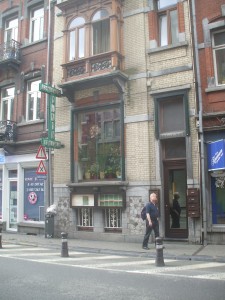 The Bombay Indien Restaurant (Rue Rogier, Namur, Belgium) was the first Curry House The Friends of Hector located just around the corner from the Ibis Hotel (Rue de Lanciers). The prices advertised outside necessitated an audible groan from Hector, €17 for a Moutton Karahi, ouch. Despite trying the Taj Mahal first, I knew I would end up back here.
An afternoon spent on Le Chemin de Fer du Bocq, featuring a Train a Vapeur between Ciney and Spontin had put Hector in the hunger zone. The report on the Comptoir de Famille, the worst service we have ever received in a Belgian Cafe, should put Spontin clearly on the map. Hopefully all future search engines will come up with: 'Comptoir de Famille, Chaussee de Dinant, 25, 5530, Spontin, Belgium, do not go! Bier-Traveller tells the story.
Arriving just on 17.30, The Bombay was not open yet and so we went around another corner to the Thai Cafe (Rue Nameche) for a small Bier and copious amounts of Cheese covered in Celery Salt, superb. This could become a key cooking ingredient in Hector's future culinary experiments.
Just after 18.00 we became the Bombay's first customers. By the time we left I counted at least fifteen other diners, most tables were occupied. This place does well.
Le Frere Gerard ordered a Lamb Kashmiri which confused Hector slightly as it sounded the same as my usual. The waiter put me right when I asked for it hot. Sorry, it's Moutton Karahi I want. Peter ordered a Lamb Madras, Dr Stan a Lamb Bhuna, and Neil a Chicken Bhuna. Chicken…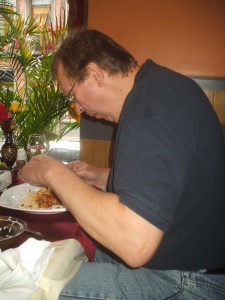 Various Rices were the accompaniments. Riz Frit was as close to my norm as I could find, a suitable number of vegetables should hopefully be contained therein.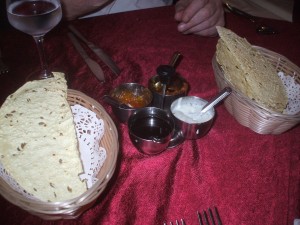 Baskets of Demi-Poppadoms were presented with the normal Chutneys. The Mango was particularly satisfying. One dip must have been Balsamic Vinegar. It went everywhere but was a novel inclusion.
The meals were brought on a trolley, Hector's was last to arrive. Sizzling hot on the Karahi it looked genuine enough. There was a very pleasant Spicy taste, nothing too distinctive but thoroughly pleasant. There was one fundamental thing wrong with it. They brought Hector Chicken!
Come back!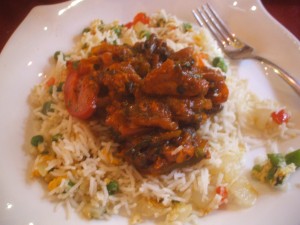 I drew the waiter's attention to the blunder. He went away to check, 'I did write down Moutton.' he assured me and shook his head in the direction of the kitchen. He apologised. Indeed, I believe he apologised twice more. The waiter had previously told us that he is from the Punjab,India. He was well familiar with the Curry served in the cities of England but not Scotland.
The Chicken Karahi was more Stir-Fry than what would be served under this name in the UK. I enjoyed it, in spite of everything. Compared to the rival, this place is streets ahead.
Pour les Autres
Le Frere Gerard's Kashmiri was as creamy as one would expect. I did not see much in the way of Fruit. The Brothers were reluctant to say anything about their meals other than tat they were OK. Not literary minded then.
Dr Stan, enigmatic as ever had a Bhuna which looked very dry indeed. Neil's Chicken equivalent did not look so impressive. There was enjoyment on their part. Blood and stone comes to mind.
L'addition
€102. It could have been worse given the prices advertised outside. We only had water in a deliberate attempt not to end up paying off the Belgian National Debt.
We were seen off the premises with a smile and a further apology. If one is in Namur and one needs a Curry, this has to be the place to go.
We retired to Le Chapitre (Place de Chapitre) and continued the main purpose of the trip…to discuss Steam Locomotives, not…