Hector's Holländisch Hootenanny, a Brugge too far, is over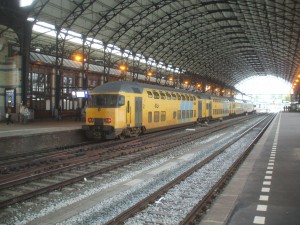 It is back to life in the real world, or Glasgow to be precise.  The outstanding Curry of the trip was Amsterdam's Moti Mahal. With four diners eating different dishes, I have no hesitation in adding it to the list of Hector's Recommended Curry Houses. In terms of Belgium, it really was a Brugge too far.  Nepalese Chefs were criticised in a few conversations I had in Belgium and Nederland.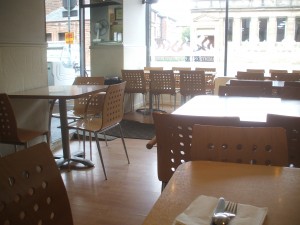 For as many years as I can recall, my first homecoming Curry-Heute has been at The Village. Today I find myself in Yadgar (148 Calder Street, Glasgow G42 7QP).  This says it all.
Today at 15.45, the Goshat Karahi with Vegetable Rice was served.  If there is a better Curry served in Glasgow, Hector has not found it.
The Beaming Chef, Mr Shah, emerged from the kitchen half way through my feasting to share in  my enjoyment.  He knows, you know.  I have long being trying to fathom what it is that gives the Yadgar Curry such an edge.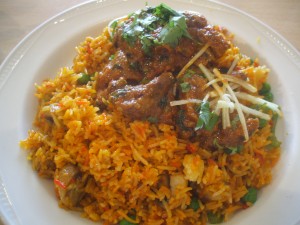 Today it was the fresh Coriander which stood out; however, the familiar rich smooth flavours were just as I have experienced on every trip.
Now my thoughts turn to Stornoway Blackpudding, Square Sliced Sausage, Pie and Beans, and a special Mince and Tatties to welcome home Marg.  With Marg in South Africa for another week, there is nothing to stop Hector enjoying himself further. Hector may manage another Curry-Heute before then.