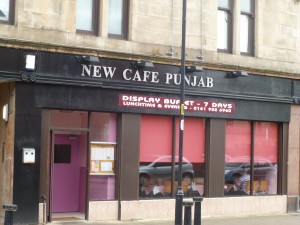 This must be the earliest ever Saturday Curry-Heute posting.  At 14.00 Hector is back home having had lunch at his preferred local Curry House, the New Café Punjab (18 Alexander St, Clydebank, Dunbartonshire, G81 1RZ).  This is very much a mainstream Curry House, they are good at what they do.
 In my previous New Café Punjab posting back in June, 2010, I remarked at how rarely I visit these premises and that was a takeaway.  Today Hector went for the sit-in experience.  Mein Host remembered me, he knew exactly who I was and recalled my last order: South Indian Garlic Chilli.  I had to check my own Blog, he was right!
 I declined the Buffet which featured eight main dishes only one of which was Lamb (Bhuna).  I was handed what I presume was the lunchtime menu, I opened it, glanced quickly then put it aside.  On the window outside I had established that Lamb Karahi was on the menu, I have never ordered this dish in these premises.  This order was accepted along with Vegetable Rice.  I was offered Pakora as inclusive in the lunchtime deal, I declined.  I could not eat all that food.
There were a dozen diners all of whom were partaking of the Buffet.  At around £6.50 for the Buffet they were certainly receiving good value.  I suppose they like Chicken Curry.
 The Lamb Karahi
The presented dishes looked smaller than the norm but they were filled.  The red colour was frightening, but this is the Clydebank way. The Rice looked fresh and featured Mushrooms, always a welcomed sight.  One stray piece of the dreaded Capsicum found its way on to the plate.
The Lamb portion proved to be just right.  One o'clock is early for Hector to eat.
 Gosh!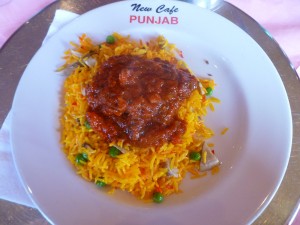 Expecting what I have described as the Clydebank Curry Taste I was pleased to discover that this was a departure from the ubiquitous flavour that exists West of Glasgow.  The Masala was rich with some large pieces of Onion too.  The Salt content was perfection – Karrah! – thus bringing out all the other flavours.  The Lamb was astonishing.  This had a melt in the mouth texture, cooked to perfection.  Excellent is how I described the Lamb to Mein Host.
 The Bill
 £8.10.  The Sparkling Water was a can of Perrier, very posh.    I can see now why the place was doing so well; the locals can pop in here whilst out shopping.  Hopefully Hector will pop in again before another fourteen months have lapsed.