This is the Glasgow September Weekend, what finer way to spend it than in Bradford, Glasgow's arch rival to the title of Glasgow Curry Capital? Hector chooses to abstain from any voting, I know where the best Curry is served.
Four and a half hours it took to drive from Clydebank to Haworth. This is nonsense. Having chosen the scenic Skipton  (A65) route, it was hold up after hold up. A quick coffee in Haworth and we were off to Bradford for the Curry ritual.
This was to be Marg's first visit to the Sheesh Mahal (6 St Thomas Rd, Bradford BD1) the Curry House Hector currently believes serves the best Curry ever experienced. As I drove past in the autumn twilight I spotted scaffolding. Parking at the adjacent venue I went out to investigate. The building was derelict. There was a sign on the door stating that – Opening  very soon – was promised, aye right. The building work is so far from completion it will take months. Meanwhile where are the Chefs? They must work, will they return? Does this spell the end for the Sheesh? Presumably the ambience will be greatly enhanced on re-opening. It looks as though the premises will be significantly larger, but the Curry is most important. Mr Holden had given no prior warning of this disastrous (re-)development. There will be a long interrogation when we meet up on Sunday
Omar, where are you? Contact Hector, tell me what is happening.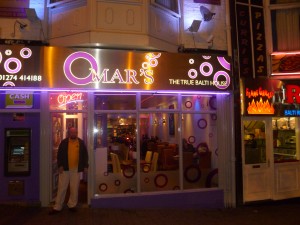 And so I drove on to the normal Wilton St car park. I spontaneously decided to make a return visit to Omar's Balti House (46 Great Horton Road, Bradford, BD17 1AL) once my favourite Bradford Curry venue. As we passed the Russian Vodka House, Marg relived her fond memories of when it was a Curry outlet. Change is not always for the better.
Omar's is as famous for it's ridiculous Nan Breads as it is for the Curry. We knew to avoid these. The place has been done up since my last visit some five years ago, or so.
The Complimentary Poppadoms and Chutneys were presented. I ordered a Fish Pakora, I was starving.
In many Bradford venues the Chapattis are free, here they are 30p each. We decided on three along with our customary Vegetable Rice to share. Omar's is where Hector had his first ever Curry with Paneer, it looked as though Cheese would feature this evening. All of the Specials appear to have Cheese.  Omar's Special proved irresistible: – A special balti dish cooked with Chicken, Meat, Prawn, fresh onions, herbs, garlic, ginger and garnished with fresh coriander and cheese. Marg opted for the Shashlik Lamb Karahi – Choice of Chicken (boneless) or lamb, marinated with spices and garlic, coriander, green chillis, tomatoes, ginger and garnished with cheese. How she has come on since her first Bradford visits, this was my alternate selection.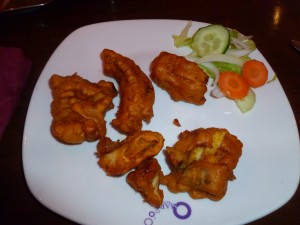 The Fish Pakora was wolfed down, perhaps it was a bit on the dry side. We then amused ourselves at the presentation of the super-sized Nans to other tables. One table of four  diners had ordered two Nan, what a mistake to make. Another table had brought in their own wine whilst a couple had clearly consumed their wine before entering. A couple of girls ordered a platter of sizzling Tikka Meat, a mountain. Another mountain of Chips was presented too, no skimping here.
The Curry arrived
Very Red – was our immediate observation. Instead of the traditional small cubes of Paneer, the Cheese had been grated and was piled on the side of the Balti dish. This suited Hector who has issues with Cheese. The word projectile is one that Hector associates with excessive Cheese.
I stirred in some of the melting Cheese into the very rich Masala. The first dip with the Chapatti was encouraging. Adding the Rice to the Balti dish seemed a better idea than transferring all to a new plate. Very good, but not outstanding would be my verdict. Prawns make a Curry sweet, the Chicken was bland, the Lamb pieces the best bits. I should know better but how could I resist a dish called Omar's Special.
Marg described her Curry as very rich and enjoyed the consistency and the kick. Her Chicken was sliced which puzzled her. She prefers normal cuts.
The Bill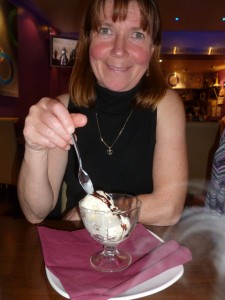 £25.90. This was inflated by Ice-Cream, Coffees and the general fact that one had to keep the lady happy. The actual Curry content of the bill was at its usual  Bradford minimalist level.
The Aftermath
On presenting the Curry-Heute calling card, the waiter thought I was trying to sell him a website. Fortunately I had loaded the page from the Recommended Curry House list on to my HTC and was able to show him where I was coming from. A staff member was quite chuffed to see himself. They commented that Omar's has been in its current modern format for a few years now.
Given the competition nearby one wonders when Hector will next return.