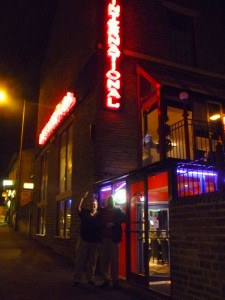 Hector loves Curry. Hector could eat Curry every day but for practical reasons chooses not to. In the course of a week I hope to enjoy one truly great Curry and make do with my own creations or some more ordinary outlet. This was day three of the Bradford trip. I had not yet had anything outstanding, that changed this evening. I shall start my review in reverse. The Lamb Karahi Methi I was privileged to eat this evening was one of the finest Curries I have ever eaten. The International (40-42 Morley Street, Bradford BD7 1BE) has been a regular haunt for the fifteen years I have eaten Curry in Bradford. They have excelled in the past, tonight was off the scale. After a day with Ricky (and Geoff) and the ever tolerant Marg touring some of Ilkley, Otley and Rodley's watering holes, it was time to eat. Marg had already consumed a Pie that made us envious, however, Ricky and I knew what was coming later.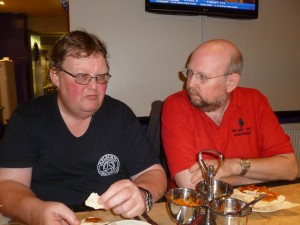 The welcome was as ever warm and friendly. The Complimentary Poppadoms and Chutneys were presented along with the laminated A3 menu sheet. There are two sides to this menu which makes the choice all the more difficult. I wondered if I could order fifty different Curries. I narrowed this down to a dozen. The waiter was happy to serve me twelve Curries he told me. Ricky thought I was buying a large Take-Away. Marg ordered a Vegetable Pakora and a Mango Lassi. Ricky a Mixed Kebab with Lamb Pasanda. Pasanda? Sheep Brains, Tripe… but Pasanda, what was Ricky up to? On previous visits I have had the Krahi and the Desi, the Lamb Karahi Methi proved this evening to be the choice of the many dishes I could have selected. Three Chapattis accompany a main meal at The International. Having avoided the Starter, this should be within my capabilities.
I watched patiently as Marg and Ricky ate their Pakora and Kebab. Tempted as I was to take a nibble I was determined to keep the appetite intact. This proved to be a wise tactic.
Here we go…
Ricky's Pasanada was indeed yoghurt based, he knows what he is doing. The Lamb Karahi Methi looked the part, a thick and reasonably dry Masala. The moment came for the first dip – I believe I rolled my eyes. Marg could see I was in ecstasy. This Curry was simply perfection.
Make it so
What was in this that made this meal so wonderful I will never know. I love Methi and usually get attracted towards it. The Bradford taste was there, The International taste was there, the taste of Methi was subtle. I managed to eat all three Chapattis, this in itself is unusual. I paced the dish to perfection. This was the perfect dish.
The Bill
£7.50. Well, this was my share; I was not caring about the other bits. I had just consumed probably the finest Curry I have ever eaten and it cost me £7.50 with three Chapattis included.
The Aftermath
Hector will be back at the end of November.