Hector had to see Hassan about next week's extravaganza, it would once again have been impolite not to have a Curry-Heute.  That I have chosen Café Salma (523 Sauchiehall St, Glasgow, G3 7PQ) above all other Glasgow venues for a special evening says much about the quality of the food and the ambience.
Palak Gosht – Desi Hot, on-the-bone, is as masochistic a Curry as man can endure.  This dish needs Bread, not Rice to ensure the full Spinach flavour ramrods the palate. The classic Garlic and Coriander Nan is the perfect accompaniment.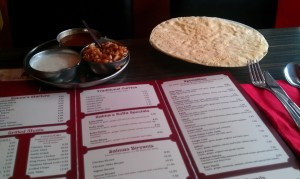 The Complementary Popadoms and Chutney were presented as I sat down.  Hassan spent some minutes with Hector discussing the coming event.  There is no truth in the rumour that  ?Stan! was away bootlegging hence Hector's solo dining experience on a Friday evening.  Speaking of ?Stan!, I must congratulate my reader who spoke to ?Stan! at a recent Bier event, Cove I believe, and addressed him with 'You know Hector!'  How ?Stan! struggled to say these words.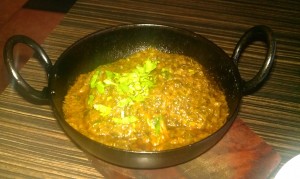 After Bradford I have found it necessary to visit only the best of places for a while.  This dish never disappoints.  It is really all about the Masala: thick, black almost a burnt taste.  It is not for the faint hearted.  Like Guinness, I have to admit to having it quite a few times before the concept of enjoyment became the norm.  I began to wish I had ordered the Kofta version; more meat would have been presented.  I had much bone and not so much Lamb this evening.  In the past when I pointed this out another half portion was quickly set before me.  There was enough to attain satisfaction and give me a chance of eating all the magnificent Nan.
The Bill
Undisclosed.  This is between Hector and his Confessor.
The Aftermath
Later at the Bon Accord, Thomas called me over to sort out a Curry dispute.  Around 8pm a massive of group of Chaps and Chapattis entered mostly wearing check shirts.   Was this a lumberjacks' convention?  Anyway, there was an intense discussion about the content of a standard Curry – Jalfrezi: Capsicum, Tomatoes, never Cream or Yoghurt.  It is written.