Today was not a question of if, but when. The Friends of Hector were unanimous that there would be a return trip to the Indian Mango (Zweibruckenstrasse 18, 80331, München). We spent the latter part of the afternoon sampling the Spaten Oktoberfestbier then jumped on the S Bahn down to Isartor. The young Doris and Bert were there once more to greet us.
Sitting at the same table as Tuesday, we were one Juliet and Steve less, but had gained a ?Stan!
Hector knew that having had the Fisch Chettinad on the last visit, the Lamb version was called for this time. ?Stan! went for the Fisch version whilst Craig and Howard ordered the straight Fisch Curry. Yvonne chose the Mutton Masala Madras.
Poppadoms were ordered at €1 each. No comment. Two Garlic Nan were ordered for Howard and Hector, we were hungry.
The wait tonight was nowhere near as long as at the start of the week. There was a worrying moment when the plates arrived, the Rice was set before us and then nothing. Frustration is the thought that the Curry is sitting somewhere getting cold.
Before I attempt to praise the Curry let me point out the major disappointment of the evening. The Nan was little more than a slightly thicker Chapatti. There was no evidence of Garlic either. Now we know.
Craig has now described Mango as his favourite Curry House, I believe he means anywhere! Howard also thoroughly enjoyed this Fish dish. ?Stan! was hardly likely to be exuberant but was surprisingly full of praise. Yvonne loved her Lamb Madras.
Hector's Curry was once again at the very highest level. The Lamb was plentiful and tender. The Masala has its own distinctive Indian Mango flavour. The Chettinad grit of chopped fresh Vegetables is something I know I shall attempt soon in my own cooking.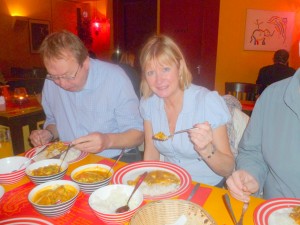 The plates were spotless when they were collected. Had we licked the plates we could not have made them any cleaner.
 The Bill
 €67.85. The two Chettinads are significantly dearer than the dishes from the main menu. They are worth every cent.
The Aftermath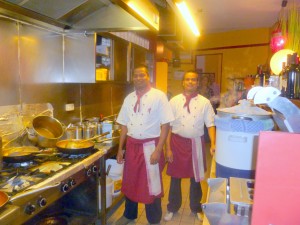 Our compliments were sent to the two young Chefs whom we now know are twin brothers, nice.