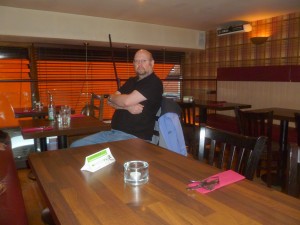 It is exactly eleven months since Marg and Hector last ate at The Wee Curry Shop (41 Byres Rd, Glasgow G11 5RG). Normally if we set foot in the Mother India chain it is to the Cafe along the road. Hector still has issues as to exactly how much of the food is cooked on the premises and how much is cooked at Mother India Depot.
Last time we had the £8.50 evening menu, we were almost tempted once more but in the back of my mind I recalled that the portion size in the main dish was not what one would hope for. Al la carte it was then.
The Specials were pencilled on to the menu, Lamb with Okra was Marg's choice. Uncanny.
Lamb Karahi was the only real alternative. The menu here has always been wee. Vegetable Pilau was also on the Specials list, two Roti were the additional Sundries.
The Lamb Karahi covered the base of the metal dish from which the dish takes its name. Marg's initial reaction was to count the pieces of Lamb. In fact the portion was more than adequate, the meat was in large chunks. Marg's Bindi Gosht looked very similar to the content of the Karahi with the Okra piled on top. As I tasted both I could tell no difference.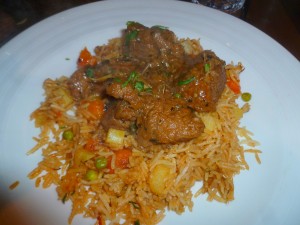 The Masala was rich as is customary in Mother India Curries. The flavour was not overwhelming, good, but not outstanding. The Rice was sufficient to share, the Roti were perfect.
We were virtually finished before anyone came upstairs to check on our enjoyment.  This is a far cry from the early days of this venue when as Mrs Majhu's they had possibly the best Curry in Glasgow and an Chap at front of house who was a hoot.
The Bill
£25.95. The two soft drinks and the two Roti inflated the price.
The Aftermath
Satisfaction was certainly achieved, but it is evident that Glasgow now boasts quite a few better outlets. We were the first diners of the evening. Eight more diners had joined us by the time we left. They have their customers, how many still miss Mrs Majhu's?