Meat Balls?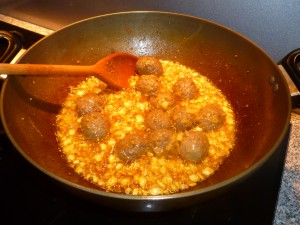 The supermarkets are throwing Meatballs at us it appears these days.  With a two-fur-wan offer I couldn't refuse some Beef versions found their way into my basket.  Spag Bol tomorrow then?
The purists may cry out in horror but it is the quality of the Spinach laden Masala that makes a good Kofta Palak, I think.  We shall see.
I felt that the Meatballs were better fried than boiled and so I held back putting the tinned Tomatoes into the pulping Onions.  This left a dark rich Onion-Meatball-Vegetable Oil base in which to spread the Spices. Some Za'hatar Israeli Herbs found their way in too.  The Spinach was cooked separately as is written in the  tried and tested recipe for Palak Gosht.
Hector was all set to add the eveil looking Spinach to the very friendly looking Masala when Marg phoned, so all was put on hold.  Time then put in the Mushrooms.  Mushrooms?  Well they need to be eaten soon.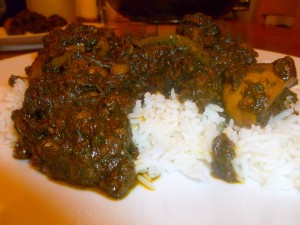 Too Oily!
This was Hector's verdict.  So  I have knocked off 100ml from the recipe.