One way or another I was going to end up at the Akash (45A Sinclair Street, Helensburgh, G84 8TG). this evening   It was Eleanor's (76th?) birthday to which I was invited, but sadly a funeral took my day in another direction.  Marg had been dropped off leaving Alan, Tracy and Hector out on the town.  The Curry had to be a feature of the evening.  It was no surprise to find Eleanor and co sitting resplendent in the middle of the restaurant.   Everyone appeared to be having Chicken Soup.  I thought the lady had learned.  Their extra Popadoms were offered up, nice, but we had no dips.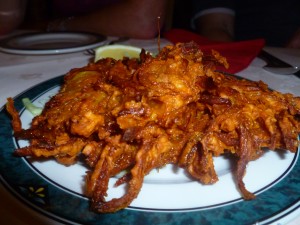 One very strange looking Pakora was brought to the table.  Hector once again restrained himself.  There was no Rice order, A Garlic Nan and a Vegetable Paratha were the accompaniments to our three diverse Curries.  A hot version of the Lamb Makhni with Spinach was once again Hector's choice.  Tracey ordered the Chicken Sag Bhuna, and Alan the Chicken Garam Masala.  What is it with people and Chicken?
Both Breads were perfect in size, texture and flavour.  Alan's Garam Masala turned out to be a classic Plate of Soup.  Only he knows why he ordered this.  When one compares this dish with the version served at Café Salma, one is left to wonder.
The Lamb Makhni was superb.  It really has to be served Spicy Hot.  I must admit that there is excessive Masala served with this dish too, but it is the Cheese content that makes the experience.  I cannot recommend this dish enough. I am surprised we did not all have it.
There was a doggy bag.  Alan and Tracy do have a dog.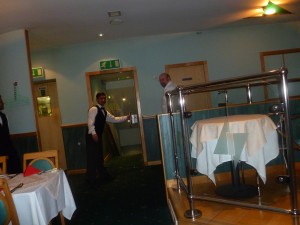 Hector went to inspect the facilities.  The waiter opened the front door.  Is there something I should know?
The Bill
 £39.40.  Somebody had Cider.  Alcohol with a Curry, whatever next?
 The Aftermath
The part-time Barman asked about this website as he left bearing his Cargo.  I gave him the Calling Card.  Hello!
Tracy retired for the evening, Hector and Alan toured the bars of Helensburgh.  They do stay open late.