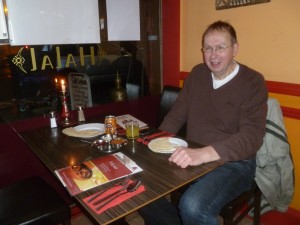 With the gnashers restored to something resembling their former glory, Hector made the rendezvous at Cafe Salma (523 Sauchiehall St, Charing X,  Glasgow G3 7PQ).  ?Stan! was already in situ and was tucking into this Complementary  Poppadom and Dips.  This is Hector's first normal weekend for ages.  Life has been busy as the Curry-Heute Blog shows.  Bradford last weekend was simply outstanding.  ?Stan! was also available once more to resurrect the Friday evening Curry at Café Salma.
Hassan was nowhere to be seen when I entered, but once spotted he was straight over for the now customary hug.  Hector has graduated.  Hassan told of a Berlin couple who had been recently and complained there was nothing like this in their fair city.  If they looked at this Website then they would have found the Naveena Path which is definitely worth a visit.
More Poppadoms were presented, it was then I realised how hungry I was.  The Lamb Lahori (Hot) with vegetable Rice has been missed.  ?Stan! loves the Kofta Palak, so no Dessert for Hector then.  Strangely ?Stan! chose Vegetable Rice too which is puzzling as surely this dish is better with Chapattis.  This is further proof that Dr Stan has been kidnapped by Aliens and this replicant is my dining partner.
To say the meals were hot when they arrived would be a understatement,  ?Stan's! photograph makes him look like a Djinn who has just emerged from his bottle.  ?Stan! thoroughly enjoyed his Kofta Palak, 'This must be their signature dish.' he stated.  Who is this talkative man?
Hector's Lamb Lahori was certainly steaming Hot, but not Spicy Hot as I had asked.  Still, the warm, sweet rounded flavour emerged as ever, true satisfaction.  The Vegetable Rice was served in a sensible sized potion.  It was all over far too soon.  How I would love to have shared a Kofta Palak for Dessert.
The Bill
£26.00.  There was a discount because Hassan was happy to see us. It would be impolite to reveal what we were actually charged.
The Aftermath
Friday night in the Bon Accord.  Hector has missed their Festival, it has been a long time…