There is a bit of a wind blowing in Glasgow today
150km/h gusts have been reported.  With every school in the region closed (eventually), Steve and Hector took off to the South-Side of Glasgow to meet up with ?Stan!  Frere Gerard and a certain Olaf were also present at a particular locus where Weinachts Bier was the topic of conversation.
Even before some back-breaking sorting of bottles, Curry was on Hector's mind.  Yadgar (148 Calder Street, Govanhill,  Glasgow, G42 7QP) was close by, an order of three Goshat Karahi (Hot, Boneless) was telephoned in, along with three Vegetable Rice.
Taking our seats in a warm, welcoming Yadgar the staff acknowledged our order delivered from the street in the howling gale.  It was good idea to reconfirm.
Shkoor was texted: 'Greetings from Yadgar!', it had to be done.  Well Mein Host cannot be present at all times.
The Complementary Poppadoms, Onion Chutney and Dips occupied us while we waited.  The Rice came first accompanied by an impressive Salad containing Cherry Tomatoes and Black Olives.  ?Stan! was the only person to sample this: 'You must eat your greens.' he insisted.  Who is this man?
After the ritual photos, permission was given to begin.  Steve was first to remark on the wonder of this dish.  ?Stan! made his appreciation audible.  Hector knew that this Dry, Spicy Curry with its distinctive flavours would not disappoint.  Curry with taste, an interesting concept which the majority of outlets simply have not mastered.
The Bill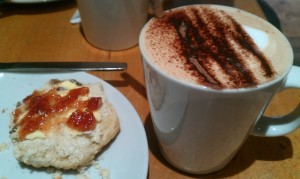 £30.75.  This was for three normal sized portions.  The Scones and Coffees eaten at noon whilst we waited for Olaf had taken the edge off the appetite.
The Aftermath
Shkoor replied to the text.   He wished to verify that all had gone well.  'Three satisfied customers.' Was the reply.
A point of information
The St Louis Café in Thornwood is the only bar in the city which is stocking both Pyraser and Tucher Weinachtsbier.  It will not last long.