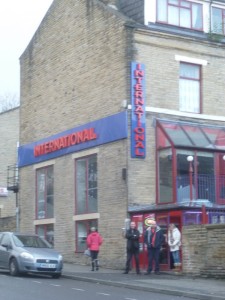 The final day of the New Year trip did not mean that Hector would let up.  With OCD to the fore there had to be a lunchtime Curry-Heute before embarking on the drive back to Glasgow. When one is in Bradford there has to be the consumption of Curry, it is written.  Marg was happy to come and watch, Craig and Yvonne, our passengers, had stated last evening that they would go off and find breakfast whilst I ate my noon Curry. Imagine Hector's surprise when they both announced in the lobby of the Bradford Hilton that they were up for it too.
The Sheesh Mahal does not open early and so The International (40-42 Morley St, Bradford, BD 1BA) would once again be the restaurant of choice.  I phoned to verify they were open, else Kashmir would have been the fallback.  They were, and so the short hop from the Walton Street car park was completed.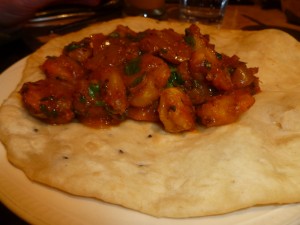 Hector had Fish in mind, something light, and something different.  The Fish and Potato Krahi was the winner. Yvonne opted for a Krahi dish too, the King Prawn.  Craig always aware of his Spice threshold decided the Shahi Keema would be safe.  Caught up in the wave of Curry binging, Marg ordered a Prawn Puri.  One Boiled Rice and six Chapattis were secured too, inclusive of course.  This is Bradford.
Mango Lassi
Marg took the opportunity to enjoy one of her other Curry House pleasures, a Mango Lassi.  Craig had a taste and more was ordered.  I suspect that this will be a recurring feature of Craig and Curry in the days to come.
The Complementary Poppadoms and Dips kept us amused whilst the food was prepared.  The place had opened at Noon, there was already a dozen diners.
The Fish and Potato Krahi did everything it was meant to.  All the flavours of the wonderful Masala coupled with the fresh and light texture of the Fish and the accompanying Herbs awoke the palate.  The Coriander Stems were particularly outstanding.  The three fellow diners also were very positive about their respective choices.  Craig and Yvonne have never had Curry twelve hours apart, what has Hector created?
The Bill
£32.00.  Bradford Curry is simply not hard on the wallet.
The Aftermath
The long drive up the A65, M6 and M74 to Glasgow.
The Bradford Beerfest beckons in February…