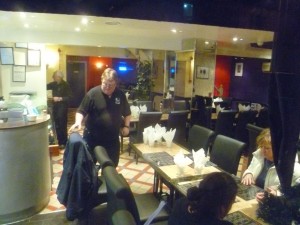 After an evening at The Fighting Cock, a taxi for eight was called for.  Seven of eight were heading for The International (40-42 Morley St, Bradford, BD 1BA).  Two taxis later courtesy of Holden Tours we were all in situ at the other great Bradford Curry outlet.  It had not taken much persuasion to secure Ricky's presence for his second Curry of the evening.  Hector knew that he would be having two feasts today after the events of Hogmanay in Ulverston where some of the company claimed to be too stuffed to enjoy their Ale after an early evening feed.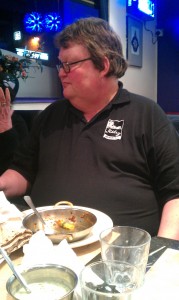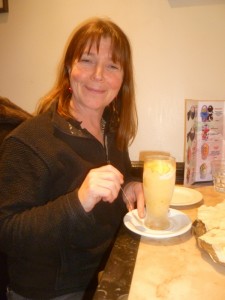 For reasons offered by Ricky, late at night, midweek, a holiday (how many excuses is this?) Mein Host was only able to offer one Lamb dish on-the-bone – the Lamb Desi Methi.  Hector knows that this is outstanding and so was not perturbed, in fact this made life easy as I was busy reading back through my own Blog entries to find out my options.  Mags went for the same.  This dish can take up to twenty five minutes to prepare and comes in a standard or large portion.  Marg decided that a second Curry was excessive and so had a Coconut Kulfi.  Yvonne ordered a mainstream Lamb Madras, Robin and Craig both chose the Inter's Special Biryani (Combination of lamb, chicken, prawns, cooked with basmati rice fried in oil with onions.)  Ricky decided to have a safe Keema straying from his current exploration of Offal dishes.
Ricky went for the Nan option, a pile of Chapattis for the three of us not having Rice was inclusive in the price of the dish.
The Poppadoms and Dips were on the table in a flash.  Mein Host put his hands on my shoulders and asked if I had completed the task that he has set me.  I have to try and find a source of beaten up old Minis.  So if any readers know where these can be sourced, please contact Hector.
The Biryani dishes are a hoot.  I have never seen so much Rice served to an individual.  I have never seen so much Rice in a Bradford Curry House.  The accompanying Masala had Chickpea too. The Chaps got tore in but were beaten before they began.  Yvonne marvelled at her Madras, the Spice level was precisely on the limit of her enjoyment.  The flavours therefore were therefore able to emerge and give the satisfaction craved.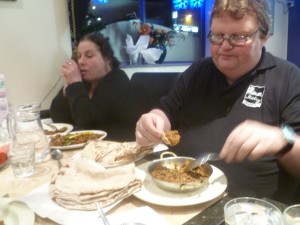 Mags was no so happy, she found the Desi to be too hot, strange.  Hector marvelled once again at the quality of the Lamb Desi Methi.  This is everything Hector looks for in a Curry.  I was a bit worried that the palate may have been dulled after the splendours of the Sheesh Mahal earlier, but this was not the case.  Ricky did not have much to say for himself, for once.  Would he be joining Hector for a possible return to the International for lunch at Noon?  He sounded tempted.
The Bill
£50.00.  This sounds a very round figure but that is what it came to for five meals and one ice-cream.
The Aftermath
We made our farewells.  Mein Host by this time was enjoying the delights of his own restaurant. Now, what did he have?