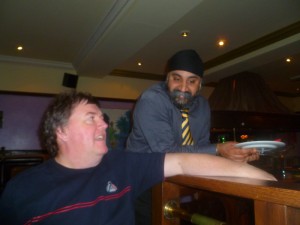 Lord Clive and Lady Maggie are in Glasgow this weekend, there must be a Barrel of Bier or two being served at one of our castles.  The turnout at the Bon-Accord at 21.00 to greet the intrepid travellers was impressive, same old faces.  Hector had already placed the order for three Goat Gurmeet, we would retire next door to The Punjabi Charing Cross (157-159 North Street, Glasgow, G3 7DA) once the current Yorkshire-Lancashire Alefest had satisfied our liquidity crisis.
It was just after 23.30 when we decanted, Hari had stayed open for us, the promised Capra Fantastica was now three hours in its preparation, nothing but the best is served in these premises.  Introductions were made and we soon settled down to the Complementary Poppadoms and Onion Chutney. 'We don't get Onion Chutney like this in Crawley.' Maggie remarked, more was summoned, more came.
A Keema Nan, Mushroom Rice and an indeterminate number of Chapattis soon followed.
A Karahi with a Rose was put on the table, not for Clive or Hector, a nice touch.  The Goat Gurmeet looked the part, big chunks of meat on big bones.  This was a dish to eat with one's fingers, and the odd Chapatti or two.  Maggie took care of the Rice, Clive always enjoys a good Keema Nan, don't know where he puts it…
The texture of Goat is significantly different from our usual Lamb, definitely more chewy. The meat is as absorbent as Lamb so the full flavours of the Spice from the minimal Masala come through well.  The Methi adds a further dimension to the experience.  'It's like Chicken v Rabbit.' Clive concluded, in fact he may now have a preference for Goat.  He also appreciated the lack of the Soup experience, a good dry Curry is what The Friends of Hector seek.
The Bill
£42.85.  This included two Sparkling Waters, somebody had a pint of fizzy Lager.
The Aftermath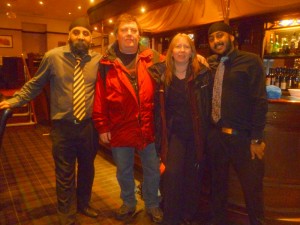 Crawley was discussed at length.  Hari's son Ram we realise has the same name as the Ram Sports and Social Club, or the Lal Akash in brief, where truly wondrous Curry is served.
The 62 took us west, it was quiet upstairs, yes a double decker, but downstairs was the usual mayhem.  After Athens at the start of the week, this felt a bit tame.