The Punjabi Charing Cross (157-159 North Street, Glasgow, G3 7DA) is located next door to the Bon Accord.  With Tempest's 'Long White Cloud' as the promised Ale of the evening, what better way to kick things off than the guarantee of an excellent Curry?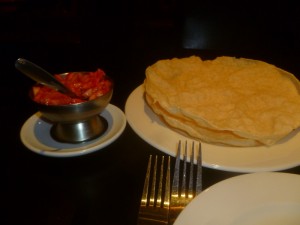 Ram was at the door to greet his latest customer.  I was shown to a small table on the far left.  The Complementary Poppadoms and Onion Chutney were set on the table the instant I sat down.  It is some weeks since I last ate here, a Bradford trip had been squeezed in and of course Bradford is very much on everyone's mind in this area with the opening of Akbar's around the corner.
My order of Lamb Gurmeet ('why not Goat?') and two Chapattis was almost incidental, indeed the words came out of Ram's mouth, not mine.  He was definitely interested to hear what I thought of their new competition.  I gave a synopsis of my first three visits.
Hector ate one and a half Poppadoms; the second one was only started because I had so much Onion.  It is a strange custom throughout the land that two people get to share one portion whilst a solo diner gets the lot.
The self titled Lamb Gurmeet did not take long, it was different this evening.  Usually Lamb Chops are to the fore, if these were Chops originally then they were Gigot Chops. The Lamb was therefore on-the-bone, so the extra flavour the bones give was flooding  in to the Masala.  The Masala itself was dark and thick with fresh Methi, in fact the appearance was more Palak in nature.  The Lamb this evening was slightly more chewy than the norm but not significantly so.  Once again Chef Gurmeet has excelled in producing this well seasoned and moderately Spicy Masala rich in Herbs.  The Ghee at the base of the Karahi gave an extra dose of flavour when the wholesome Chapattis were dipped.  As regular readers now, this is exactly how Hector likes his Curry.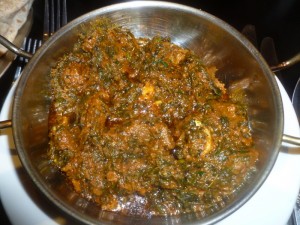 The Other Hari appeared as I started to eat, but realised I could not talk and chew.  Hari himself entered the premises at the end of the meal; he too was interested in my views on Akbar's.  Hari had been and found it too Spicy for his taste.  This is the second Glasgow restaurant proprietor this week I have mentioned the dual menu system at Akbar's to, it is difficult to believe that they serve their meals differently to the 'English' and the 'Asians'.
The Bill
£12.65.  This is lower than the norm, perhaps because my Sparkling Water did not come from an individual bottle.
The Aftermath
The Tempest 'Long White Cloud' has become sweeter in recent weeks.  Why do brewers do this to a winning formula?